Doctor No
Datastream




Publisher:
British Classics Illustrated (UK)
DC Comics 'Showcase' (USA)
Dell Publishing 'Detective Stories' (Europe)

Released:
1963-1964
Artist:
Norman J. Nodel (UK)
Bob Brown (USA cover)

Release
Around the time of the release of the first James Bond film Dr. No in 1962, a comic book adaptation of the screenplay was published in British Classics Illustrated as number 158A.

It was also reprinted in Europe under the Detective Stories label of Dell Publishing (Denmark, Germany, Greece, Norway and Sweden) using the British cover artwork.

The US issue hit the news stands in January 1963, way ahead of the films US release (Dr No opened Stateside in May 1963, some seven months after it debuted in the UK), and sales were disappointing.



Above: Cover artwork of the original UK release.
History
The comic was drawn by Norman J. Nodel in a style that would have fit well into the Classics Illustrated (CI) anthology series printed in the United States by Independent News corporation. However, Independent News marketed their CI series as educational in nature and felt that it would be a poor fit, as they concentrated on classrooms and libraries rather than comic book stores and news stands. Independent News passed on the original offer from Danjaq, saying they were unwilling to publish a one-off, but would purchase the rights and release the title under their DC Comics imprint. Dr No was ultimately published in the USA as issue #43 of the Showcase anthology series by DC comics.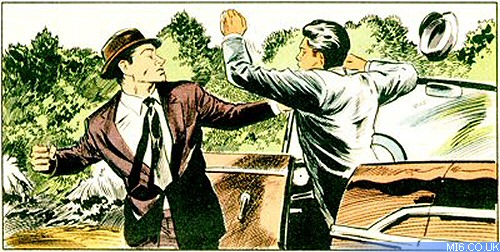 The cover artwork for the DC release was completed by Bob Brown, but the inferior interior art was very different in quality and style from anything previously published by DC Comics, and like nothing since. It is widely believed that Nodel only had access to the screenplay and some stills at the time he drew, as the film was still in production, and was simply told to make Bond look like Connery and the other major players. Some of the panels are almost straight-duplications of production stills. The comic was brief, running for only 32 pages and used an average of 5 cells per page. For publication in the USA, the British original had its language censored and racial skin tones removed, meaning everyone in the Caribbean was now white.
It also had trouble finding an audience since James Bond was still relatively unknown in America at the time. So much so, the cover reference Ian Fleming's novel ahead of it being a movie adaptation ("Based on the novel and now a United Artists Film Thriller"). But this was further subterfuge, as the comic closely followed the movie adaptation rather than the novel.

Only minor deviations from the film were made to suit the younger audience: Dent has a round left in his weapon after his botched assassination attempt on 007, leaving both parties firing simultaneously when the Professor is killed, and Dr No is electrocuted on a control panel rather than being drowned in the reactor.

DC had an option in the contract to continue a James Bond series for a modest royalty fee if Dr No sold well, but this option was included at the behest of Danjaq rather than DC, who were understood to be somewhat indifferent to Bond as their focus was their own properties like Batman and Superman.
A few months later when "Dr No" hit the silver screen in the States, the comic was already long off-sale, and everyone at DC had already forgotten about Showcase #43. Thoughts only turned back to Bond in 1972 when someone at DC noticed their ten year option was about to expire. Bond was now big business. Carmine Infantino, chief publisher at the time, was surprised to learn about the option and immediately started discussions to launch a 007 comic book series. Jack Kirby and Alex Toth were two of the artists approached to draw it, but with Sean Connery announcing that "Diamonds Are Forever" was to be his last appearance as 007, DC decided to let the option expire rather than launch a series without a new James Bond actor in the public conscious. DC has not published another James Bond comic since.
Years later, George Kashdan, the editor at DC when Dr No was released, said he could not understand why DC went with the anomalous one-off, other than that it must have been cheap and the artwork was already completed. Showcase #43 is now a rare collectors item.
MI6 Rating
| | |
| --- | --- |
| Adaptation | |
| Artwork | |
| Overall | |
Related Articles

Comics

Dr. No - Movie Coverage