Four years before Sean Connery would bring 007 to the silver screen with "Dr No", Daily Express readers in the UK got their first sight of James Bond in 1958 with the syndicated comic strip series of "Casino Royale". The Daily Star concluded Bond's UK newspaper run with "Polestar", and by 1983, 45 adventures had been syndicated in British newspapers, with an additional 7 adventures published abroad. An amazing 6,500+ strips had been produced over the 25 year period.
007 continued his graphic adventures in a series of comic books mini-series published in the USA, beginning in 1989 with "Permission To Die". Bond would also prove popular in Scandinavia, where he battled villains and bedded babes in multiple non-English graphic novels.
Movie tie-in comics for "For Your Eyes Only", "Octopussy", "The Living Daylights", "Licence To Kill" and "GoldenEye" were also published, along with twelve issues based on the "James Bond Jnr." animated TV series in 1992 .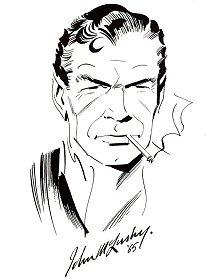 Above: McLusky's representation of James Bond 007.