Pierce Brosnan ignites the screen in his first adventure as the unstoppable James Bond. When a powerful satellite system falls into the hands of a former ally-turned-enemy, only 007 can save the world from an awesome space weapon that - in one short pulse - could destroy the earth!
Release Data
Releases: 3 (2000 SE, 2002 SE, 2003 SE)
Catalogue Number: 16177CDVD (R2)
Disc Format: D1 - double layer, single-sided
Audio
English Dolby Digital 5.1
Subtitles: English, Portuguese, Swedish, Danish, Finnish, Norwegian, Polish, Greek, Hungarian, Turkish, Hebrew
Hard of Hearing: English
Film
2.35:1 / Widescreen Version 16:9
Certificate: 12
Duration : 124 minutes
Chapters
1. Opening Sequence
2. Main Titles
3. Aston Martin DB-5
4. Baccarat With Xenia
5. Test-Driving A Tiger
6. Boris And Natalya
7. Aiming GoldenEye
8. After Hours Briefing
9. Survivor
10. M Informs Her Spy
11. St Petersburg, Russia
12. Q's Latest Gadgets
13. Jack Wade
14. Computerized Warning
15. Getting Even
16. 007 Gets A Grip
17. "Back From The Dead"
18. Trapped In The Tiger
19. Interrogation
20. Archives Ambush
21. All Tanked Up
22. Derailing Evil Plans
23. Escape
24. Wade Drops In
25. Crashing In Cuba
26. Next Target: London
27. Stopping A Satellite
28. Philosophical Face-Off
29. Taking A Breather
30. Spy Versus Spy
31. Alone At Last...
32. End Credits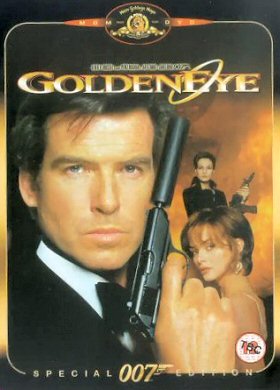 Special Features
Audio Commentary Featuring Director Martin Campbell And Producer Michael G. Wilson
Making Of Featurette: "The GoldenEye Video Journal"
"The World Of 007" Documentary
"GoldenEye" Music Video By Tina Turner
Promotional Featurette
2 Theatrical Trailers
12 Television Ads