Timothy Dalton is suave and lethal as superagent James Bond in this turbo-charged acting/adventure that pulls out the stops for excitement. Armed with a gadget-laden Aston Martin and his licence to kill, Agent 007 must stop a terrifying weapons conspiracy that may be linked to the Soviet military high command!
Release Data
Releases: 2 (2000 SE, 2003 SE)
Catalogue Number: 16193DVD (R2)
Disc Format: D1 - double layer, single-sided
Audio
English Dolby Digital 5.1
Subtitles: English, Portuguese, Swedish, Danish, Finnish, Norwegian, Polish, Greek
Hard of Hearing: English
Film
2.36:1 / Wide screen Version 16:9
Certificate: PG
Duration : 130 minutes
Chapters
1. Opening Sequence
2. Main Titles
3. Classical Conspiracy
4. Arresting Assassin
5. Wilkommen
6. Lookin' For A Lady
7. Sour Milk
8. The Assignment
9. Tailing Kara
10. Defection Deception
11. Bye Bye Bratislava
12. "Nothing To Declare!"
13. Colonel Crazy
14. He's Back
15. Romance Serenades
16. Balloon Stalker
17. Asking For Answers
18. Staged On A Stage
19. Toasting Trouble
20. The Price Of Ice
21. Knocking Some Sense
22. Desert Dealing
23. Afghan Plan
24. Oh No Opium
25. Airbase Battle
26. Wait For Me!
27. Cargo Net Fight
28. I'll Be There
29. It's A Gas Gas Gas
30. Dealing With Dealer
31. Pucker Up
32. End Credits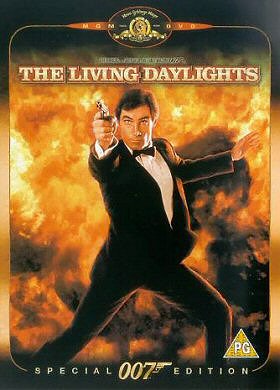 Special Features
Inside "The Living Daylights", An Original Documentary
"Ian Fleming, 007`s Creator" Documentary
Deleted Scene: The Magic Carpet Ride
"The Living Daylights" Music Video
The Making of "The Living Daylights" Music Video
3 Theatrical Trailers
Audio Commentary by director John Glen and members of the cast and crew
Collectable "Making Of " Booklet.