| | |
| --- | --- |
| | A PS3 bundle, set to include new Hugo Drax multiplayer character and weapon, will be released on 1st November... |
GoldenEye Reloaded Double 'O' Edition
14th September 2011
Press Release
The next level of espionage is at your fingertips in the most interactive James Bond experience ever with Activision Publishing, Inc.'s (Nasdaq: ATVI) forthcoming GoldenEye 007™: Reloaded Double 'O' Edition. The robust bundle will include the game on Blu-ray disc, PlayStation®Move motion controller, navigation controller, PlayStation®Eye camera and Sharp Shooter peripheral, offering fans pinpoint control as they jump straight into the legendary story campaign and frenetic 16-player multiplayer matches. Both GoldenEye 007: Reloaded and the PlayStation®3 exclusive Double 'O' Edition bundle pack will be available at retail outlets nationwide on November 1, 2011.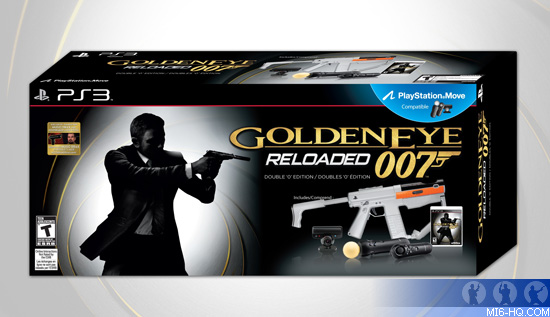 Above: Box art for the newly announced GoldenEye Reloaded PS3 bundle.
As an added bonus for PlayStation 3 gamers, GoldenEye 007: Reloaded will feature a free, exclusive downloadable character. The notorious villain from the 1979 film Moonraker, HUGO DRAX, will be playable in split-screen and online Classic Conflict multiplayer modes while wielding his Moonraker Laser Pistol.

"Working closely with Sony, we've created a great bundle that arms fans with all the vital secret agent equipment right off the shelf," said David Oxford, Executive Vice President at Activision Publishing. "We can't wait for gamers to pick up the PlayStation Move and Sharp Shooter to experience a James Bond video game like never before."

"If any game has been tailor-made for the PlayStation Move and Sharp Shooter, it's GoldenEye 007: Reloaded," said Rob Dyer, Senior Vice President, Sony Computer Entertainment of America. "This is a reimagining of one of the most revered and iconic shooters of all time, and we wanted to allow our PlayStation fans to truly step into the shoes of everyone's favorite secret agent with the unparalleled control of Sony Computer Entertainment's motion-based entertainment."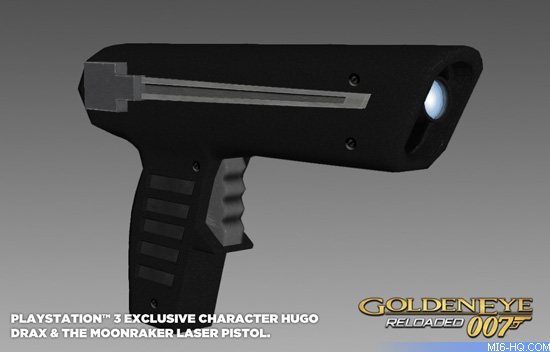 Above: Render of the exclusive Drax space laser, available for download with the PS3 bundle.
GoldenEye 007: Reloaded is a contemporary James Bond experience featuring HD visuals and realistic environments running at 60-frames per second, akin to today's elite action games. Additional to the legendary story campaign, the game introduces the brand new 'Mi6 Ops Missions' - new, distinct levels separate from the campaign that span the varied environments from the story and challenge players to complete different Assault, Elimination, Stealth and Defense objectives. GoldenEye 007: Reloaded also takes multiplayer to new heights, maintaining and improving its renowned four-player split-screen action and adding full, adrenaline-pumping 16-player online matches with more maps, weapons, characters and game modes than ever before.

GoldenEye 007: Reloaded is being developed by Eurocom under license from EON Productions Ltd and Metro-Goldwyn-Mayer Studios Inc. (MGM), for the PlayStation 3 computer entertainment system and Xbox 360® video game and entertainment system from Microsoft, and will be rated "T" (Teen) by the ESRB.

For more information, and to receive exclusive updates about the game, visit www.facebook.com/GoldenEyeGame or www.goldeneyegame.com.
Related Articles
GoldenEye Reloaded Announced