Shirley Eaton (Jill Masterson)



Datastream
Actress: Shirley Eaton
Character: Jill Masterson
Movie: Goldfinger
Date of Birth: 12th January 1937
Place of Birth: Edgeware, UK
Trivia: Appeared on "Mythbusters" to help dispel the skin asphyxiation rumour.

Pleased to meet you
James Bond runs into the lovely blonde bombshell when he is investigating Goldfinger's suspicious luck at card games. He spies the bikini-clad Jill providing tips via a radio and a pair of binoculars to fuel Goldfinger's addiction to winning at even the most petty of bets.

Caught In the Act
007 and this kept lady are truly caught in the act. Whilst Bond ruminates on the state of popular music in his Miami Fontainebleau Hotel room, Goldfinger takes his revenge. Although he enjoyed a luscious night with Goldfinger's girl, Jill, and by proxy James Bond too, pay for her disloyalty.
"I'm beginning to like you, Mr. Bond."
Profile
Young and freethinking, Jill Masterson unwittingly got herself involved with the obsessive and pathological criminal, Auric Goldfinger. She quickly became his kept lady - in more ways than one. Unable to escape the clutches of the master criminal without paying with her life, Jill is confined to the hotel room where, when not helping Goldfinger to cheat, she whiles away the hours in solitude. Bond's arrival momentarily liberates the golden girl, offering her the chance to defy her employer. She is doomed from the moment she agrees to join 007 in his hotel room, as Odd Job makes short work of knocking Bond cold whilst Goldfinger and his entourage torture and kill Jill by painting her body entirely in gold and causing "skin asphyxiation", thus fulfilling another obsession of the villain. When her sister, Tilly, hears of Jill's demise, she swears revenge and fatefully runs into 007, hot on the villain's tail.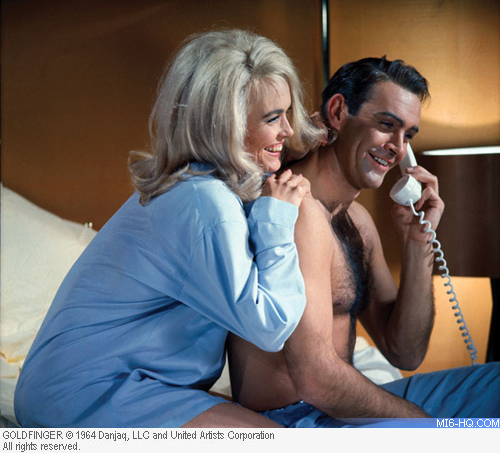 Biography
Born on January 12th, 1937, Shirley Jean Eaton began a show business career early in life, appearing on stage in a 1949 production of "Set to Partners". She first attended Roe Green Junior School before she was accepted into Aida Foster School, a school with a keen focus on the dramatic arts. By age 17, Eaton was appearing in productions on London's West End - her debut being "Going to Town".
Prior to this, however, Eaton had won a small-screen TV role in "Parent-Craft" (1951), a short-lived family comedy that also starred James Fox and Janet Burnell. The series ran for six episodes and Eaton played the daughter of the house, Anne Pebble.
During the second half of the 1950s Eaton made her name on the big screen, appearing in features such as the critically acclaimed "Three Men in a Boat", which starred David Tomlinson and slap-stick comedy "Doctor at Large" (1957). She would later appear in the follow up

Eaton had a short stint contracted to The Rank Organisation, with whom she several "Carry On" pictures. However, it was her brief role as the ill-fated Jill Masterson that propelled Eaton to international fame. The iconic golden girl of "Goldfinger" was to become a constant symbol for James Bond - and the golden torso of an unknown Bond girl even features in the marketing of James Bond's 50th Anniversary, so pervasive is the image that Masterson cut.

Above: Sean Connery and Shirley Eaton between takes.
The 1960s saw a run of more serious adventure or drama pictures added to the Bond alumni's resumé - a stark contrast to her '50s of slap-stick comedy. Eaton appeared in Lloyd Bridges's "Around the World and Under the Sea" (1966) and a dramatisation of the Agatha Christie mystery "Ten Little Indians" (1965), wherein she took the lead opposite Hugh O'Brian.
Once she made the break to cinema, rarely did Eaton return to the small screen where her career began. There is, however, one notable exception: the golden girl appeared in three episodes of "The Saint", which of course starred Roger Moore, soon to pick up the PPK and don the tuxedo of James Bond.
By the end of the 1960s Shirley was winding up her career and choosing to concentrate on family life. She married a building contractor named Colin Rowe in 1957 and has two sons by him. The pair remained together until Colin's passing in 1994.
Related Articles
Girls