Luciana Paluzzi (Fiona Volpe)



Datastream
Actress: Luciana Paluzzi
Character: Fiona Volpe
Movie: Thunderball
Date of Birth: 10th June 1937
Place of Birth: Rome, Italy
Trivia: Co-starred with fellow '60s Bond girl, Ursula Andress in "L'infermiera"

Pleased To Meet You
James Bond is investigating the bows of the Disco Volante when he is set upon by a couple of Largo's goons. Fleeing the scene, Bond washes up on the beach just as Fiona Volpe is passing. 007 tells his beautiful savior that he was victim of a capsizing and Volpe offers him a lift and hitches a ride back to Nassau.

Caught In The Act
Bond returns to his hotel room to discover that Volpe's is next door. He pays her a visit, finding the temptress in the bath. Bond acknowledges her request for "something to put on" by passing Volpe her shoes... shortly thereafter 007 and SPECTRE operative retire to the bedroom.
"James Bond - who only has to make love to a woman and she starts to hear heavenly choirs singing."
Profile
The dangerous and devious femme fatale, Fiona Volpe is a high-ranking SPECTRE agent, working closely with Largo to blackmail the British government. She has a penchant for fast (often reckless) driving, and is able to disarm a man in a single gesture. Not shy of murder, Volpe was responsible for leading Francois Derval to his death, dispatching with Count Lippe just as he and his goons are about to attack 007 in the Aston Martin. Volpe, like 007, puts everything on the line for her organsation - seducing James Bond and capturing him, seemingly with ease. Little does she know that Bond had spied her distinctive SPECTRE signet ring and was on to the villainess. Fiona refuses to give in to Bond's masculine charms, but meets a sticky end when she is accidentally killed by one of her own men.
Memorable Quotes
Volpe: Some men just don't like to be driven.
Bond: No, some men just don't like to be taken for a ride.
Volpe: If Bond had died last night as a result of your hastiness, his government would have known for certain the bombs are here.
Volpe: Aren't you in the wrong room, Mr Bond?
Bond: Not from where I'm standing.
Bond: Well, you see, I had no idea we were next-door neighbours.
Volpe: They just moved me down this afternoon.
Bond: It's extraordinary, isn't it? Almost as if...
Volpe: As if it was intended.
Volpe: Do you like wild things, Mr Bond, James Bond?
Bond: Wild? You should be locked up in a cage.
Bond: Vanity has its dangers.
Volpe: Vanity, Mr Bond, is something you know so much about.
Bond: My dear girl, don't flatter yourself. What I did was for king and country. You don't think it gave me any pleasure, do you?
Biography
Actress Luciana Paluzzi was one of many voluptuous Italian brunettes groomed for international stardom in the wake of Gina Lollobrigida. She appeared first in "Sua altezza ha detto no!" (1953), and in the early days was credited as Luciana Paoluzzi.
Working both sides of the Atlantic in the '50s in such films as "Three Coins in the Fountain" (1954) and "Sea Fury" (1958), Paluzzi was given a chance at American TV stardom in the role of Simone Genet on the 1959 espionage weekly "Five Fingers". Little was required of Paluzzi other than looking gorgeous in low-cut evening gowns; while this kept Five Fingers alive in the fan magazines, it wasn't enough to sustain the series beyond 17 episodes, of which Simone Genet made appearances in 5. It was on this that Paluzzi worked with would-be Bond co-star David Hedison, who has since played Bond's ally, Felix Leiter on two occasions.
Her career took a small downturn in the early 1960s, appearing in one off episodes of "Hong Kong", "Bonanza", "Burke's Law" and a two part story in the successful "Man from U.N.C.L.E." series. Around this time she experienced a short-lived marriage to American star Brett Halsey, with whom she had one son, Christian in 1961. She accepted a villainess role in the James Bond epic, "Thunderball" shortly after her dabble in spy fiction in "U.N.C.L.E.". She portrayed Fiona, one of the few women on this planet able to resist the charms of Mr. Bond; perhaps as punishment for this. This fleeting association with James Bond came at the perfect time in Paluzzi's career.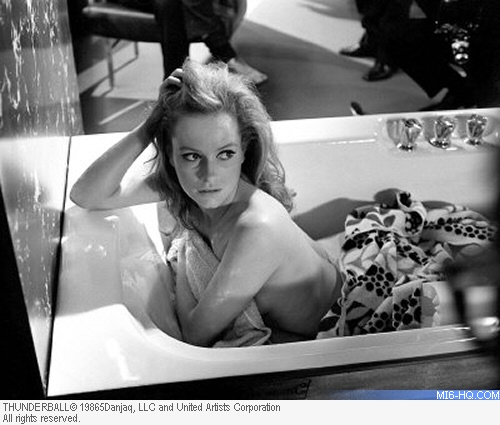 She went on to make appearances in the French spy-spoof "Niente rose per OSS 117" (1968), as well as taking the role of Dr. Lisa Benson in a forgettable sci-fi/horror, "The Green Slime" (1968). By the mid-70s Hollywood was offering Paluzzi very little in the way of attention from Hollywood and returned to her native Italy to make films.
1975 saw Luciana co-star in "Vera Vannucchi", a mobster-themed low-key crime flick as well as "L'infermiera" (1975). By the end of the decade Paluzzi had retired from acting. In 1980, she married her second husband, Michael Solomon, and the pair remain together to date. When she married Michael, her son Christian, adopted the Solomon name and he was a producer on 2000's "American Psycho" amongst other niche films.
Related Articles
Girls Index