Licence Renewed (1981) (USA: License Renewed)
| | |
| --- | --- |
| Author: | John Gardner |
| Published: | May 1981 |
| MI6 Rating: | |


Data Stream


| | |
| --- | --- |
| Villain: | Laird Anton of Murik |
| Plot: | World held to ransom with threat to meltdown six nuclear reactors by an insane physicist hell bent on building his own. |
| Bond Girls: | Lavender 'Dilly' Peacock |
| Allies: | Bill Tanner, Q'ute |
| Locations: | London, Murik Castle (Scotland), Perpignan (France) |
| Highlights: | Bond's fights with Caper; first chapter |


Capsule Synopsis
The World is to be held to ransom by an an insane nuclear physicist who threatens meltdown of six nuclear power stations. Believing he has designed a truly safe nuclear reactor, his plan will demonstrate the threat of current reactors, and supply him with the capital he needs to build his own.

Above: British 1st edition Jonathan Cape hardback (UK). Cover artwork by Richard Chopping.
Official Blurb (British)
Bond is back and he' better than ever. Bond is drinking noticeably less spirits these days; he's perhaps more diligent about exercise and has a special low tar tobacco blended for his cigarettes at Morelands of Grosvenor Street. But the 1980s have reached the department as well. Political restraints are squeezing in on the Service. The elite Double-O status, for example, conveying its authority to kill, is being abolished. But M takes little notice of these restrictions when it comes to Bond.
John Gardner has brilliantly portrayed the most famous spy in the world as he pits his nerve and cunning against a dangerously deranged opponent - one prepared to sacrifice most of the Western world to prove only he can make it safe from accidental nuclear holocaust. As the seconds tick away on the valued Rolex Oyster Perpetual, the world comes nearer this ironic annihilation and Bond comes nearer to a frightful death.
Official Blurb (British Coronet Paperback, 2003)
Enthralled by beautiful Lavender Peacock, Bond prepares for battle with her guardian, the sinister terrorist-connected Laird of Mulcaldy...(sic)

Passenger for Flight 154

Thoughts in a Surrey Lane
The Opposition
Dossier on a Laird
The Road to Ascot
Pearls Before Swine
King of the Castle
Virgin on the Rocks
All Mod Cons
Dilly-Dilly
The Slingshot Syndrome
A Contract, Mr Bond
Nightride
High Frequency
Gone Away
Fête and Fate
Death in Many Fashions
A Watched Plot
Ultimatum
Warlock
Airstrike
Warlock's Castle
Quite A Lady

Above Left: British 1st edition Coronet paperback. Above Right: British 5th edition Coronet paperback.

Above Left: American 1st edition Richard Marek hardback. Above Right: American 1st edition Berkley paperback.
Acknowledgements
I would like, especially, to thank the Board of Directors of Glidrose Publications Ltd, the owners of the James Bond literary copyright, for asking me to undertake the somewhat daunting task of picking up where Mr Ian Fleming left off, and transporting 007 into the 1980s. In particular, my thanks to Mr Dennis Joss and Mr Peter Janson-Smith; also to H.R.F.K., who acted as the original 'Go-Between'.
We have become so used to James Bond gadgets which boggle the mind that I would like to point out to any unbelievers that all the 'hardware' used by Mr Bond in this story is genuine. Everything provided by Q Branch and carried by Bond-even the modifications to Mr Bond's Saab is obtainable on either the open, or clandestine, markets. For assistance in seeking details about such equipment I am especially indebted to Communication Control Systems Ltd and, more particularly, to the delicious Ms Jo Ann O'Neill and the redoubtable Sidney.
As for the inventions of Anton Murik, Laird of Murcaldy, only time will tell.
1981 - John Gardner
Excerpt
"James Bond's heart leaped, and he felt a new urgency coursing through his veins. It was a long time since M had addressed him as 007, and it signified that he could well be off into the real unknown again. He could almost smell the possibilities."
Trivia
Bond's fight with a henchman in a C-14 cargo plane would be later echoed in the 1987 movie "The Living Daylights".
Alternate Titles
The book was first announced under the working title "Meltdown". It was published in France as "Operation Warlock", in the Netherlands as "Permit Renewed", and in Sweden as "Licensed to Kill".
Timeline
1981

April - 1st edition Richard Marek hardback (USA)
May - 1st edition Jonathan Cape hardback (UK)
1st edition Book Club Associates hardback (UK)
1st edition G.K. Hall large print hardback (USA)
2nd edition Jonathan Cape hardback (UK)
1st edition "Licens Fornyet" Merved paperback (Denmark)

1982
May - 1st edition Berkley paperback (USA)
1st edition Coronet paperback (UK)
1984
1st edition "Licença Renovada" Editora Nova Fronteira paperback (Brazil)
1st edition "Med Rätt Att Döda" Albert Bonnier hardback (Sweden)
1986
18th edition Berkley paperback (USA)
2003
June 9 - 1st edition "compendium" Coronet paperback (UK)
2011

June 23 - 1st edition Swordfish hardback (UK)
July 7 - 1st edition Orion unabridged audio book (UK)

2012
Feb 4 - 1st edition Orion paperback (UK)
Oct 12 - 1st edition Pegasus paperback (USA)
Synopsis
Bond is assigned to follow international terrorist, and master of disguise, Franco. The British SIS suspect that he is collaborating with world-leading nuclear physicist, Anton Murik, to hatch a potentially devastating terrorist plot. Bond works his way into Murik's trust by stealing a priceless necklace from his ward Lavender, and claiming he found it dropped. As a result, Murik invites Bond to his castle in the place of the same name, of which he is Laird (a British feudal/aristocratic rank).
Bond gains the Laird's trust by beating his henchman, Caber, in a wrestling contest as part of the annual festivities. Murik tells Bond of his plan, to take over 6 nuclear power stations by way of insiders under Franco's control, and hold the world to ransom for $50 billion, or else his suicidal terrorists will cause meltdown in Paris, London, New York, Berlin and other cities. That night Bond, helped by Lavender, tries to escape but is caught after a car chase. Murik takes Bond to France, where he escapes from the airport, and kills Franco, who accidentally shoots Murik's mistress while aiming for Lavender.
Bond is recaptured, and tied up aboard Murik's C-14 Starlifter. The plan unfolds successfully, with the 6 power stations at the hands of the terrorists. Unless Murik receives the ransom and gives the codeword, nuclear catastrophe is imminent. But Bond releases himself, knocks out the laird, and shoots his henchman. Bond then manages to call off the terrorist squads, with a clever guess that the codeword was Murik's nickname, Lock. 007 finally kills Caper, but after the plane lands it materialises that Murik has escaped.
007 is determined to show that Lavender, not Anton Murik, should be Laird, and he lies in wait with Bill Tanner for Murik to return to his castle, and take the vital papers from their hiding place. Bond shoots Anton Murik with a crossbow, and recovers the papers to make Lavender the new Laird.
"No fan will fail to be caught up in the world-scale adventure of Licence Renewed. The dear old formula of the Mad Scientist is also renewed, with great success; and the Girl - with a splendidly improbable name of course - is a worthy addition to the famous gallery of Bond's beauties." - Financial Times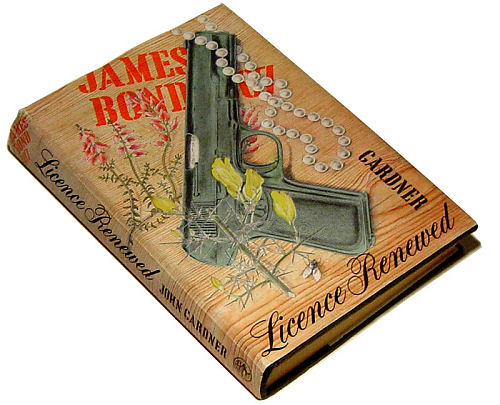 MI6 Community Reviews
Moore - In 1981 the release of John Gardner's License Renewed brought James Bond out of the past and into the 1980's. With this move Ian Fleming's tough, cruel secret agent who relied on his wits is now replaced with a man who relies way to much on his gadgets and luck. It's a trend that would continue until the latest continuation novel, with only a few books straying from what Gardner started. License Renewed also ushered in a lot more changes such as London going through a tough financial period, this forcing the 00-Section to be disbanded but M won't have any of it. In his words to Bond "There are moments when this country needs a troubleshooter- a blunt instrument- and by heaven it's going to have one." Some noticeable changes are that Bond is now smoking and drinking less than he used to, this being another one of Gardner's changes. Despite these additions there are a lot of things taken away from this novel. One is that Gardner did a terrible job describing characters and locations in the book. Another thing is that everything just happens so easily like Bond meeting Anton Murik, Bond getting into Murik's castle, and Bond working for Murik. But besides these faults, there is also a lot of good in the story. The villain Anton Murik is an interesting one who is bent on revenge- his plan is to take over 6 nuclear power plants throughout the world and if the ransom is not paid he will spread havoc across the world. The storyline is quite original and it is an action filled story full of excitement and great moments. The best being the fight between Caber (Murik's henchman) and Bond in the back of the plane where Bond (with the help of Lavender Peacock) defeats Caber and sends him flying out the back of the plane. This scene would later be used in the 1987 film "The Living Daylights". Overall, Bond is still rough in this book as he kills 6 people and he still drinks and smoked, but throughout the Gardner era Bond smokes and drinks less with every book. Despite the fact that the book strays from Fleming's Bond, I don't expect any of the continuation authors to be another Ian Fleming. This book may not be one of the best but it is a fun read. 5/10
Orbis Non Sufficit - A man bent on revenge is the focus of John Gardner's first James Bond book. There are many lifestyle changes taking place for Bond. England is going through a bad financial time, and that means disbanding the entire Double-0 section of the Secret Service. But M refuses to give up 007 and keeps him there working secretly. James Bond's first target is a man obsessed with gaining revenge... on the World! His diabolical plans involve setting off 6 nuclear reactors, "making Chernobyl look like picnic". Licence Renewed was written a while after Robert Markham/ Kingsley Amis's Colonel Sun. Glidrose signed John onto write three Bond novels, but they became so successful he went on to write close to 15. The detail to this novel is superb, rivaling Mr. Fleming's master touch. The characters are fully developed and he introduces a few long staying characters like Q'ute - Major Boothroyd's assistant. The action, torture scene and final climatic fight onboard the plane were masterfully handled. 9.5/10