| | |
| --- | --- |
| Author: | Ian Fleming |
| Published: | 1963 (UK, Jonathan Cape) |
| MI6 Rating: | |
History
Thrilling Cities is a collection of non-fiction travel memoirs of the creator of James Bond, originally written for The Sunday Times between 1959 -1960 whilst Ian Fleming was writing "Goldfinger" and the short stories contained within "For Your Eyes Only". At the behest of Times travel editor Leonard Russell, Fleming's travels took in thirteen cities around the world including Hong Kong, Tokyo, Los Angeles, New York and Monte Carlo.
The book was published by Glidrose Productions first in Great Britain in 1963, followed by an American edition in 1964. One of Fleming's finest works, which reads just as easily as any of his fiction, the UK version has a large number of photos including a priceless one of Lucky Luciano standing with Fleming. The US editions feature drawings by Milton Glaser at the beginning of each chapter.
Fleming includes an 'Incidental Intelligence' section at the end of each chapter that lists notable hotels, dining, and night spots. The book version includes material originally removed by the editors of The Times, which Fleming claimed had been properly 'impurgated' in the book.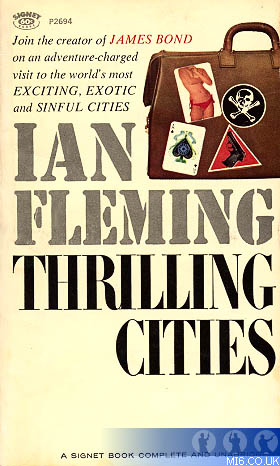 Above: 1st edition Signet paperback (USA)