Characters - Casino Royale
Click on an name below to jump to the profile a supporting character from "Casino Royale" (2006).
Dryden
Actor: Malcolm Sinclair
Character: Dryden
Date of Birth: 5th June 1950
Height: CLASSIFIED
Appearance: Tall and thin with a generous amount of greying hair. Always seen clean shaven.
Status: Terminated
Organizations& Alliances: Rogue Agent (ex MI6)
Involvement
A disgruntled MI6 agent and head of the 00 Section, Dryden has been selling secrets to the highest bidder. He is mildly surprised that James Bond, M's new favourite trainee, catches up with him and confronts the traitor. Bond relays the death of Dryden's contact, and Bond's first kill for MI6, to the Section Chief before swiftly completing his second kill and being promoted to 007.
Steven Obanno
Actor: Isaach de Bankole
Character: Steven Obanno
Date of Birth: 12th August 1957
Height: 5' 9" (1.75 m)
Appearance: Medium height and build, dark sin with a short well-kept beard.
Status: Terminated
Organizations& Alliances: Mr. White
Involvement
Obanno, a high ranking member of the Lord's Resistance Army, approaches Mr. White under the pretext of investing blood money with an associate of the shady middle man. White puts Obanno in touch with Le Chiffre who invests his money. When it is lost on the Skyfleet gamble, the ruthless Obanno will stop at nothing to recoup his losses. In a memorable scene the goon confronts Le Chiffre in his hotel room at Montenegro. Following the confrontation, Bond is observed to be snooping on the deal and Obanno attacks 007. The battle ends in a bloody heap at the foot of the stairwell.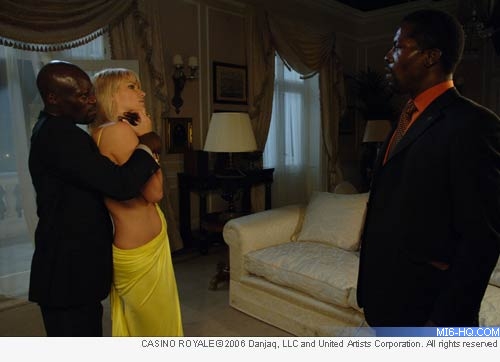 Above: Obanno and his associate threaten Le Chiffre's girlfriend, Valenka.
Mollaka
Actor: Sébastien Foucan
Character: Mollaka
Date of Birth: 27th May 1974
Height: CLASSIFIED
Appearance: Medium height. Extremely fit and strong appearance. Dresses in tatty loose fitting clothing.
Status: Terminated
Organizations& Alliances: Dimitrios, Le Chiffre
Involvement
Initially hired by Dimitrios (on behalf of the villain Le Chiffre) to build a bomb and carry out the attack on Skyfleet, Mollaka is being watched closely by MI6. The bomb maker, as well as his regular skills, proves adept at fast escapes on foot and gives the new 007 a run for his money. Bond catches up with the terrorist at a local embassy but before the MI6 can discover what Mollaka's plans are, Bond assassinates the bomb maker. Luckily for Dimitrios, he is easily replaced.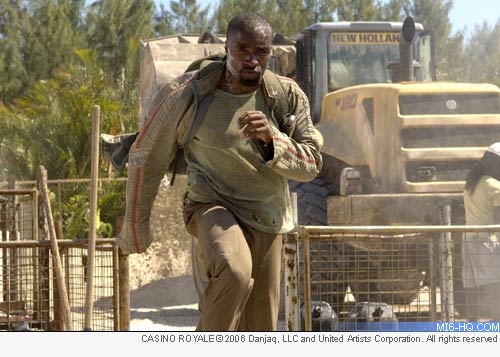 Above: Mollaka makes his escape.
Carlos
Actor: Claudio Santamaria
Character: Carlos
Date of Birth: 22nd July 1974
Height: 5' 10 3/4" (1.80 m)
Appearance: Small and fit with shaggy dark hair, stubble and cool blue eyes.
Status: Terminated
Organizations& Alliances: Dimitrios, Le Chiffre
Involvement
As the replacement for Mollaka for the Skyfleet mission, all of Le Chiffre's clients' money is resting on the bombmaker. More brutal and far less shrewd than his predecessor, Carlos picks up a maintenance outfit and the passcode from Dimitrios at the Miami Bodyworks exhibit. 007, tailing Dimitrios, notices the exchange and calls it in to MI6 HQ. Before very much can be done, Bond sets off in hot pursuit of the bombmaker that explodes onto the Miami International tarmac. As Bond is arrested by airport security - having stopped a tanker truck from speeding headlong into the new Skyfleet plane - Bond watches slyly as Carlos is blown up by his own detonator.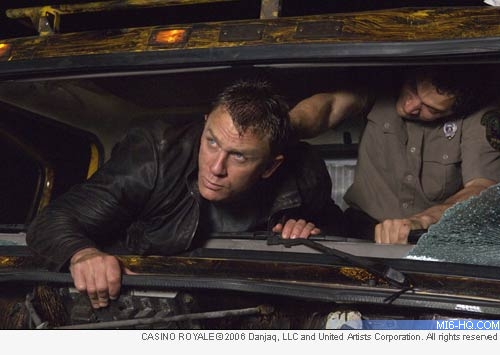 Above: Bond and Carlos struggle in the tanker on the tarmac at Miami.
Kratt
Actor: Clemens Schick
Character: Kratt
Date of Birth: 15th February 1972
Height: 5' 9 1/4" (1.76 m)
Appearance: Thin and wiry physique, bald head and closely shaved. High prominent cheekbones, blue-grey eyes.
Status: Terminated
Organizations& Alliances: Le Chiffre, Leo
Involvement
The cold and brooding male companion to Le Chiffre, Kratt is unquestioning of his master's authority and never speaks out of place.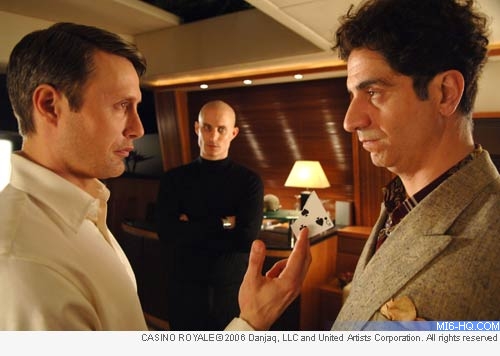 Above: Kratt watches on as Le Chiffre and Dimitrios come to an agreement.
Leo
Actor: Emmanuel Avena
Character: Leo
Date of Birth: CLASSIFIED
Height: CLASSIFIED
Appearance: Tall and thin with dark, shot-length hair.
Status: Imprisoned
Organizations& Alliances: Le Chiffre, Kratt
Involvement
Another goon in the pay of Le Chiffre who Mathis dispatches with in a unique way. Needing to get rid of a body, the MI6 agent plants the corpse in the boot of Leo's car. The villain is arrested by Montenegro police under the watchful eye of Mathis.
Gettler
Actor: Richard Sammel
Character: Gettler
Date of Birth: CLASSIFIED
Height: CLASSIFIED
Appearance: Tall and thin. Often seen in a panama hat. Always wears glasses with one lens tinted.
Status: Terminated
Organizations& Alliances: Mr. White
Involvement
Gettler follows James and Vesper to Venice where he hopes to collect the Poker winnings on behalf of Mr. White and his shady organization. He frightens Vesper simply by his presence on the waterside and later makes contact with her to arrange the return of the money. Unseen and unbeknownst to Bond, Vesper bartered with Gettler for 007's life, but when Bond realizes the girl has betrayed MI6, he goes after her and her associates. Gettler meets with a nasty, vengeful death with a construction nail fired a straight in to his eye.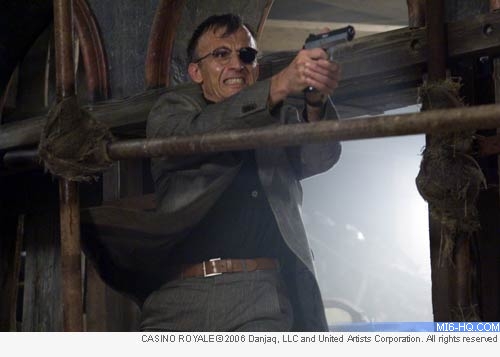 Above: Gettler gets involved in a shootout with an enraged 007.
Carter
Actor: Joseph Millson
Character: Carter
Date of Birth: 1974
Height: CLASSIFIED
Appearance: Medium height and build with thin, wavy light brown hair.
Status: Active (on Probation)
Organizations& Alliances: James Bond, M, MI6
Involvement
Carter is a younger, less experienced field agent who accompanies 007 to Madagascar to track down Mollaka. When the pair scope out the bomb maker Carter is spotted for an official when he is spied touching his earwig. Bond looks on as Carter pulls a gun on the villain and attempts to make an arrest. When the bomb maker escapes, 007 gives chase, leaving the rookie agent in his dust.
Mendel
Actor: Ludger Pistor
Character: Mendel
Date of Birth: 16th March 1959
Height: 6' 4" (1.93 m)
Appearance: Tall and stocky build. Light brown, slightly receding hairline and bright blue eyes. Often seen in light coloured suits.
Status: Active
Organizations& Alliances: James Bond, Le Chiffre, Casino Royale, Basel Bank
Involvement
A chirpy banker involved who is in administering funds for Le Chiffre's high stakes poker game. He explains the method of money transfer to the players at the beginning of the game and collects passwords from all players. Only those passwords are later able to release the funds. Later, Mendel visits Vesper and 007 who are recuperating in Italy. Bond releases his funds with the password and Mendel jovially departs.