Fan Verdict - GoldenEye
Each month, a different James Bond film is selected for review, rating and discussion by the largest online community of 007 fans - the Keeping The British End Up forums.

Fans rated the following elements of the movie on a 1-10 scale (10 being best): Bond, Babes, Villains, Humour, Sadism, Snobbery, Action, Locations, Gadgets, Music and 'Tilt' - a rating to account for any qualities not captured in the main categories.

Also up for discussion were the 'best bits' of the movie, including: most 'Bondian' moment, funniest scene, best line, best location, best action sequence, best Bond girl and best overall performance.

GoldenEye overall score: 7.6


Above: Cover art for the "GoldenEye" score, composed by Eric Serra...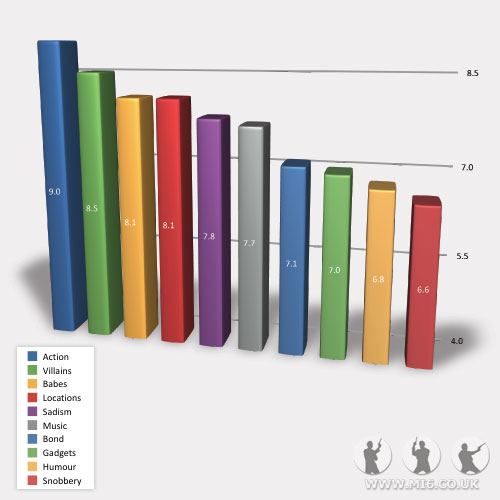 Most 'Bondian' Moment
Winner: James Bond is delivered to a graveyard of Soviet monuments to meet the mysterious leader of the Janus syndicate.
Honourable mentions: Whilst undergoing the obligatory MI6 psych evaluation, Bond pops the champagne and seduces the evaluating officer.

Funniest Scene
Winner: 007 is delivered by the CIA to the mob hideout of Valentin Zukovsky, whom Bond has run into before. Zukovsky plays shocked that the MI6 agent was asking for a favour.

Rating Results

| | |
| --- | --- |
| Category | Average Score |
| Action | 9 |
| Villains | 8.5 |
| Babes | 8.1 |
| Locations | 8.1 |
| Sadism | 7.8 |
| Music | 7.7 |
| Bond | 7.1 |
| Gadgets | 7 |
| Humour | 6.8 |
| Snobbery | 6.6 |
| Overall | 8.5 |
Best Line
Winner: "Spare me the Freud. I might as well ask if all those vodka martinis silence the screams of all the men you've killed... or if you've found forgiveness in the arms of all those women, for the ones you failed to protect?"
Best Location
Winner: St Petersburg, Russia.
Honourable mentions: Cuba.
Best Action Sequence
Winner: James Bond and his old friend face off in a violent battle of wits and strength, in and around the workings of the Janus GoldenEye tracking facility. Bond ends the battle by letting Trevelyan mercilessly drop to his death.
Honourable mentions: Bond and Natalya escape from the Russians by hiding out in an archive room.
Best Bond Girl
Winner: Natalya Simonova.
Best Overall Performance
Winner: Sean Bean as Alec Trevelyan.
Honourable mentions: Gottfried John as General Ourumov.
---
What The Fans Said
Below are selected quotes from reviews by Keeping The British End Up members. Click here to read all the reviews in their entirety.
"A fantastic array of talented actors and actresses." -- Fieldsman
"First and foremost, Pierce Brosnan gives a strong debut performance as the secret agent. He has the wit and self deprecating nature of Bond to a tee even if he does at times appear a little young to play the spy. There was a time when I felt Sean Bean's portrayal of 006 Alec Trevelyan and Janus was a 'play it safe' performance but on further viewing it is clear that he plays this assertive, conflicted character with great nuance and vengeance." -- JamesC
"Ambitious themes of betrayal and coping with a post-Cold War world aren't dealt with satisfyingly and there isn't anything special made of 006 vs. 007 besides adolescent 'I was always better than you' cliches. Xenia and 006's working relationship is never addressed, which I find odd as they are driven in very different ways. But I don't care too much. Just don't go in expecting anything too deep. The film's use of Russian icons and images is interesting." -- Louis Armstrong