Fan Verdict - Goldfinger
Each month, a different James Bond film is selected for review, rating and discussion by the largest online community of 007 fans - the MI6 Community forums.

Fans rated the following elements of the movie on a 1-10 scale (10 being best): Bond, Babes, Villains, Humour, Sadism, Snobbery, Action, Locations, Gadgets, Music and 'Tilt' - a rating to account for any qualities not captured in the main categories.

Also up for discussion were the 'best bits' of the movie, including: most 'Bondian' moment, funniest scene, best line, best location, best action sequence, best Bond girl and best overall performance.

Goldfinger overall score: 7.6


Above: Cover art for the "Goldfinger" score, composed by John Barry...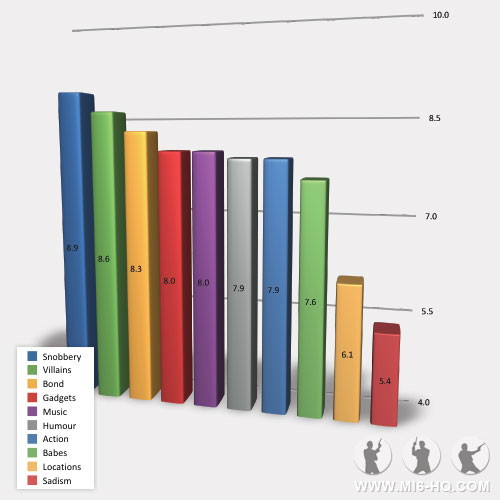 Most 'Bondian' Moment
Winner: James Bond heads to Goldfinger's apartment on the Miami coast to discover how the billionaire is cheating at cards.

Funniest Scene
Winner: James Bond is imprisoned in Goldfinger's ranch. He outwits the solo guard on duty but when his poorly executed escape plan fails, many, many more guards are tasked with preventing Bond's escape.

Best Line
Winner: "No, Mr. Bond, I expect you to die!"

Rating Results

| | |
| --- | --- |
| Category | Average Score |
| Snobbery | 8.9 |
| Villains | 8.6 |
| Bond | 8.3 |
| Gadgets | 8 |
| Music | 8 |
| Humour | 7.9 |
| Action | 7.9 |
| Babes | 7.6 |
| Locations | 6.1 |
| Sadism | 5.4 |
| Overall | 7.6 |
Best Location
Winner: The Alps, Switzerland.
Best Action Sequence
Winner: James Bond, with the help of the US Army and Pussy Galore's Flying Circus, ambush Goldfinger's raid on Fort Knox.
Best Bond Girl
Winner: Honor Blackman as Pussy Galore.
Honourable mention: Shirley Eaton as Jill Masterson.
Best Overall Performance
Winner: Gert Frobe as Auric Goldfinger.
---
What The Fans Said
Below are selected quotes from reviews by MI6 Community members.
"Goldfinger is film fantasy with bells on (golden, of course). Indeed, it unquestionably cemented not just the world's love affair with its most famous secret agent, but also key ingredients of the Bond film 'formula': the seemingly indestructible, unruffled, expert-in-all-things and witty-as-hell hero; the beautiful Bond Girls with innuendo-laden names; the outrageous villain with an even more outrageous plan; the built-like-granite and loyal-to-the-last, but somehow loveable henchman; the amazingly impressive, cool and beautiful sets of the legend that is Sir Ken Adam; the brilliant title song belter (its own is the classic delivered by Shirley Bassey) and, last but far from least, 007's gadget-modified sportscar-for-all-occasions, the supreme Aston Martin DB5. " -- St. George
"I rate locations very heavily in my Bond ratings. Not only do they have to be exotic, but they have to be well filmed to give you a real sense of location (a quality lacking in the Brosnan pictures). I love the Swiss sequences in Goldfinger, but I find the Kentucky location probably the dullest ever for Bond. Maybe it's just because I'm American, but the seemingly endless scenes of cars driving down a suburban KY strip, complete with KFC, are just about as un-Bond as anything I can imagine and it kind of brings the whole movie down for me." -- MayDayJumper
"Connery's most comfortable performance. He has swagger, flair and style. His perfectly tailored suits are impeccable. The way he owns the situation: (take any of his interactions with Blofeld), he outwits at every turn." -- JBFan626