Fan Verdict - Live And Let Die
Each month, a different James Bond film is selected for review, rating and discussion by the largest online community of 007 fans - the Keeping The British End Up forums.

Fans rated the following elements of the movie on a 1-10 scale (10 being best): Bond, Babes, Villains, Humour, Sadism, Snobbery, Action, Locations, Gadgets, Music and 'Tilt' - a rating to account for any qualities not captured in the main categories.

Also up for discussion were the 'best bits' of the movie, including: most 'Bondian' moment, funniest scene, best line, best location, best action sequence, best Bond girl and best overall performance.

Live And Let Die overall score:7.6


Above: Cover art for the "Live And Let Die" score, composed by George Martin...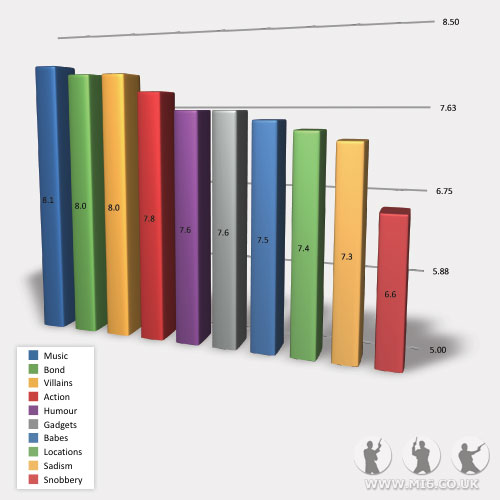 Most 'Bondian' Moment
Winner: Bond pays a visit to the psychic Solitaire at her remote mountain-top estate. Whilst waiting for the damsel he rigs a pack of Tarot cards to convince her that fate has brought them together.
Honourable mentions: Killing the snake with an an aerosol aftershave and a cigar .

Funniest Scene
Winner: The unintentionally humorous inflation of the villain, Kananga.
Honourable mentions: Tailing a cue-ball. 007 is transported by Mr. Big's slick-talking taxi driver.

Rating Results

| | |
| --- | --- |
| Category | Average Score |
| Music | 8.1 |
| Bond | 8 |
| Villains | 8 |
| Action | 7.8 |
| Humour | 7.6 |
| Gadgets | 7.6 |
| Babes | 7.5 |
| Locations | 7.4 |
| Sadism | 7.3 |
| Snobbery | 6.6 |
| Overall | 7.6 |
Best Line
Winner: "Why it's just a hat, darling, belonging to a smallheaded man of limited means who lost a fight with a chicken."
Honourable mentions: "There's no sense in going off half-cocked."
Best Location
Winner: San Monique, Bahamas.
Honourable mentions: New York, NY, USA.
Best Action Sequence
Winner: Bond makes a daring leap across the back of thrashing crocodiles at Kananga's farm in Louisiana. Free of gnashing teeth 007 sets the crocs on their owners.
Honourable mentions: The fantastic down river chase that sees James Bond pursued by Kananga's thugs and the Parish police force.
Best Bond Girl
Winner: Solitaire.
Best Overall Performance
Winner: Yaphet Kotto as Dr. Kananga / Mr. Big.
Honourable mentions: Roger Moore as James Bond.
---
What The Fans Said
Below are selected quotes from reviews by Keeping The British End Up members. Click here to read all the reviews in their entirety.
"A brilliant start to an up and down career as far as Bond is concerned, with some entertaining performances and great set pieces the whole story slots together nicely." -- alec_006
"The stunts, especially the crocodile sequence, are superb, and George Martin's score fits the film well. I can't imagine a Barry score accompanying the film because Martin's fits it so well, and the theme song, by Paul McCartney and Wings is one of the series best, played against bold and visually exciting titles.'" -- thegiantcookie
"Roger Moore's debut in the role of James Bond is a pleasingly dated blaxploitation pastiche, which, though it has not aged well, still endures as an entertainingly oddball 1970s' crime thriller." -- Bondfan06
"Yaphet Kotto proves a formidable match for Bond and one of the more surprising of the Bond villains. Geoffrey Holder's Baron Samedi grabs the audience's attention and there is a great shroud of mystery surrounding his character - giving him the film's final shot is a stroke of genius of the filmmakers - and Jane Seymour is also more than competent in her first lead film role as the virginal Solitaire." -- JamesC
"Try as I might to convince myself that Moore was rubbish as Bond, I find it impossible not to enjoy his performances. One of the few saving graces of Live And Let Die is Moore's stellar debut, effortlessly delivering the hilarious quips." - Count Chocula!
"Moore was at his Bond best. His suits weren't as stylish as classic, hair still proper length (both of which became issues in his later films). He was still young enough for the role and was very believable in this role as a 00 agent." -- CalGal
"As far as locations go, the EON team doesn't fail to impress. James Bond travels to the stomping-grounds of New York, then to New Orleans, and to Jamaica, which doubles as the fictional country of San Monique. The locations in this film were quite admirable. I'd like to see Bond head to New York once more, actually." -- Mr Brown
"Bond expertly lands his hand-glider, knocking a goon off a cliff as he does so, and then pulls off his wind-chill trousers and reverses his jacket to reveal a perfectly tailored suit - just as the first bars of the Bond tune begins. Smug cool to the zenith." -- St George
"First up for scrutiny is the poorly done pre-title sequence. The idea is good - three men are killed in three different locales, and this sets off Bond's mission. However, this means three sort of mini action climaxes happen over a short period. The transition from New York City to New Orleans and finally to San Monique is a hard cut each time, with a sloppily laid out title card on each. A simple dissolve between locales would've helped. Add to this one lame (killer, actually) sound effect, one plastic-looking snake and a bunch of ordinary people rejoicing after a murder, and you have an opening that leaves a sour taste in the mouth." -- Louis Armstrong