Fan Verdict - Licence To Kill
Each month, a different James Bond film is selected for review, rating and discussion by the largest online community of 007 fans - the Keeping The British End Up forums.

Fans rated the following elements of the movie on a 1-10 scale (10 being best): Bond, Babes, Villains, Humour, Sadism, Snobbery, Action, Locations, Gadgets, Music and 'Tilt' - a rating to account for any qualities not captured in the main categories.

Also up for discussion were the 'best bits' of the movie, including: most 'Bondian' moment, funniest scene, best line, best location, best action sequence, best Bond girl and best overall performance.

Licence To Kill overall score: 7.7


Above: Cover artwork for the original "Licence To Kill" soundtrack release.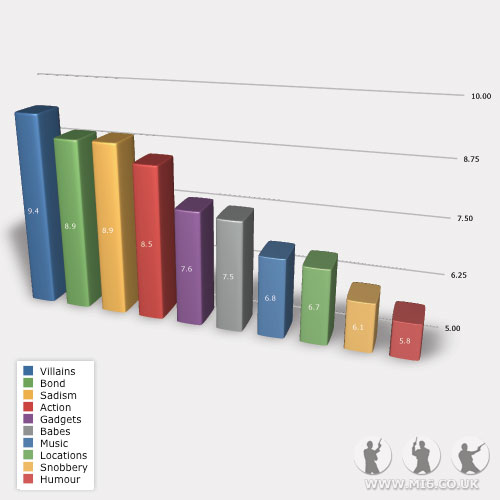 Most 'Bondian' Moment
Winner: James Bond hijacks the Wavecrest and escapes with Sanchez's drug money.
Honourable mentions: "Watch the birdie, you bastard..." Bond attempts to assassinate Sanchez.

Funniest Scene
Winner: James Bond's uncle awaits... Q's entrance at the Isthmus hotel plus his equipping Bond with the latest gadgets. "Lets make this a proper family reunion - give me a gun."

Rating Results

| | |
| --- | --- |
| Category | Average Score |
| Villains | 9.4 |
| Bond | 8.9 |
| Sadism | 8.9 |
| Action | 8.5 |
| Babes | 7.6 |
| Gadgets | 7.5 |
| Music | 6.8 |
| Locations | 6.7 |
| Snobbery | 6.1 |
| Humour | 5.8 |
| Overall | 7.7 |
Best Line
Winner: "Watch the birdie, you bastard!"
Honourable mentions: "A problem solver?" / "More like a problem eliminator", "I guess it's.. a farewell to arms."
Best Location
Winner: Florida Keys.
Honourable mentions: Isthmus City.
Best Action Sequence
Winner: Bond vs. Sanchez, the high octane dual onboard Kenworth tanker trucks.
Honourable mentions: James Bond escapes Krest's men by barefoot waterskiing.
Best Bond Girl
Winner: Pam Bouvier
Best Overall Performance
Winner: Robert Davi as Franz Sanchez
---
What The Fans Said
Below are selected quotes from reviews by Keeping The British End Up members. Click here to read all the reviews in their entirety.
"A brave attempt to marry ingredients of the old Bond formula with harder, grittier, more violent components and the result is a little rough in places but comes over as a movie that takes itself more seriously than previous outings and presents us with Bond's darker side." -- sisillius
"The collection of villains here are the strongest to date in the series, all unique from the other and intertwined in a logical manner. Robert Davi plays Sanchez to the hilt, hiding beneath the assumed veneer of a classy type of "businessman" to mask his real identity, a ruthless and evil man who killed his way to the top of his profession." -- Sir Henry Lee Cha-Ching
"The Wilson/Maibaum plot delved a little into Ian Fleming's output, but in general this was all new Bond, chronicling the schemes of a South American drug Baron as he ingeniously transports his merchandise around the world." -- NicNac
"On one side, we get the revenge plot and the fantastic performances with brutal elements, but once in a while, one seems a little taken back by the odd confrontation by the two leading ladies towards the end, or maybe the oddly lighter presence of Q. Not to mention a simply too cheery ending, failing to compare to the first events of the film (Leiter seems too happy for a man who just lost his wife.)" -- 007calbrit
"It's a more mature bond, in a more mature setting with a script and plot to reflect this. Drug Barons have been done before in previous bond films, although they have been glossed over. Licence to Kill tackles this head on, and Sanchez is brutal and menacing. Robert Davi portrays him perfectly, the script for Sanchez is well developed, and I couldn't imagine the part played by any other actor." -- Nick Gurney
"This is a Bond film that dares to be different – stepping away from the glamour and outrageousness of the previous Moore era Licence to Kill is presented as gritty, dark and realistic. The idea of a ruthless drug baron's business being uncovered by a driven man is set firmly in the grounds of reality..." -- Fae
"When I heard Michael Kamen's painful music accompany that gunbarrel, I just knew this was going to be rough. It wasn't just Michael Kamen's music, everything in that pre-title just hit the wrong note. The 'funny' stuff with Della's Dad, David Heddison's melodramatic acting, the dialogue. They're such small things but like ants, you put them together and they can make a huge impact." -- DOUBLE-O-NOEL
"Michael Kamen's score for this film usually goes unappreciated, but I have to admit that I enjoy it. Some of Kamen's score drags on, but his rendition of the James Bond theme is fantastic, and quite memorable. Gladys Knight provides some great vocals for the main theme, too, but the lyrics are of poor quality." -- Mr. Brown
"Bond [is] striking out on his own, with one goal, to destroy Sanchez and his drugs operation. But that is not done in the usual fashion, this time Bond chips away at Sanchez's setup by gradually sowing the seeds of doubt in Sanchez's own men. In short, Bond brings Sanchez down from within." -- Major D.Smythe
"I enjoy every scene featuring slimy drunk Milton Krest because he is believable as a person, and villain Sanchez scores points simply because he is so sadistic and complex. And once Bond starts to get under Sanchez's skin, the film's pace never slows back down." -- Louis Armstrong
"The locations suited the film's plot, but for a Bond film, some were rather insipid. In saying that, Florida wasn't a bad choice for Felix and Della Leiter's home and the fictitious location of Isthumus City was beautiful. The sets have been somewhat better in other Bond films, but for this, Sanchez's residence was stunning, with its snow white walls, flowing cascades and amazing architecture." -- FieldsMan
"Rounding out the cast is Frank McRae playing a sort of replacement of Quarrel, Talisa Soto as Lupe, much like the character of Domino in Thunderball and Carey Lowell as CIA agent Pam Bouvier, Bond's love interest in the film. McRae brings warmth and humour to his character, Sharkey and whilst Talisa Soto is sometimes annoying she makes up for it just by looking, uh, stunning." -- G section
"Not only is this film a chance for Dalton to shine but Llewellyn's Q gets his longest screen appearance in the series to date, injecting some well timed and not too blatant comic interludes into the serious proceedings." -- James Clark
"Like Bond we find ourselves re gritting our teeth, hissing, snarling at the Bad guys who hurt our man. And thus, we are thrown headlong into a revenge flick featuring not a cinematic James Bond, but THE James Bond, a creation by one of the greatest novelist of all time, Ian Fleming." -- groucho070