Fan Verdict - On Her Majesty's Secret Service
Each month, a different James Bond film is selected for review, rating and discussion by the largest online community of 007 fans - the Keeping The British End Up forums.

Fans rated the following elements of the movie on a 1-10 scale (10 being best): Bond, Babes, Villains, Humour, Sadism, Snobbery, Action, Locations, Gadgets, Music and 'Tilt' - a rating to account for any qualities not captured in the main categories.

Also up for discussion were the 'best bits' of the movie, including: most 'Bondian' moment, funniest scene, best line, best location, best action sequence, best Bond girl and best overall performance.

O.H.M.S.S. overall score: 8.5


Above: Cover art for the "O.H.M.S.S" score, composed by John Barry...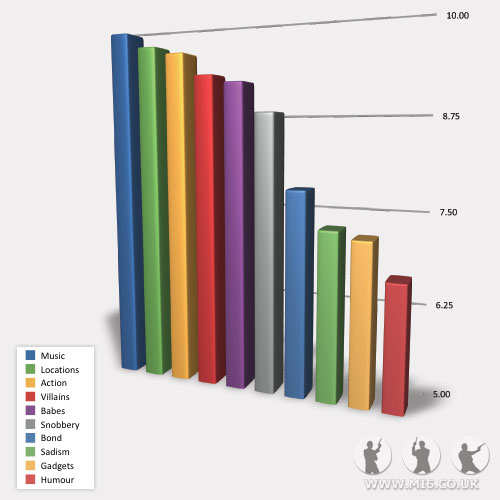 Most 'Bondian' Moment
Winner: James Bond is driving the Portugal coast in his Aston Martin DBS. He lights a cigarette as he drives but is brought to a halt by a damsel attempting to commit suicide in the waves.
Honourable mentions: Bond and his future father-in-law touch down at Blofeld's Piz Gloria lair in order to rescue Tracy.

Funniest Scene
Winner: Bond has dinner with a slew of beautiful girls, and after dinner feels a slight stiffness coming on...

Rating Results

| | |
| --- | --- |
| Category | Average Score |
| Music | 9.9 |
| Locations | 9.7 |
| Action | 9.6 |
| Villains | 9.3 |
| Babes | 9.2 |
| Snobbery | 8.8 |
| Bond | 7.8 |
| Sadism | 7.3 |
| Gadgets | 7.2 |
| Humour | 6.7 |
| Overall | 8.5 |
Best Line
Winner: "Just a slight stiffness coming along."
Honourable mentions: "This never happened to the other fella."
Best Location
Winner: Piz Gloria.
Best Action Sequence
Winner:Bond, unmasked as a 00 and not a genealogist after all, makes good his escape in the dead of night and on skies. It's a rough ride with Blofeld's goons in hot pursuit but Bond soon makes it to Murren where he discovers the ever-resourceful Tracy had tracked him down.
Honourable mentions: Blofeld escapes the Piz Gloria raid by bobslead and 007 gives chase.
Best Bond Girl
Winner: Tracy di Vicenzo/Bond.
Best Overall Performance
Winner: George Lazenby as James Bond.
Honourable mentions: Diana Rigg as Tracy di Vincenzo/Bond.
---
What The Fans Said
Below are selected quotes from reviews by Keeping The British End Up members. Click here to read all the reviews in their entirety.
"I couldn't imagine the casting of this film being any different. Not only is Lazenby brilliant, but so too is his supporting cast. Diana Rigg is positively stunning, and although her portrayal differs from that of the novel, she adds class and strength to the character of Tracy. Pleasance may be the most iconic Blofeld, but Savalas is certainly the best." -- Octopussy
"The film doesn't have any of the great lines of previous outings, nor the sight gags of later films, but some of the situations 'Hilary Brey' finds himself in are quietly amusing and of course the breaking down of Tracy's resistance is satisfying and raises a knowing smile." -- NicNac
"Service's action is stunning and well-paced, and the sheer humanity of its characters lets it dive believably into fantasy late in the picture. The film's music is some of the most listenable the series has to offer... I have always found snow to be majestic-looking (pun quite intended), and its abundance in the scenery doesn't hurt. The sets are glamorous and complex, and there is a contemporary flair to the characters' clothing." -- Louis Armstrong
"Teresa 'Tracy' di Vicenzo (Diana Rigg) gives us one of the most tragic performances of any Bond girl to date. And, in my personal opinion, the best. You can actually believe that they are in love, her and Bond. At the beginning, she is ice cold, no longer able to live her life at all her downfalls. And after she is saved by our hero, he follows her for the first parts of the film, interested by her. And at the pleas to see her by her father and gangster, Marc Ange Draco, Bond agrees to continue with her, resulting in one of the most unique sequences supported by the song, "We Have All The Time In The World" by Louis Armstrong." -- 007calbrit
"At times you can see he is not quite as comfortable as he could be but by that final scene, Lazenby cements himself as a very worthy Bond. Mskes you wonder whether Connery would have acted as well as that when Bond is holding his dead wife in his arms. There was a lot of unfounded negative air surrounding Lazenby but this film has his name all over it. A very human performance." -- JamesC
"This film also had plenty of Bondian traits. It certainly has Bond written all over it, as far as style goes. The visuals are also gorgeous in this film- not as great as locations from "Dr. No" or "You Only Live Twice", however, I think this ranks up there with them. This film also had some top-notch Bond action." -- Mr Brown
"Perhaps sitting squarely in the stereotypical, and often unfavourable (certainly in these part) position of not liking Lazenby, I still find it somewhat refreshing that I can happily say it's one of the few Bond films for me whereby the lead Bond girl completely trumps Bond in terms of acting performance; top five on my Bond girl list now for sure." -- Du$ty
"Savalas is charming and believable as the head of Spectre. When he explains to Bond his scheme he is very effective. He also participates in the chase in order to recapture an escaping Bond from Piz Gloria. Something other Blofeld's left to their subordinates. Blofeld is aided by Irma Bunt, much like Rosa Klebb before her Bunt is evil through and through. Played by the wonderful Ilse Steppat, she gives the part the required evil and almost like a hospital matron in her authority." -- Benny