Fan Verdict - The Spy Who Loved Me
Each month, a different James Bond film is selected for review, rating and discussion by the largest online community of 007 fans - the Keeping The British End Up forums.

Fans rated the following elements of the movie on a 1-10 scale (10 being best): Bond, Babes, Villains, Humour, Sadism, Snobbery, Action, Locations, Gadgets, Music and 'Tilt' - a rating to account for any qualities not captured in the main categories.

Also up for discussion were the 'best bits' of the movie, including: most 'Bondian' moment, funniest scene, best line, best location, best action sequence, best Bond girl and best overall performance.

The Spy Who Loved Me overall score: 7.9


Above: Soundtrack artwork for the original score by Marvin Hamlisch....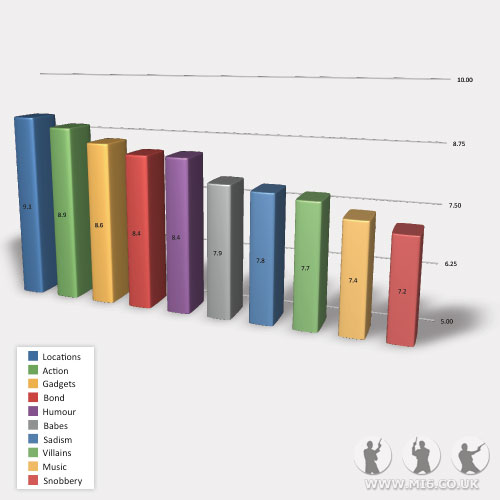 Most 'Bondian' Moment
Winner: James Bond is on a mission in Austria and when quick escape from a slew of assassins is required, 007's Union Jack parachute does the trick!
Honourable mentions: Bond interrogates the hitman Sandor before letting him drop from an Egyptian rooftop.

Funniest Scene
Winner: Bond and Anya are trying to make a speedy escape in the midst of the desert but with Agent XXX at the wheel and Bond's quip, progress is slow...

Rating Results

| | |
| --- | --- |
| Category | Average Score |
| Locations | 9.1 |
| Action | 8.9 |
| Gadgets | 8.6 |
| Bond | 8.4 |
| Humour | 8.4 |
| Babes | 7.8 |
| Sadism | 7.7 |
| Villains | 7.4 |
| Music | 7.2 |
| Snobbery | 6.9 |
| Overall | 7.9 |
Best Line
Winner: "All those feathers and he still can't fly..."
Best Location
Winner: Egypt.
Honourable mention: Sardinia.
Best Action Sequence
Bond and Anya escape the Stromberg's goons, lead by Naomi and Jaws. Luckily 007 has the gadget laden Lotus ('Wet Nellie') at his disposal.
Honourable mention: The high-octane climax in which James Bond and Captain Carter lead an assault on Stromberg's supertanker and an army of men.
Best Bond Girl
Winner: Anya Amasova ('Agent XXX')
Honourable mention: Naomi
Best Overall Performance
Winner: Roger Moore as James Bond
---
What The Fans Said
Below are selected quotes from reviews by Keeping The British End Up members. Click here to read all the reviews in their entirety.
"Overall, Stromberg was pretty unspectacular. We only see him briefly in the first hour and he doesn't get much better later on, either. He strikes me as the way your Dad would try to play a Bond villain. Having said that, he does say, 'Hello Mr. Bond, I've been expecting you'..." -- Count Chocula
"Anya's short and sharp reference to Bond's short term marriage in "On Her Majesty's Secret Service" which Moore responds to in a subtle but very effective fashion. The sets are incredible, the women are beautiful - some of the very best in the series - and the locations, especially Egypt, look stunning under the cinematographic eye of Claude Renoir." -- James Clark
"It's a Bond film absolutely tailored to the Bond in question, and Moore plays it to perfection. The action sequences throughout are all enthralling, with the shining jewel being the escalating Lotus chase, scored superbly by the underrated (yes, I say underrated, Oscar nom and all) score by Marvin Hamlisch. I don't like his tinkering with the gun barrel music, but all is forgiven thanks to Bond 77, and the beautiful song, "Nobody Does it Better," which is without a doubt one of the best Bond standards ever." -- FourDot
"It would be impossible to write a review of Spy without including a note about the famous pre titles sequence. Bond on a mission in Austria is chased by Russian gunmen on skis. Bond who is seemingly trapped skis off the edge of a mountain. Only to fall for what seems like an age, only to open a union jack emblazoned parachute. To this day it still looks impressive, and is one of the signature stunts of the series. Nobody does it better." -- benny
"Bach is quite a beautiful woman, but not a very convincing "equal" to Bond due in part to a lack of acting skills and bad accent. The Amasova character should have been stronger but it was a sign of the times and I've always wondered if the script had something to do with her controversial exit comments. My favorite Bond babe in this one was English stunner Caroline Munro as Stromberg crony Naomi. She probably had less than 10 lines but her facial expressions and pure sex appeal stole the movie from the other women." -- Sir Henry Lee Cha-Ching
"The film plays by the rules of a fanciful world and I have no objections to it going over the top, but in every other area it functions by a certain logic. Bond's car miraculously transforms into a submersible, yet it makes sense in light of the other fantastic devices we have seen displayed. Jaws on the other hand is never explained, nor is there anything to compare him too. He simply happens to be a man with superhuman strength, and copious amounts of metal in his body. No explanation is ever given, nor for that matter is one asked for; Jaws simply is. I find this somewhat problematic and more than a little distracting to be honest." -- Agent Leiter
"If I'm in the mood for an escapist bond, I'll still always go back to TSWLM. Its fantastic to see Shane Rimmer get a little bit more than a bit-part, Richard Kiel is fantastic as Jaws, a fantastic henchman, the Bond girls are fantastic and the whole film is supported by great direction by Lewis Gilbert." -- thegiantcookie