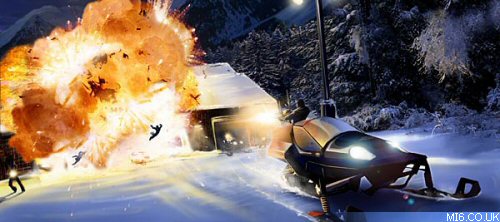 "Do you have what it takes to be Bond?"
Back Cover Blurb
All-new storyline featuring Pierce Brosnan as James Bond
Rendezvous with beautiful women and confront devious villains in more than 10 exotic locales
12 action-packed missions combining combat, stealth, and upgradeable gadgets
Engage in 5 high-speed levels with the Aston Martin V12 Vanquish and other dynamic vehicles
Over 10 customizable multiplayer modes including characters and settings from classic James Bond movies
Press Release - PlayStation 2
REDWOOD CITY, Calif., November 19, 2002 – Take James Bond higher and deeper than ever before. EA announces that it has released the new James Bond game that delivers a complete 007 experience filled with action-packed excitement and intrigue that leaves players shaken… and stirred! James Bond 007: NightFire™ takes Bond fans higher and deeper than any previous Bond game with intense, action-packed gameplay on the PlayStation®2 computer entertainment system, Nintendo GameCube™ and Xbox™ video game system from Microsoft. The PC version will ship the following week starting on Monday, November 25.
NightFire offers a deep and rich gameplay experience that epitomizes the Bond universe. The game features an original single player storyline – written exclusively for NightFire and borrowing from the rich 007-legacy that spans 40 years. As Bond, players operate in the snow capped Austrian Alps and the far reaches of outer space as well as underwater in the depths of the South Pacific to defeat the evil criminal mastermind Rafael Drake, the popular head of a supposedly benign environmental organization who secretly is bent on world domination.
NightFire features a large variety of missions filled with furious action and stealth, gorgeous women, exotic locales, and sophisticated spy-craft gadgetry that Bond fans expect. Adding to the legacy is the involvement of actor Pierce Brosnan via cyberscan process for the James Bond character. The game also offers a large cast of villains and allies, both new and familiar to the Bond universe.
Each of the platforms contains unique features catering to that platform's audience. For example, the console versions feature exclusive driving levels - developed by the award winning team behind the Need For Speed racing games - that feature an array of 007-inspired exotic vehicles, including the Aston Martin Vanquish™, equipped with weapons and gadgets. The PC game offers exclusive single player levels for extended excitement and robust multi-player support online.
James Bond 007: NightFire was produced by EA. UK based Eurocom Entertainment Software and EA developed the console versions. Gearbox Software, based in Dallas, TX, developed the PC version. EA will publish and distribute the game worldwide under the EA GAMES™ brand. James Bond 007: NightFire will have a "T" rating and MSRP of US$49.95.
Press Release - GameBoy Advance
The best-dressed spy in the business returns in an all new first-person shooter for the Game Boy Advance. EA's James Bond 007: NightFire stars Ian Fleming's superspy in an original storyline.
Everything but the Bad Guy's Fluffy Kitty
Incorporating 40 years of the Bond legacy, NightFire features all the 007 mainstays, including dangerous women, state-of-the-art gadgets, high-caliber weaponry and exotic locations around the globe. Modeled closely after the Nintendo GameCube incarnation, players control Bond from a first-person perspective.
Do Things Your Own Way
Each mission is introduced by a briefing from MI6, the British intelligence directorate. While your objectives are set in stone, how you achieve them is not. Each of the nine single-player missions has been designed with nonlinear progression in mind.
Feeling frisky? Try running through the level Rambo-style with guns blazing. You can even pick off enemies from a distance with a scope rifle. If you prefer covert operations, stick to the shadows and try sneaking past guards or taking them out quietly with your laser. You'll be rewarded with different ratings depending on how well you complete a mission.
State of the Art
No international man of mystery is complete without his spy gear. Backed by the legendary Q-lab, Bond has access to more than 15 high-tech gadgets and weapons. Bond is prepared for just about any situation with his laser watch, electro-shock key chain, rocket launcher, machine guns, silencers and signature PP7 pistol.
James Bond 007: NightFire is a technical marvel in itself on the Game Boy Advance. The developers have created a robust 3D graphics engine normally reserved for home consoles. Each surface is fully texture-mapped with excellent lighting effects. The flash of your gun's muzzle will suddenly light up an area.
Digitized voice clips accompany each of the enemies you'll face. A handy memory chip system allows as many as three separate save files for multiple players.
EA has done an excellent job of recreating the Bond movie experience without copying directly from a particular movie. You'll explore towering skyscrapers, underwater grottos and even outer space missions. If think the locations are breathtaking, wait until you meet some of the beautiful Bond women.
Rogue's Gallery
Just like the movies, some women are friendlier than others. Enemies vary greatly from level to level. Your basic stooges block your way in most missions, while other levels are populated by flipping ninja commandos.
The complex controls associated with most first-person shooters have been perfectly mapped to the Game Boy Advance. The shoulder buttons control left and right strafe movement, allowing for perfect circle-strafing. Players can quickly scan their surroundings, fire, reload, swap weapons, duck and jump with the greatest of ease.
EA has set a new standard in the first-person shooter genre on Game Boy Advance.
Cover Art
Trivia
In the "Deep Descent" level, the ship Bond drives into contains the Malprave Industries logo on the side, a reference to "Agent Under Fire", the previous Bond video game.
The game was originally titled "Phoenix Rising", but changed to "NightFire". The scrapped title remains in part as a codename of the mission "Phoenix Fire".
Pierce Brosnan leant his likeness to the James Bond character late in development of the game, but his voice was performed by a soundalike.
The movie style opening song was written and performed by Esthero.
At the very end of the ending credits, the phrase "James Bond will return..." scrolls by.
Mistakes
In the cut-scene at the beginning of the "Phoenix Fire" level, Bond picks up a Wolfram P2K pistol from the helipad. When he enters the elevator it is still a P2K, but when the gameplay starts, he has a different gun.
In the Rendezvous mission (PC version), Bond changes into a tux before entering the party. In the cutscene, the guard nearby is wearing a black shirt. In the gameplay, however, the guard has a red shirt
Best Lines
McCall: "Nice to have someone watching my backside"
Bond: "I've always got an eye on your tail Alura..."
Zoe Nightshade: "James, why do you always end up on top?"
Bond: "Uh, lower center of gravity?"
Q: "And finally, the Q-Worm."
Bond: "Q! There's a lady present!"
Release Data
| | | | |
| --- | --- | --- | --- |
| Platform | USA | UK | Japan |
| Windows PC | 28/11/2002 | 06/12/2002 | |
| PlayStation 2 | 19/11/2002 | 29/11/2002 | 30/01/2003 |
| Xbox | 20/11/2002 | 29/11/2002 | |
| Gamecube | 19/11/2002 | 29/11/2002 | |
| Gameboy Advance | 18/03/2003 | 28/03/2003 | |
MI6 Rating

Latest Articles
Photos

MI6 opens the NightFire archives to uncover screenshots from 007's mission in 2002, including rarely seen imagery and game secrets

NightFire

MI6 takes a retrospective look behind the scenes of how 007's Aston Martin V12 Vanquish from "Die Another Day" was transported in to the world of videogames
Images courtesy Amazon Associates and EA Games.