James Bond 007: Quantum of Solace the Game (2008)
Mission
Enter the world of international espionage with that most famous of agents: James Bond. Based on the Casino Royale and Quantum of Solace films, this hard-hitting game delivers all the intense action and suspense you expect from the Bond franchise.

Join 007 for dangerous and deadly intrigue across far-flung locations as you experience high-octane action that leaves you both shaken and stirred.

Credits
Publisher: Activision
Development Studios: Treyarch (PS3, Xbox 360), Eurocom (PS2), Beenox (Wii, PC) and Vicarious Visions (DS)

Click Here For Online Pre-Orders
Briefing
Combining the intensity of 1st-person shooters with 3rd-person cover combat, Quantum of Solace puts you in control of the fiendishly clever mind of James Bond. Use of all of Bond's deadly skills, including punishing manoeuvres, expert marksmanship, tactical skills and stealth, to overcome dangerous and deadly foes. An advanced artificial intelligence makes adversaries react in intelligent ways, so you have to stay sharp and alert. Take on thrilling missions in exotic lands and interact with characters from both Casino Royale and Quantum of Solace. Smile at danger as only Bond can, and neutralize enemies with the cool efficiency of a "00" operative.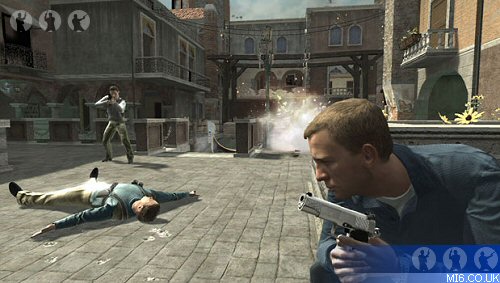 "Built for Next-Gen, 00 Status Achieved. Bond is Back.
From Casino Royale to Quantum of Solace... and Beyond!"
Features
Step into the shoes of James Bond as you embark on an adventure in international espionage and intrigue
Based on events and characters in the Casino Royale and Quantum of Solace films
Put your best Bond skills to the test, including tactical combat, precision shooting, crushing takedowns and deadly stealth
Battle clever enemies thanks to advanced AI systems that allow enemies to react to you in intelligent ways
Experience all the exotic locations and glamorous characters that round out the world of 007
Go online in multiplayer modes for up to 12 players that include unique Bond modes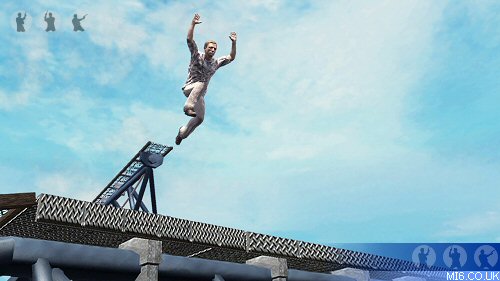 Declassified
Coldy efficient... dangerous... the new Bond is the ultimate weapon in today's ruthless world of international espionage. Blending first person shooting and third person action, Quantum of Solace the Game puts you in control of Bond's greatest weapon - his mind. You must think like Bond and intelligently use the map and situation to your advantage. Confront enemies in a variety of ways: take them head on, fire from behind cover or sneak up and silently eliminate them with a variety of special takedown moves. Based on Quantum of Solace and Casino Royale, Quantum of Solace the Game puts you in the dangerous world of international espionage and intrigue.
You are the new Bond: For the first time on next-gen, take control of the new Bond. Employ all you Bond skills in high-octane combat, chaotic gun fights and precise stealth takedowns.
Take cover: First person shooting with third person cover combat allows you to adjust your gameplay to meet each challenge. Hide behind cover, fire from protected positions and use suppressing fire to distract enemies.
Fight worthy adversaries: Advanced AI systems allow enemies to react to you in intelligent and tactical ways. Think quick, because they'll seek cover and outflank you.
The new world of Bond: Utilizing the likenesses and voices of actors from both films including Daniel Craig and Judi Dench, the game immerses you in the story of how Bond becomes the ultimate 00 agent. Each mission will take you through exotic locations such as Casino Royale in Montenegro, the canals of Venice, the countryside of Madagascar, the deserts of Bolivia and the streets of Austria.
Become the world's premiere MI6 agent: Bond goes online with standard 12-player multiplayer modes plus unique Bond modes such as "Bond VS" which pits you against other opponents in an intense race to complete objectives, and "Golden Gun" mode, which allows players to perform on hit kills using the coveted Golden Gun.
Trivia
Activision acquired the video game license rights to the James Bond franchise on 3 May 2006, about six months after the theatrical release of Casino Royale (2006). They hold the rights until 2014. The license allows Activision develop and publish video games based on the entire EON back-catalog of James Bond movies including non-movie based games.
Locations
London & outskirts (UK), Venice (Italy), Lake Como (Italy), Siena (Italy), Montenegro, Austria, Miami (USA), Madagascar, and Bolivia
Release Data
| | | | |
| --- | --- | --- | --- |
| Platform | USA | UK | Japan |
| PlayStation 3 | 4th Nov 2008 | 31st Oct 2008 | TBC |
| Xbox 360 | 4th Nov 2008 | 31st Oct 2008 | TBC |
| Wii | 4th Nov 2008 | 31st Oct 2008 | TBC |
| Playstation 2 | 4th Nov 2008 | 31st Oct 2008 | TBC |
| Nintendo DS | 4th Nov 2008 | 31st Oct 2008 | TBC |
| Windows PC | 1st Nov 2008 | 31st Oct 2008 | TBC |
Pre-Orders
Latest Articles


Music

Listen to the James Bond Theme arrangement Activision commissioned for the videogame Quantum of Solace

Interviews

MI6 caught up with Ryan Dening, one of the artists who contributed to the previsualisation of 'Quantum of Solace' VG