Elliot Carver (Johnathan Pryce)
Datastream
Actor: Jonathan Pryce
Character: Elliot Carver
Movie: Tomorrow Never Dies
Date of Birth: 1 June 1947
Height: 6' 2" (1.88m)
Distinguishing Feature: The only "true" English villain
Appearance: Tall and slim, gray and neatly trimmed hair, fine metallic-rimmed spectacles.
Status: Terminated
Organisations & Alliances: The Carver Media Network, Stamper, Henry Gupta, Dr. Kaufman

Profile
A vain and manipulative man, Elliot Carver searches out the most dramatic ways to hold a media monopoly - even if it means creating the news himself. He is the editor-in-chief as well as owner of the newspaper "Tomorrow", which has a distinctive reputation for stirring trouble and reporting mayhem. Carver is politically connected, well spoken and certainly well informed. His connections and industry stretch well beyond his public endeavours into government, mafia, even the military.
Carver is happiest when in the limelight and thinks of himself as a definitive world leader. While his outer appearance is charming and patriotic, he thinks nothing of putting innocents in the way of a good media story.
"Good morning, my golden retrievers! What kind of havoc shall the Carver Media Group create in the world today?"
Scheme
After acquiring a satellite tracking encoder, the most secretive piece of technology the US Government possesses, Carver's techno-wizz Gupta tampers with the tracking system feeding misinformation to the British Naval fleet. With the Navy mere miles away from the Chinese coast and a full-scale war, Carver needs only sit back and report on the mayhem. To top off the frenzy, Carver plans to fight for dear old Britain, bombarding Beijing with a missile - killing government officials who had previously prevented the Carver News Network from broadcasting in China.
I've Been Expecting You
James Bond poses as a banker at Carver's worldwide network launch party. Bond, decked up in a tuxedo, presses Carver's buttons on the sinking of HMS Devonshire and evokes suspicions. After seducing his wife and being ruffed up by Carver's goons, Bond cuts short the media baron's broadcast.

Headquarters
Carver operates out of his high-rise office complex in Hamburg, where his global satellites were designed and constructed. This building is sleek and modern and perfect for entertaining guests. The Tomorrow printing presses are located in Frankfurt and Carver makes regular visits to ensure the punctual and proper release of his newspaper. Carver also has a CMG skyscraper in Saigon.

Gadgets & Vehicles
With the help of General Chang, the rogue Chinese Army officer, Carver has constructed a gigantic stealth boat - capable of sliding along side the British fleet without a blip on the radar. The stealth ship is armed to the hilt with missiles and of its most secretive weapon - the sea drill.

Dress Code
Elliot Carver is commonly seen dressed entirely in black with high collared, well-tailored nehru suits and supporting fine metallic framed glasses.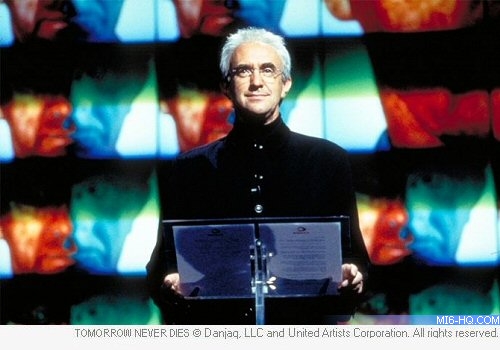 "The distance between insanity and genius
is measured only by success. "
Goodbye, Mr Bond
Carver: "I'll be out of here in a Carver news helicopter covering the event. It's going to be a fantastic show!"
Bond: "I may have some breaking news for you, Elliot. You forgot the first rule of mass media: give the people what they want! "
With the stealth ship in flames around him and his men abandoning ship, Carver prepares his escape plan. Amid the disarray, 007 corners Elliot for a final showdown. Pinned to the control console with Carver's gun at his head, Bond initiates the sea drill for one last mission.
Biography
Born in Flintshire, Wales, to a coal miner and a retail cashier, Jonathan Price was sent to boarding school as a child. Here he quickly discovered a keen interest in the dramatic arts and after graduating from high school, Jonathan enrolled in RADA. During his term at the Dramatic Arts school, he adjusted his family name to Pryce (exchanging the 'i' for a 'y').

Out of drama school, Pryce quickly made a name for himself in London theatre performing various roles in Shakespearian dramas, including 'Hamlet'. In the 1970's his on-stage success began to be truly recognised and in 1977 Pryce won both a Tony and a Theatre World Award for his work onstage.

In a move to America, Pryce was invited to perform the role of "The Engineer" in a Broadway production of Miss Saigon - a role he was previously familiar with (and critically acclaimed for) in London. Pryce set the standard for high caliber Broadway acting in his portrayal of this character.
In the late '70s, Pryce made the break into Hollywood with the screen production of "Voyage of the Damned", a true story starring Faye Dunaway. With a bite of the screen-acting bug, Pryce continually added to his impressive list of roles including: Juan Peron in "Evita", Michael in the original CIA thriller, "Man on Fire", and taking the lead in BBC TV Comedy "Roger Doesn't Live Here Anymore". It was with roles like these that Pryce won the admiration and the respect of both film and theatre buffs.
Pryce has over 80 screen productions under his belt and has recently peformed roles in Hollywood blockbusters such as: "What A Girl Wants", "Ronin", "De-Lovely" and the "Pirates of the Caribbean" trilogy. Pryce still keeps up a variety of live theatre work, recently performing leads in the musicals "My Fair Lady" and "Dirty Rotten Scoundrels". In 1974 Jonathan Pryce married actress Kate Fahy. They remain married today and have three children.