Mr Bullion AKA "The Bull" (Goldie)
Datastream
Actor: Goldie (Clifford Price)
Character: Mr Bullion (or The Bull)
Movie: The World Is Not Enough
Date of Birth: 19th September 1965
Height: CLASSIFIED
Appearance: Medium height with close-cropped bleach-blonde hair and a dark beard. Wears lavish gold medallions or other jewellery.
Status: Terminated
Organisations & Alliances: Valentin Zukovsky, Renard, Elektra King

Profile
The gold-toothed assistant to corrupt but likable businessman Valentin Zukovsky, Mr Bullion takes care of Zukovsky's affairs, including security and supervising the Baku casino. The Bull puts on a shy and reserved persona and allows Bond to bully him. In reality, Bullion is a vindictive and slimy double agent for Renard and Elektra King.

"Boss? You're alive! I'm so glad to see you!"
Involvement
Bond confronts Bull in the Baku casino and demands to see Zukovsky... "after you." The Bull pays off two sweet Russian girls that Zukovsky has settled in with, looking after his boss' totty and seeing that their "inch" is burned in his casino. Later, the Bull is on the front-line when Zukovsky turns up at his Caspian caviar factory to find it the target of a King chopper attack.
The Bull shows his true colours when he plants a bomb at the SSB headquarters in Istanbul, and corners Bond and Dr Jones at gun point after they escape. Mr Bullion meets a brutal end - shot by his former employer - when Zukovsky and his associates come to the rescue of 007 at Maiden's Tower, off the coast of Istanbul.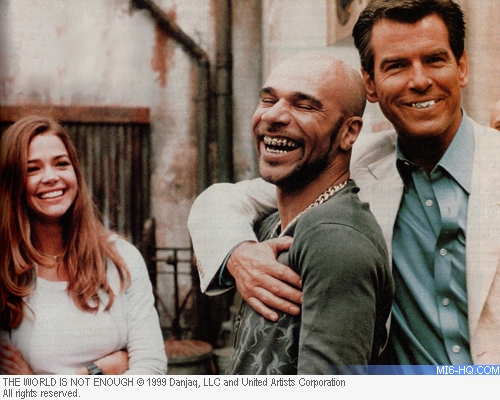 Above: Pierce Brosnan pulls a prank on Goldie between takes by imitating his metallic teeth with aluminium foil.
Biography
Born in 1965, Clifford Price - now more commonly known as Goldie - is a musical artist and radio DJ. Growing up in a small town in Staffordshire, UK, Goldie immersed himself in his love of hip-hop and on regular trips to the USA, fell in love with its bustling music culture. He was born to Jamaican parents but found shelter in many foster homes and good-will organisations throughout his childhood.
As a young man he learned to breakdance and joined a crew known as the Bboys, who had a name as graffiti artists in the West Midlands. By the 1990s he was making his own way in life - and his own music. He worked with acclaimed producers Dennis 'Dego' McFarlane and Mark 'Marc Mac' Clair to release his first track under the title of Ajax Project, in 1992.
1995 saw the release of his first complete album "Timeless", often cited as the birth of the drum and base album. Following this success, Goldie produced a string of albums, the latest in 2009, titled "Memoirs of an Afterlife". All the while, Price continued his love of graffiti art, creating artwork to accompany his music.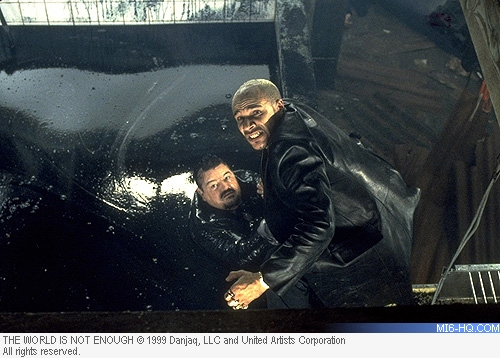 Above: The Bull rescues his boss from a caviar tank.
In 1999, Goldie appeared on screen in both James Bond's 19th adventure and in the poorly received "Everybody Loves Sunshine" (released as "B.U.S.T.E.D" in the US) - a crime/thriller that also starred pop legend David Bowie.
Bond opened up a small flurry of acting work for the music man, notably appearing in Brit mobster-expert Guy Richie's "Snatch" (2000) and a recurring role in "EastEnders" between 2001 and 2002.
He has since focused on his music-making and in 2008 engaged in a unique reality TV series "Maestro", in which celebrities learned all about classical music and were taught to conduct an orchestra. After his success on the show he composed "Sine tempore" for the BBC - a tribute to the 'father' of Evolution, Charles Darwin.
Related Articles
Villains