Sir Ken Adam makes surprise guest appearance at BFI's 'Spy' screening (photo)
As MI6
previously reported
, David Walliams hosted a James Bond gala at the BFI Southbank, where a screening of "The Spy Who Loved Me" took place.
A reader, Simon, recently contacted MI6 with addendum to the report. The legendary production designer of "Dr. No" and a series of other Bond films, Sir Ken Adam was also in attendance. The 91 year-old production designer was welcomed to the stage to gasps of surprise from the audience. Adam proceeded to chat with David Walliams about his time on the Bond franchise for 15 minutes ahead of the screening. Adam appeared in good health was incredibly modest and thankful to the cheers and applause he received.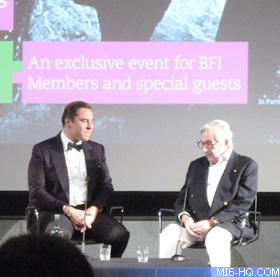 Photo captured by MI6 reader Simon Evans. © 2012.
Another surprise for visitors to the BFI that night was a funny welcome message, pre-recorded by Sir Roger Moore.
Thanks to `Simon Evans` for the alert.
Discuss this news here...