Quentin Tarantino continues to talk directing Bond 21
Quentin Tarantino continued to talk about Bond with
Mike Davidson of Reuters
, while in Cannes this week, where he is president of this year's film festival jury.
"I've always wanted to do it. I bumped into Pierce Brosnan and we talked about it. He liked the idea," said Tarantino, which he further elaborated on last month when talking to
SCI FI Wire.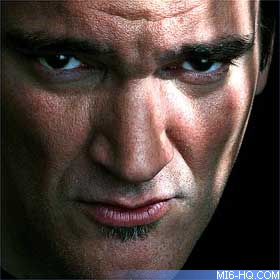 With Brosnan giving Tarantino
his support earlier this month for his idea of Bond on a smaller scale, Tarantino is left only to convince the producers Michael G. Wilson and Barbara Broccoli. "I don't know if they're going to go for it or not, but I'm letting them know I'm interested,"
He went on to say "I would like to do the original book 'Casino Royale' and do it more or less the way the Ian Fleming book is". If given the chance to direct he would bring back his leading lady Uma Thurman as Bond girl -
according
to MovieHole.net.
With his completed a script for a World War Two "Inglorious Bastards" and a 2005 release will he have enough time, to prepare an approved script. With EON scriptwriters
Neal Purvis and Robert Wade
already writing Bond 21 it is unclear.
Thanks to `Chris Newbold` for the alert.
Discuss this news here...