Bond Girl rumour #5 (update): Angelina Jolie rumoured pregnancy cited as reason for role refusal
MEDIA RUMOUR
According to The Sun newspaper
back in November 2005
, Angelina Jolie was initially asked to play the latest James Bond girl - but insisted the role needed to be toughened up before she is willing to accept.
However, Angelina Jolie's rumoured pregnancy put an abrupt halt to those plans, reports
The Post Chronicle
.
Hollywood couple Brad Pitt and Angelina Jolie have been rumored to be getting married "any time now", according to several tabloid magazines. The couple has been the top or near the top story continually because of the increased fascination with them.
Now, along with the wedding rumors flying all over the place we also have seen an uptick of conjecture about Angelina being with child.
"The baby is due in May," a source close to the couple tells the The Daily Globe. "Angie and Brad are ecstatic."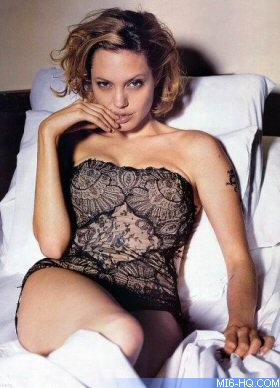 There has been talk of belly bumps and some sites have been nearly consumed by this story. One in particular has been consumed with this story for sometime now and has been writing about what it calls the 'boob watch' - borderline stalker-ish.
Angelina recently has had a scan at St Johns Medical Center and from the picture Perez Hilton has it's clear that she is also begun to show.
The pillow-lipped beauty - who has already adopted two children, Maddox, four, and nine-month-old Zahara - has continually hinted that she is ready to add another child to her family.
Discuss this news here...