Huge Aston Martin auction today - lots of Bond items up for bidding including a `hero edition` V12 Vanquish used on the set of Die Another Day
Bonhams will be holding a huge Aston Martin auction today, Saturday 10th May 2003. The annual auction will take place at the Aston Martin Lagona HQ in Newport Pagnell, Buckinghamshire, UK.
Headlining the lots up for bidding is a "hero edition" Aston Martin V12 Vanquish that was used on the Ice Palace set of "Die Another Day".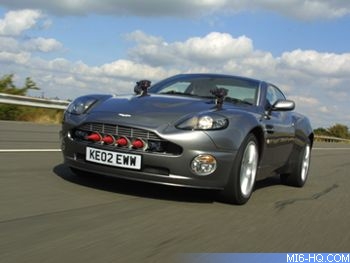 Image courtesy The Aston Martin Owners Club Ltd.
The car was one of three pristine "hero" cars that were used in close ups and driven by Pierce Brosnan. The Vanquish with chassis number SCFAC13372B500172 can be seen during the close up shots at Gustav Graves` Ice Palace, and is the only car from the set that is being sold.
The winning bidder is expected to pay around £130,000 to £160,000 for the car.
Click here for an indepth article on the "hero edition" Vanquish up for sale today.
Also among the hundreds of Aston Martin related lots are dozens of special James Bond items and pieces of memorabilia, including: storyboards, crew jackets, props from "The World Is Not Enough" and pieces of the Ice Palace set from "Die Another Day".
Thanks to Roger from AMOC for the information.



Discuss this news here...