`Quantum of Solace` previews scoop $3m in Japan ahead of opening weekend
With just days to go now before "Quantum of Solace" opens in its last territory - Japan - this weekend, some sneak preview screenings were held around the country on Saturday 17th & Sunday 18th January.
A staggering $3m (estimate) has already been hauled in by Daniel Craig's second outing as James Bond in the preview screenings alone.
Coming some three months after it debuted in the UK, "Quantum" goes nationwide in Japan on 24th January 2009. The
premiere
was held back on Tuesday 25th November 2008 when Daniel Craig, Olga Kurylenko, Marc Forster and Barbara Broccoli attended the Tokyo press conference and red carpet events.
"Casino Royale" scooped $3.24m in its official opening week. With $3m in previews already, "Quantum of Solace" is well on track to smash recent openings for Bond movies in Japan. Despite a Japanese dubbed version of the film leaking on the internet two months ago, pre-bookings for tickets are said to be very strong.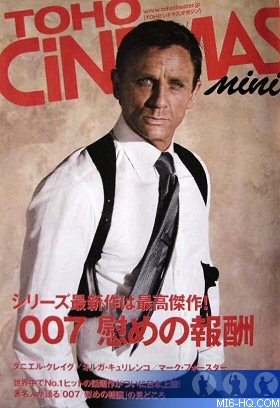 Last time around, "Casino" netted almost $19m in Japan. A strong performance in the country will help boost the international box-office for "Quantum" which currently sits at $384.4m ("Casino"s foreign haul was $426m).
Click here for complete coverage of the build-up to 007's latest adventure opening in Japan
.
Discuss this news here...