| | |
| --- | --- |
| | James Bond fever is reaching a crescendo in Japan with only a few days to go before "Quantum of Solace" opens nationwide this weekend... |
007 Hype Builds In Japan (2)
19th January 2009
With only a few days to go before the 22nd James Bond film "Quantum of Solace" opens in Japan this weekend, the build-up to the 007 adventure is hitting critical mass in the country. Japan is the last territory to open for the new film. Coming some three months after it debuted in the UK, "Quantum" goes nationwide in Japan on 24th January 2009. The premiere was held back on Tuesday 25th November 2008 when Daniel Craig, Olga Kurylenko, Marc Forster and Barbara Broccoli attended the Tokyo press conference and red carpet events.

007 Hype Builds In Japan (1)
Opening last week on Monday 12th January 2009, and until Sunday 15th February 2009, visitors to Sony Square at Sonibiru Ginza can take the "Trial To 007" for free. Those who successfully complete 'challenging missions' using products such as a Sony Walkman will be awarded an 'MI6 certificate' - worth 200 Yen off admission to "Quantum of Solace". The building will also host one of the Aston Martin DBS vehicles used during filming and a collection of other props.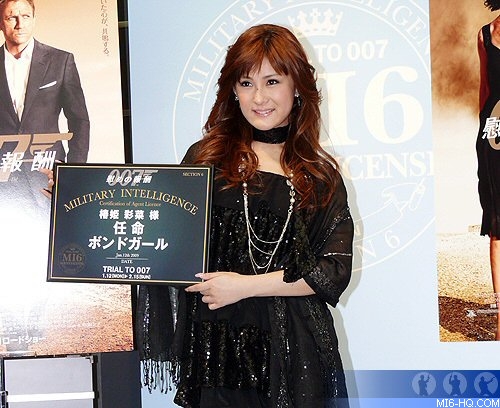 Above: Model and actress Ayana Tsubaki opens the "Trial To 007" exhibit on 12th January.
Appointed the "Japan Bond Girl", model/actress Ayana Tsubaki opened the exhibition telling reporters in Tokyo: "James Bond is so cool. Can can you feel the excitement?" Preview screenings were held on Saturday 17th & Sunday 18th January.
The exhibition also includes costumes worn by Daniel Craig, Olga Kurylenko and Gemma Arterton during the filming of "Quantum of Solace". Glass cases hold props seen in the film, including the note Agent Fields leaves for 007 and Dominic Greene's part invitation in Bolivia.
Despite a Japanese dubbed version of the film leaking on the internet two months ago, ticket sales are expected to be strong for "Quantum of Solace". Last time around, "Casino Royale" scooped almost $19m from the Japanese box-office.
Related Articles

007 Hype Builds In Japan (1)