Milos Columbo (Chaim Topol)
Datastream
Character: Milos Columbo
Actor: Chaim Topol
Movie: For Your Eyes Only
Status: Unknown
Appearance: Brown hair, Brown eyes, and thick brown mustache
Date of Birth: 9th September 1935
Height: 5'10" (1.78m)
Place of Birth: Tel Aviv, Palestine [now Israel]

"I'm a good judge of man. You have what the Greeks call "thrausos" - guts!"

Pleased To Meet You
Bond and Columbo first meet across the dining room of an upscale hotel and casino, where 007 is meeting with Kristatos. Columbo is seen with his mistress Countless Lisl von Schlaf, while Bond is being briefed by Kristatos over dinner. Columbo has taped a conversation between 007 and his adversary and hears Kristatos's suggestion that Bond may have to kill him.
Personality
Milos Columbo is a Greek smuggler who first appears to be the man running Emile Locque, but in fact he was set up by the double-crossing Kristatos - the man actually responsible. Known as 'the Dove', and with a love for pistachio nuts and a distaste for the illegal drug trade, Columbo is a warm an charismatic man who proves himself to be one of 007's most valuable allies.
Involvement
Columbo is first mentioned by Kristatos when he meets Bond in the Italian ski resort of Cortina, where he mentions that Columbo is known as "the dove". Bond realises that Locque leaves a dove-shaped badge at the scene of his crimes, for instance the murder of agent Luigi Ferrera, who was stabbed to death while waiting in Bond's car. Kristatos' desire to frame Columbo and have James Bond take him out is due to the Greek's intimate knowledge of Kristatos' KGB connections and the fact he was an agent for the Nazi's in WWII.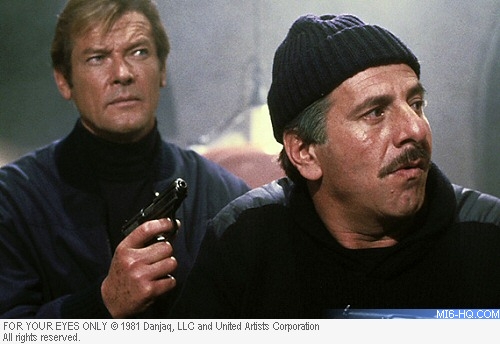 After Columbo sees 007 talking with Kristatos at the the restaurant and listens to their taped conversation, he returns and deliberately makes a scene, causing Lisl to walk out of the restaurant. Fully aware it is likely a trap, Bond follows Lisl, who has been ordered to learn more about the spy who is under cover as a novelist. Locque and Claus kill Lisl on the beach, but Bond is saved by four men who then take him prisoner. Bond realises they are Columbo's men and is left mystified as to why they have saved him from the same fate as Lisl. When Columbo meets Bond onboard his ship, he convinces him that Kristatos is actually giving Locque orders (and committing all the acts that he heard Kristatos saying that Columbo had been going), and invites Bond on a raid of one of Kristatos's factories in Albania where they find Locque. Columbo tells Bond that Kristatos is the real enemy and admits he smuggles gold, diamonds, cigarettes and pistachio nuts - the later of which he has a personal taste for and is often seen eating - but not heroin, which Kristatos does.
"By tomorrow, we'll be good friends. Let us drink to that."
Later, he joins Bond and Melina on the raid of St. Cyril's Monastery where Kristatos was hiding out. Columbo later chases Kristatos in an aggressive yet brief scuffle, causing Kristatos to lose his footwork and drop the ATAC. When Melina is about to kill Kristatos, Bond begs her not to. Kristatos pulls out a switchblade knife and tries to kill Bond, but Columbo impales him in the back with a knife, killing him instantly. Columbo then becomes the new sponsor for ice skater Bibi Dahl.
Trivia
Columbo first appeared as Enrico Colombo in Ian Fleming's 1960 short story "Risico". The character was named after Gioacchino Colombo, a Ferrari engine designer, specifically the supercharged Ferrari 125, which Fleming admired.
Biography
Topol was born in Tel Aviv, in what was then the British Mandate of Palestine (now in Israel), to Rel and Jacob Topol. He first practiced acting in amateur theatrical plays staged by the Israeli Army. Subsequently he established his own theatre troupe in Tel Aviv, and in 1961, he significantly contributed to the foundation of the Haifa Municipal Theatre.
Among Topol's earliest film appearances was the lead role in the 1964 film Sallah Shabati by Ephraim Kishon — a play, later adapted for film, depicting the hardships of a Mizrachi Jewish immigrant family in Israel of the early 1960s. The film was nominated for the Academy Award for Best Foreign Language Film and earned the actor the Golden Globe Award for New Star of the Year - Actor. In 1966, Topol made his first English-language screen appearance as Abou Ibn Kaqden in the big-budget Mickey Marcus biopic Cast a Giant Shadow.
He came to greatest prominence in the role of Tevye the milkman in the long-running musical show Fiddler on the Roof, at Her Majesty's Theatre. After scoring a major success on the West End stage, he later starred in the 1971 film version. In 1972, Topol won a Golden Globe Award and was nominated for a Best Actor Oscar for his performance in the film. He was on active service with the Israeli army at the time, but was granted permission to attend the awards ceremonies. Some of his other notable appearances were in Galileo (1975), Flash Gordon (1980), and the James Bond movie For Your Eyes Only (1981).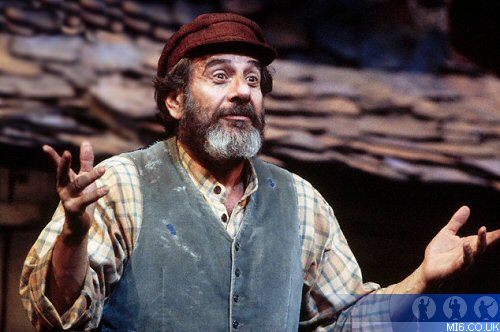 Above: Topol in his most famous role as Tevye in "Fiddler on the Roof" (1971).
In 1983, he reprised the role of Tevye in a London revival of Fiddler on the Roof. In the late 1980s, he played the role in a touring United States production. He was by now the approximate age of the character, and in fact the actress playing his wife Golde in the production, Rosalind Harris, had played his oldest daughter Tzeitel in the film. In 1990, he again played the part in a Broadway revival of Fiddler, and was nominated for 1991 a Tony Award for Best Performance by a Leading Actor in a Musical, losing to Jonathan Pryce. He played the part again in a 1994 London revival, which became a touring production. He has since played the part in various productions including stages in Europe, Australia and Japan.
His most recent film roles were in Left Luggage (1998) in the role of Mr. Apfelschnitt, and Time Elevator (1998) as Shalem. He continued to reprise his as Tevye in various stage productions of 'Fiddler' up until 2009 when he was forced to withdraw from a farewell tour due to a shoulder injury. He and made his last appearance as Tevye in Boston, Massachusetts on November 15, 2009. His autobiography, Chaim Topol on Topol, has been published in London and Israel.
Related Articles
Allies