Sherif J.W. Pepper (Clifton James)
Datastream
Character: Sheriff J.W. Pepper
Actor: Clifton James
Movie: Live And Let Die / The Man With The Golden Gun
Status: Retired
Appearance: Short and rotund with receding, wispy hair. Often seen with a toothpick in his mouth.
Date of Birth: 29th May 1921
Height: 5' 8" (1.73m)
Place of Birth: New York City, NY, USA

"You picked the wrong parish to haul ass through boy. Nobody cuts and runs of Sheriff J.W Pepper."
Pleased to Meet You
When Bond makes a destructive escape from the Crocodile farm and Tee Hee, he is soon wound up in an all-out powerboat pursuit, in which Kananga's heavies chase him down. In pursuit of all the roaring boats are Sheriff J.W. and his officers. Bond and the Sheriff come face to face at the marina, after 007 has well and truly dispatched with the goons.
Personality
Brash and confident, J.W. is a small town Sheriff in Louisiana who gets caught up in the frantic world of international espionage without realising it. The foul-mouthed Sheriff is quick to blame his men for a mishap and quick to take credit for a job well done. He is certainly out of his depth when Bond comes to town, tailed by half of the bayou's most lethal boatmen. Even at the best of times J.W. Pepper struggles to control his inherent racism. Pepper appears to be set in his ways, and makes up his mind on any particular subject, even though most of the time it was a blatant misjudgment on his part. He holds a jealous admiration for 007.
Deputy: "J.W., this fellow's from England, see, and he's over here workin' with our government, sort of a... secret agent."
Pepper: "Secret agent? On who's side?"
Involvement
Live And Let Die - Pepper gives chase when Adam, one of Tee Hee's thugs, speeds into Louisiana State doing nearly 90 miles an hour. The gung-ho Sheriff pulls the goon over and arrests him at gunpoint. Unfortunately the arrest is broken up by a flying Glastron Speedboat and a second boat, less ably piloted, plowing into the roof of Pepper's squad car. Later the Sheriff takes control of a police "road-block", where the officers have barricaded the river to slow down the chase. When that falls through dismally, J.W. suggests that the cops send his brother in law, Billy-Bob in pursuit of Bond and the gangsters. J.W. and Bond meet at the marina some time later and Pepper is amazed by Bond's frivolous attitude and the Federal cooperation he receives.
The Man With The Golden Gun - On holiday in Thailand, J.W. Pepper is caught up in the path of James Bond once again. He takes a dip after being shunted into the river by a baby elephant. Later, Pepper is mysteriously at a car dealership when 007 commanders a vehicle for his pursuit of the villain Scaramanga. The Sheriff is amazed to find 007 in this far-off corner of the world and the feeling is no doubt mutual. Bond performs an amazing leap of faith, sending his car in a 360 degree jump across a wide river. Landing perfectly and much to the surprise of Pepper, Bond announces he had never attempted that feat before. Bond and the Sheriff stage a break-in on a empty warehouse to find Scaramanga has escaped with Mary Goodnight in the trunk of his aeronautic car.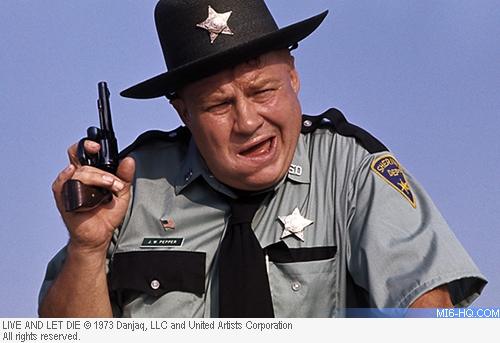 Biography
Born as George Clifton James in New York City to father Harry James, a journalist and Grace James, a teacher. When James was 21, America joined the Second World War effort and he served in the Army as a Platoon Sergeant. James served the entire period until peace was declared in 1945 and was a decorated veteran, earning more than 6 different awards for bravery.
On his return he joined the famous Actors Studio in downtown Manhattan where he trained in the arts. He landed his first roles in early 1950s television drama, including a role in the "Armchair Theatre" - which would semi-regularly star Bond alumni Donald Pleasence - as well as NY set "Naked City" or adventure comedy "Route 66".
He earned his first major film role in Carroll Baker starer "Something Wild" (1961), a dark drama in which James plays Detective Bogart. The 1960s were again flush with bit parts and guest starring role in US television, including a recurring role in "Gunsmoke" in the late 1960s and early '70s.
By this time he had made his name for playing the kitsch/stereotypical Southerner - despite being born in New York - and this was just the role he served in 1973's "Live And Let Die". Filling the time between this and his return to the Bond sphere in Roger Moore's second Bond outing in 1974, Clifton James appeared in John Frankenheimer's "The Iceman Cometh" and quirky Jack Nicholson comedy "The Last Detail".
Beyond Bond, James would go on to work with Paul Newman in "Cool Hand Luke" and Al Capone in the acclaimed gangster-film "The Untouchables", which starred ex-Bond actor, Sean Connery. He played a similar role to that of J.W. in "Superman II" and held a regular part on "Lois and Clark" in the 1980s. In 1995 he took a break from acting, only returning to the screen in 2000's "Interstate 84". He has not appeared on screen since 2006. James is the father of six children and lives with his wife in New York.