"M" (Bernard Lee)
Datastream
Character: Admiral Sir Miles "M" Messervy
Actor: Bernard Lee:
Movies: Dr. No - Moonraker
Status: Retired
Appearance: Tall and stockily built with receding grey hair, blue/grey eyes. Often seen in navy uniform and frequently smokes a pipe.
Date of Birth: 10th January 1908
Date of Death: 16th January 1981
Height: 6' 1" (1.85 m)

Pleased To Meet You
James Bond's relationship with his chief is a complex and paternal one. He is regularly summoned to the plush office on the top floor of the MI6 headquarters for a stern briefing wherein "M" typically survey's his top 00-Agent severely and instructs him on his latest mission. Yet, behind the authoritarian demeanor, M cares for Bond and the service, having given his life to the intelligence forces. Bond affectionally refers to his chief as 'The Old Man', but only when he believes M to be out of earshot.
"I'm sure the over-burdened British taxpayer would be fascinated to know how its Special Ordinances section disperses its funds. In future, Commander, let me suggest a perfectly adequate watchmaker just down the street."
Personality
An old navy man who has never really lost his love for the sea, M prides himself on the efficient running of the 'ship', MI6. He has high expectations of his team and holds all of the MI6 staff, especially the 00s, to elitist standards. Whilst he oversees all aspects of MI6, it is the 00 Section that is his pet project and he continually defends the usefulness of the section against his political superiors in the cabinet. When Bond is flippant about a mission, M swiftly puts the young agent in his place. Despite this, M carefully and slyly supports Bond through some of his most challenging assignments - tracking down Blofeld and catching Scaramanga before the man with the golden gun assassinates 007. Outside of work, his only known passion is lepidoptery.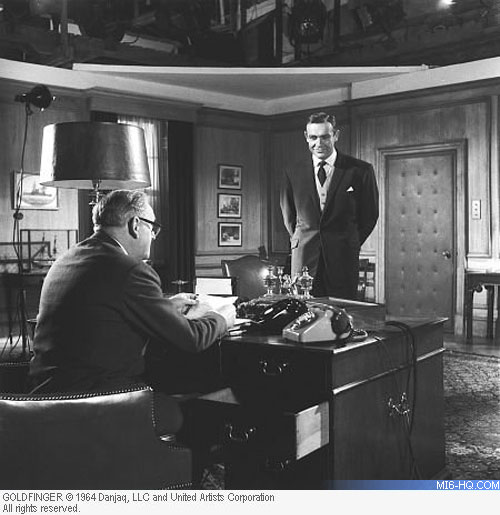 Refreshing to hear that there is one subject you're not an expert on!
Involvement
M's work is simply too varied and his department's achievements too numerous to list in any detail. However, this dossier will give a broad overview of some of the achievements of the MI6 chief.
Dr. No - M is in the office at early hours of the morning when the Jamaican branch of MI6 fails to file its daily report. Concerned about the sensible material that Strangways was working on, M calls James Bond in from a night at the casino and orders him to pack his bags immediately.
From Russia With Love - M, suspecting a trap, sends his best 00 Agent to Istanbul to rendezvous with a potential Russian defector, the beautiful and seemingly innocent Tatiana Romanova.

Thunerball - When Britain is held to random by a mysterious terrorist organisation, M summons all available 00 Agents to the boardroom for the briefing. He dispatches his best men to all corners of the globe in an attempt to find the terrorists before the deadline hits. Each agent is later briefed separately by M, wherein 007 is instructed to go to Canada. Bond persuades his boss to dispatch him to the Bahamas instead, based on a long lead he wanted to follow.

You Only Live Twice - M is in the field aboard a British operational submarine, helping to stage 007's death and get several enemy agents off the scent so that Bond can focus on more important assignment.
On Her Majesty's Secret Service - M supports James Bond in his pursuit of Blofeld, but draws a line when he feels the lead goes cold. Bond, disappointed he has been forbidden to complete his mission asked Moneypenny to take down his resignation. She coyly changes the request to a leave period of two weeks, which M unceremoniously grants. Later, M turns a blind eye to Bond's involvement with the Corsican Mafia. Finally, when the mission is completed, all of the MI6 staff are in attendance as Bond ties the knot with Tracy.
This isn't a personal vendetta, 007. It's an assignment, like any other. And if you can't treat it as such, coldly and objectively, 008 can replace you.

Live And Let Die - M pays Bond a house call early in the morning when a series of agent deaths across the Atlantic give the MI6 chief cause to investigate. Bond is wooing a female agent from his last assignment and it is only with the tact of Miss Moneypenny that M remains ignorant of Miss Caruso's whereabouts.

The Man With The Golden Gun - M informs 007 that he will have to suspend work as a death threat from the world's most secretive and expensive assassin arrives at headquarters. Bond, disappointed, asked for leave to pursue and assassinate the assassin, Francisco Scaramanga.

The Spy Who Loved Me - M is in the field again when he joins forces with the KGB to track down missing submarines. In an attempt to prevent World War Three, the two spy chiefs assign their best agents, 007, and XXX, to the case. M and Gogol establish a base in Cairo where they jointly brief their agents.

Moonraker - Bond, tasked with investigating the disappearance of the expensive Moonraker shuttle, calls the MI6 chief and the Minister for Defense to Italy to see a secret processing plant set up by the Drax corporation. M and the MoD are red-faced when they enter the room to find it completely stripped and Hugo Drax the janus-faced millionaire awaiting their arrival.
Biography
John Bernard Lee was born on January 10th 1908 to Edmund James Lee, an actor, and Nellie Smith. He first appeared on stage with his father in "The Double Event" aged six. Bernard followed in his father's footsteps and was admitted to Royal Academy of Dramatic Art (RADA) but had to pay his own way working several jobs at once. By 1928 Lee was performing professionally on London stages. It was not until after serving in the military between 1940 and '46 that the actor turned his attention to feature films.
In 1948 he appeared in the successful mystery "The Fallen Idol", alongside Ralph Richardson and Geoffrey Keen. The film won Best British Film at the BAFTAs the following year as well as picking up Oscar nods for Best Director and Best Writing.
During the 1950s Lee appeared in the mystery drama, "Calling Bulldog Drummond", based on the popular stories of 'Bulldog' Drummond by Herman Cyril McNeile under the pseudonym "Sapper". He also returned to the stage in "Seagulls Over Sorrento", playing the role of Able Seaman Turner. "Seagulls" was later adapted for the sliver screen, starring Gene Kelly and Bernard Lee.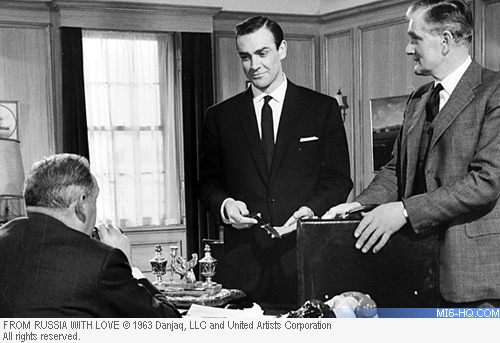 James Bond: Good evening, sir.
M: It happens to be 3 a.m. When do you sleep, 007?
In 1962 he accepted the now world-famous role of "M", basing his character strongly on the Fleming material, Lee quickly became immortalised in the role of 007's superior. He went on to appear in 11 James Bond adventures, and was pencilled into the script for "For Your Eyes Only" but tragically passed away before his scenes could be filmed.
Whilst regularly appearing in Bond adventures, Lee also pursued a successful career beyond Bond. He look the lead role in "The Edgar Wallace Mystery Theatre", playing Superintendent Meredith in a miniseries. He had a role in the gritty Cold-War spy thriller "The Spy Who Came in from the Cold" which starred Richard Burton and Claire Bloom, a sequal to the popular "Tinker Taylor" story by John le Carré and written by "Goldfinger" screenwriter Paul Dehn.

In 1965 he appeared in an episode of "Danger Man", the small screen spy series lead by Patrick McGoohan. The following year Lee would return to the series in a different role. By 1976 he was globally recognised as "M", and controversially appeared in the spy-spoof "OK Connery", starring Neil Connery (Sean's brother) and a host of Bond alumni, including Daniela Bianchi, Adolfo Celi, Anthony Dawson and Lois Maxwell.
Lee rendezvoused with Desmond Llewelyn, long time "Q" actor in the Bond series, on Llewelyn's TV series "Follyfoot". Another spy spoof came his way with "From Hong Kong With Love" (1975), wherein Lee reprised his role as M and Maxwell also was moonlighting as Miss Moneypenny.
By the 1980s Bernard Lee had over 100 film and TV credits to his name, but it was James Bond for which he was so frequently remembered. Lee sadly past away quite suddenly in early 1981, after suffering from stomach cancer. He was admitted to hospital in November 1980 and remained there until his death, six days after his 73rd birthday. Lee's part in the forthcoming 007 adventure "For Your Eyes Only" was divided amongst Bill Tanner and the Minster For Defense, rather than replacing M in the franchise.
Related Articles
Allies Index