Miss Moneypenny (Lois Maxwell)
Datastream
Character: Miss Moneypenny
Actor: Lois Maxwell
Movies: Dr. No - A View To A Kill
Status: Retired
Appearance: Medium height and build, shoulder-length blow-waved brunette hair, blue eyes, normally seen in formal office attire or military uniform.
Date of Birth: 14 February 1927
Date of Death: 29 September 2007
Height: 5' 8" (1.73 m)
Place of Birth: Kitchener, Ontario, Canada

Lois Maxwell MI6 Biography

Pleased To Meet You
James Bond and Miss Moneypenny share an ongoing and feisty office-bound relationship. Whilst it is unknown exactly when the pair first met (they appear comfortable with each other prior to the "Dr. No" mission and 007's infamy) they frequently cross paths as a result of their respective duties and hint at a longer-term relationship out of the office but nothing ever comes of James Bond's empty promises.
"...the only gold I know about is the kind you wear... you know, on the third finger of your left hand?"
Personality
Bright and efficient, Moneypenny is the soul of discretion and these character traits have earned her the prestigious and highly-secretive job as the assistant to the head of the British Security Services. To her bosses's chagrin she frequently uses the intercom to listen in on codeword clearance conversations in the office and on the red telephone. Whilst she is primarily office-bound, Penny delights in the opportunity to work in the field, for instance on the "You Only Live Twice" and "Diamonds Are Forever" missions. Whilst Bond and other agents are operating in the field, and at the point of 007's resignation prior to the "O.H.M.S.S." mission, the warm-hearted secretary uses MI6 resources in order to trace Bond and check on her star 00.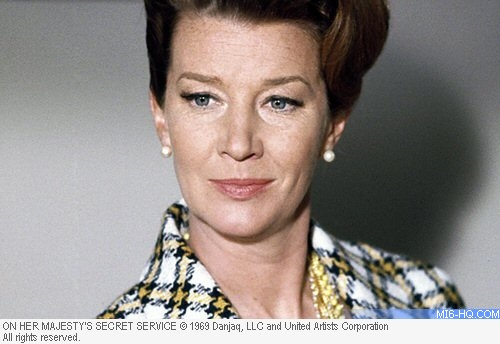 Bond: Moneypenny! What gives?
Moneypenny: Me, given an ounce of encouragement. You've never taken me to dinner looking like this. You've never taken me to dinner...
Involvement
Moneypenny has tireless numbers of responsibilities in and out of the office, here are some career highlights wherein she aids 007 on a mission:
From Russia With Love - Bond is tasked with attempting to secure a Lektor coding device from the beautiful Russian defector. Miss Moneypenny is instructed by M to prepare the case file on Tatiana Romanova, which which 007 spends a mere 5 minutes and before having the salient details memorised. Penny is disappointed that her aid went to so little use, and Bond taunts the secretary with an autographed picture of Romanova. The inscription: "From Russia, With Love".
Thunderball - Bond is on R&R at Shrublands clinic when he runs into the suspicious Count Lippe. Moneypenny handles the call during which 007 asks the secretary to look up a trident tattooed to Lippe's arm. Moneypenny later files her report back to Bond via telephone.

You Only Live Twice - Accompanying M onboard a British submarine that has become the MI6 chief's floating office, Moneypenny offers Bond a copy of a Japanese phrasebook before 007 departs for the mission. The secret agent disappoints the ever-efficient secretary with the news that he has a first in oriental languages and does not require the book of words.

O.H.M.S.S. - Moneypenny is tasked with locating James Bond when he goes missing in the middle of tracking down the arch-villain Blofeld. When he returns grumpy to have been pulled from the case, Moneypenny takes a memo for the "monument" in which 007 threatens to resign. M dismissively tells Bond that his request has been granted and Bond, fuming, leaves the office. The secretary, however, has a secret to share with Bond: she requested two weeks leave, not a resignation. 007 is ultimately grateful for Penny's tact.

The Spy Who Loved Me - M is on location in Egypt, and with him is his ever efficient secretary. Dressed in military uniform and more coy than usual, Penny directs Anya and 007 into the office.


Bond: What can I bring you back from Holland?
Moneypenny: A diamond? In a ring?
Bond: Would you settle for a tulip?
Octopussy - Bond enters Moneypenny's and before being ushered into M's office for a briefing remarks that she is looking more lovely every day... whilst eyeing up the younger assistant that Penny has on staff. The secretary introduces 007 to Miss Penelope Smallbone, who has heard about Bond and his infamous flirting.
A View To A Kill - On Moneypenny's final mission she, along with the rest of the office, put on their Sunday best to attend the races. Here Bond and M are interested in the sly Max Zorin.
Related Articles
Allies Index