| | |
| --- | --- |
| | Popular television and film actor George Baker, who appeared in three James Bond films, has died aged 80... |
George Baker MBE (1931-2011)
7th October 2011
English actor George Baker, who appeared in three James Bond films, has died aged 80. He was perhaps best known for his television role as Chief Inspector Reg Wexford in "The Ruth Rendell Mysteries", but Baker had a long and varied career on stage, television and film.
Baker was born in Varna, Bulgaria, on 1st April 1931 to his English father Frank Baker, who was a British diplomat, and his Irish mother Eva who was a nurse with the Red Cross. At the outbreak of World War II, his mother took him and his brothers, Frank, Patrick & Terence along with sister Eve to England in a journey across war-torn Europe. Just as they left France, it fell to the Nazis. George never saw his father again. The family moved around a lot during the War years, between Yorkshire, Ireland and ultimately Sussex.

Most of his school years were in York, where he battled with dyslexia to enjoy literature, before completing his studies at Lancing College.

After brief work as a machine tool engineer and a stint in the Poplar Borough Council, Baker took advice to pursue his acting dream and landed a part in the production of "Life With The Carter's" in Kent. Despite his lack of formal acting education, he went to London to find his fortune armed with letters of recommendation.
He started his career as an assistant stage manager at The Richmond Theatre before he received his national service call up papers in 1949 and reported for duty at Winchester and began his training in the Rifle Brigade. Tehre he met Julia Squires - who would become first wife - at Cadet School in Aldershot before being stationed in Hong Kong with the 3rd Royal Tank Regiment. The pair married in Christmas 1950 and left Hong Kong after Baker contracted a tropical disease. He was demobbed in March 1952 and went straight back to theatre and the West End.
Bond director Guy Hamilton spotted Baker during a production of "Aren't We All?" and cast him in a small role in "The Intruder" (1954), which Baker followed up with a role as Flight Lieutenant Maltby in the classic "The Dam Busters" the same year.
It was during this production that Baker met sex symbol Bridgette Bardot, who was working on a different film at Pinewood Studios.

Baker disclosed their six week fling in his autobiography 'The Way To Wexford': "Bardot, the world's number one screen sex bomb at the time in a clinch with me, George Baker, jobbing actor."

"I was completely dazzled by her and hopelessly in lust, but it wasn't really a love affair because, to be honest, I think Brigitte regarded me simply as someone to provide a sort of dalliance while she was filming. But it was a great fillip to my ego".


Above: Kwouk (left) and Baker (right) in "The Curse of the Fly".
After a string of films, Baker moved to television in 1959 where he appeared in several drama series and specials. One notable film role during this television period was "Curse of the Fly" (1965) opposite Bond alumni Burt Kwouk.
Baker formed his own theatrical company in 1966, Candida Plays, and produced a successful season at The Theatre Royal in Bury St. Edmunds, but suffered a heart attack during the run.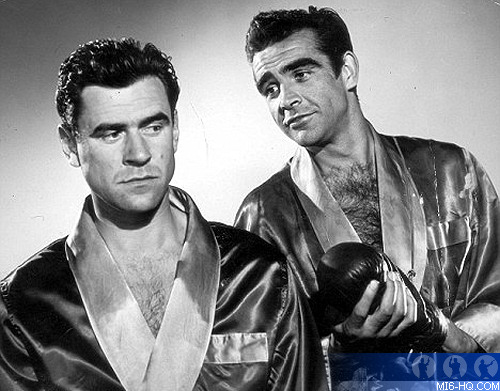 Above: George Baker and Sean Connery in a publicity shot for "The Square Ring" (1960) just a year before the pair would both be considered for the role of James Bond.
He also had to break the news to wife Julia that actress Sally Home, whom he had met in the movie "The Prisoner of Zenda", was expecting his child. Sally ultimately became Baker's second wife in 1974. During his recovery, Candida produced 35 plays before winding up in 1971.
His first brush with James Bond came in 1967 when he played an uncredited NASA Engineer in the 1967 Sean Connery outing "You Only Live Twice". Ian Fleming had eyed Baker as a potential 007 before the series got underway, but Baker was tied to a contract with a rival studio and was ruled out of the running. But it was the next film in the series where Baker made his mark on Bond fandom, when he played Sir Hilary Bray opposite George Lazenby in "On Her Majesty's Secret Service". Some could argue that Baker evetually played Bond, as he dubbed for Lazenby during the period of the film where 007 is impersonating Bray at Piz Gloria.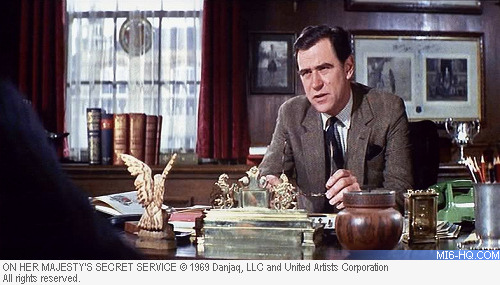 Above: George Baker as Sir Hilary Bray in "On Her Majesty's Secret Service" (1969)
Baker also took the spoof role of Jamus Bondus in the comedy series "Up Pompeii!" a year later. When director Lewis Gilbert returned to the series ten years on from "Twice" to helm a spiritual remake for Roger Moore, Baker was brought back to the fold once again - this time to play Captain Benson in "The Spy Who Loved Me". Another notable film role immediately followed as Sir Walter Bullivant in "The 39 Steps".
After wrapping up work on "Spy", Baker flew to New Zealand to shoot four adaptations of Ngaio Marsh's Inspector Alleyn novels where he played the lead role.

Subsequently, Baker spent more time writing and directing to complement his television acting gigs. His play "The Fatal Spring", about three World War I poets, won the U.N. Media Peace Prize Award of Merit.

His second wife Sally died of cancer in 1992, and he remarried for a third time eighteen months later to Louie Ramsay, who played his screen wife Dora in the "The Ruth Rendell Mysteries" series. Rendell herself attended the ceremony.

Baker had his own battle with cancer, which he beat, in 1999.

Baker's television work continued at pace through the 1970s up until 2000 when he reduced his workload.
Baker appeared in dozens of popular series over his TV career, including: "Maigret", "The Prisoner", "The Goodies", "The Persuaders!", "Some Mothers Do 'Ave 'Em", "The Protectors", "Z Cars", "I, Claudius", "Triangle", "Robin Hood", "Minder" and "Doctor Who" - for which Baker also submitted a script in 1980.
But it was his role as Detective Chief Inspector Reg Wexford that Baker really imprinted himself on the British public, starring in 49 episodes of the "Ruth Rendell Mysteries" between 1987 and 2000.

Following the end of that series, Baker made guest appearences in "Coronation Street", "Midsomer Murders", "Spooks", "Heartbeat", and finally "New Tricks" in 2007.

He spent his final years in West Lavington, Wiltshire, England, where his fund raising activities for the local youth club earned him an MBE in 2007.

His third wife Louie died in early 2011.

George Baker passed away on 7th October 2011 from pneumonia following a recent stroke. He is survived by his five daughters.