| | |
| --- | --- |
| | MI6 remembers all those the Bond canon has sadly lost this year, and their unique contributions to the world of 007, on screen and off... |
In Memoriam
31st December 2011
Pedro Armendariz Jr. (1940-2011)
Mexican-born "Licence To Kill" star and son of the man who played famed 007 ally Kerim Bey died on Monday 26th December 2011. To the wider movie going world, Armendáriz was best known for playing sly, sometimes cynical characters he endowed with wit and charisma. He appeared in approximately 200 Spanish-language titles as well as Hollywood credits including "Once Upon a Time in Mexico" (2003), "The Mask of Zorro" (1998) and "Tombstone" (1993). He was active up until his death, seeing three films released in 2011 and having completed another two yet-to-be-released, and was preparing for a role in "Desde Dentro" shooting in the New Year.

Full Story
Tom Kennedy (1948-2011)
MGM/UA creative Tom Kennedy, who was in charge of '90s Bond marketing died on Wednesday, December 7th 2011. He wrote and produced trailers, TV spots and product reels for the major studios, working on campaigns for movies including "The Empire Strikes Back," "Return of the Jedi," "Indiana Jones and the Temple of Doom," "Indiana Jones and the Last Crusade," "The Terminator," "The Year of Living Dangerously" and the first four "Star Trek" films. Before the poorly received "Die Another Day" hit the screens, Kennedy departed MGM for Technical Knock Out Pictures.

Full Story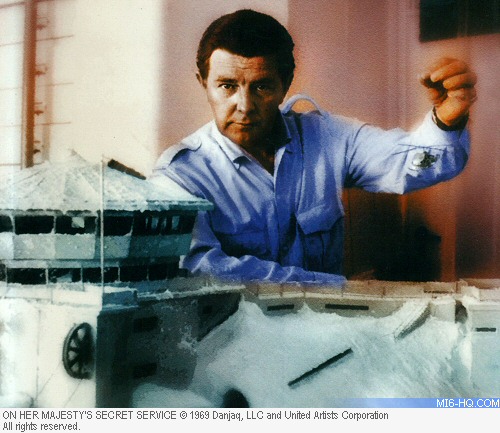 Above: Syd Cain and a minature of Piz Gloria.
Syd Cain (1918-2011)
Production designer on five James Bond films, Syd Cain passed away on Monday 21st November 2011 at the age of 93. Cain was involved in Bond since its on-screen conception, serving as Art Director on "Dr. No", a task for which he was hand-picked by Producer Albert Broccoli. Working under legendary production designer Ken Adam, the team created an unique look for the film which is still as stunning today as it was 50 years ago. He served on the follow-up, "From Russia With Love" as production designer, but only took on-screen credit as Art Director. 007 came calling again in 1969 when Cain returned for "On Her Majesty's Secret Service", this time in the top job as Production Designer. This was perhaps the pinnacle of his career and he was responsible for Blofeld's iconic hideout at Piz Gloria.

Read Biography
George Baker MBE (1931-2011)
Popular television and film actor George Baker appeared in three James Bond films from "You Only Live Twice" to "The Spy Who Loved Me" died on 7th October 2011. He started his career as an assistant stage manager at The Richmond Theatre before he received his national service call up papers in 1949 and reported for duty at Winchester and began his training in the Rifle Brigade. Bond director Guy Hamilton spotted Baker during a production of "Aren't We All?" and cast him in a small role in "The Intruder" (1954), which Baker followed up with a role as Flight Lieutenant Maltby in the classic "The Dam Busters" the same year. His first brush with James Bond came in 1967 when he played an uncredited NASA Engineer in the 1967 Sean Connery outing "You Only Live Twice". Ian Fleming had eyed Baker as a potential 007 before the series got underway, but Baker was tied to a contract with a rival studio and was ruled out of the running. But it was the next film in the series where Baker made his mark on Bond fandom, when he played Sir Hilary Bray opposite George Lazenby in "On Her Majesty's Secret Service".

Read Biography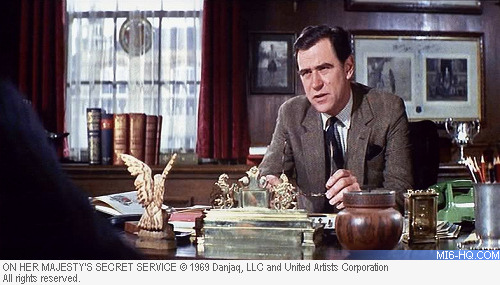 Above: George Baker as Sir Hilary Bray in "O.H.M.S.S.".
Linda Christian (1923-2011)
Linda Christian, the 'Anatomic Bomb' and first screen Bond Girl died aged 87 on July 22, 2011 in Palm Desert, California, USA. Although she grew up aspiring to become a doctor, and briefly began started studying medicine in Palestine (but returned to the USA due to international tensions), Christian had a chance meeting with her screen idol Errol Flynn after graduating from secondary school, whereon she was persuaded to move to Hollywood and become an actress. It was in 1954 that Linda Christian would become the first Bond Girl on screen, although nobody at the time would have guessed it would be of any historical note. American Barry Nelson starred as 'card-sense' Jimmy Bond in a 1 hour live production of Ian Fleming's "Casino Royale". The performance on 21st October 1954 (8.30pm EST) was the first in CBS's 'Climax' series of dramas.

Read Biography
Janet Brown (1924-2011)
Comic actress best known for impersonating Prime Minister Margaret Thatcher on 27th May 2011. Remembered in the Bond universe for her cameo in the closing scenes of "For Your Eyes Only", Brown began an acting career in the early 1930s. Her impersonations were first given voice on the Mike Yarwood Show. In 1987 she wrote her autobiography, Prime Mimicker, chronicling her childhood and career as impressionist.
Full Story

Angela Scoular (1945-2011)
British actress, and wife of Leslie Phillips, Angela Scoular passed away on 11 April 2011. Born in London, Scoular attended RADA to study acting and appeared in the 1967 James Bond spoof "Casino Royale" and Lazenby's one-off adventure, "On Her Majesty's Secret Service" (1969). In the latter of these two Bond flicks, Scoular played Ruby, one of the many Angels of Death the are being subtly groomed to kill by Blofeld. She went on to appear in a number of British television standards, including a recurring role in "You Rang, M'Lord?".
Full Story


Above: Angela Scoular in "O.H.M.S.S."
John Barry (1933-2011)
Five-time Oscar winning composer John Barry, who scored eleven 007 movies and arranged the infamous James Bond theme died on Monday 31st January 2011. The young Barry trained as a classical pianist before developing an interest in jazz and deciding he wished to learn to play the trumpet. Together with Mike Cox (tenor-sax), Derek Myers (alto-sax), Ken Golder (drums), Fred Kirk (bass guitar), Ken Richards (lead guitar) and Keith Kelly (rhythm guitar), John Barry began his professional music career. The group would become known simply as JB7. Barry got a fateful call from Producer Harry Saltzman, asking the musician to cast his eye over a piece for a new project: it was, of course, the 007 theme for "Dr. No". His work performing, conducting and arranging the Bond theme would earn Barry the opportunity to head up the music department of EON for "From Russia With Love" and a life-long partnership between Barry's haunting melodies and the James Bond adventures was born.

Read Biography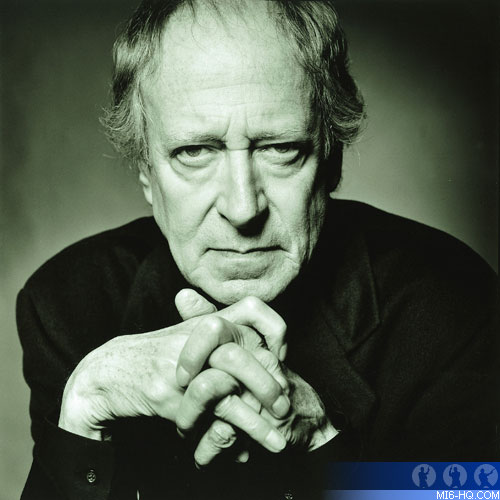 Above: A memorial concert was held for the late John Barry in June.
Not Forgetting
Dolores Keator (16/02/1925 - 11/01/2011) - Mary, Strangway's secretary in Dr No
Diane Cilento (05/10/1933 - 06/11/2011) - Former wife of Sean Connery
Peter Twiss (23/07/1921 - 31/08/2011) - Morzeny's driver in From Russia With Love
Terence Plummer (1936 - 2011) - Ahmed in The Man With The Golden Gun