| | |
| --- | --- |
| | Martin Grace, James Bond stuntman and double for Roger Moore, has died at the age of 67... |
Martin Grace (1942-2010)
28th January 2010
James Bond stuntman and stunt double Martin Grace has passed away at the age of 67. Grace was an accomplished stunt performer and coordinator, and was Roger Moore's stunt double through most of his Bond films. Martin's first 007 credit was on "You Only Live Twice" in 1967, before becoming Moore's regular stunt double from "The Spy Who Loved Me" (1977) up until his departure from the series in "A View To A Kill" (1985).
Martin Grace was born in Kilkenny, Ireland on 12th September 1942. During his time at college at Kilkenny City, Grace first experienced action movies when a tented traveling film show arrived in town. Bitten by the bug, he moved to London in the early 1960's to attend Mountview Academy of Theatre Arts.

After joining a stunt agency, he found his first professional work in commercials as the mysterious action man in the Cadburys milk tray television ads. The secret agent aesthetic and daring stunts would give him a taste of what 007 would later offer him.

His first film credit was as a Thal on the BBC's big screen adaptation of "Dr. Who and the Daleks" in 1965. Shortly thereafter, his first brush with Bond came when stunt coordinator Bob Simmons and his right-hand man George Leech called up almost every professional stunt man in England to perform in the climatic volcano battle in "You Only Live Twice" (1967).



Simmons had noticed Grace in his Cadbury commercials. Leech was similarly impressed by Grace, who then spent four weeks honing his ninja skills: scaling nets, sliding down ropes and practicing trampoline explosions. It was also on "You Only Live Twice" that Grace met a young Vic Armstrong, who went on to become stunt-coordinator and action unit director on the later Bond movies.
In the 1970s, Grace performed at a nightly stunt show tour across Scandinavia. Winning a Charlton Heston talent contest in 1974 took him to Hollywood for the first time, where he also attended stunt classes to hone his skills in driving, parachuting, boxing, wrestling, fencing swimming and gymnastics.
His work as Roger Moore's stunt double started in 1975 when he was selected for "The Spy Who Loved Me" (1977) and continued in this role until Moore's departure from the series with "A View To A Kill" (1985). One of his first jobs as Moore's double was to drive the Lotus Esprit through the windy narrow streets of Sardinia during the helicopter and motorcycle chase. But unlike almost every chase scene in the Bond series, Grace was told explicitly that the 'hero' car had to be returned to Lotus in the exact same condition it was delivered in! Grace also doubled for Richard Kiel in the long-shots of the Egyptian ruins when Jaws can be seen walking high above the crumbling columns.
Another high-rise and high-stakes sequence for Grace was the pre-title sequence of "For Your Eyes Only" when he had to hang on to the side of a helicopter as 'Blofeld' was trying to his best to dispose of 007. Grace also doubled for Bond aloft the Eiffel Tower in Paris and the Golden Gate Bridge in San Francisco in "A View To A Kill".
Sadly, Grace suffered terrible injuries during the production of "Octopussy" during the train sequence shot at the Nene Valley Railway in Peterborough, UK. To achieve the desired shots, Grace was called on to leap on to the train from a moving car and then later climb underneath and down the outer side of the carriages. In a rush to wrap filming during a break in the weather, communication broke down between the helicopter shooting the action, Grace, the train driver, and the rest of the stunt team timing the sequence. Not being able to look in the direction of travel, Grace was unaware of a solid wall built parallel to the tracks on an unrehearsed section of track. The impact smashed his pelvis and thigh bones, but the adrenaline rush allowed him to hang on to the train until it came to a stop. He was rushed to Peterborough Hospital where he lay prone for several months, fearing that his career may be over. The accident badly affected crew morale. Immediately upon his return from filming in India, Moore made his first of several visits to Grace in hospital. Grace made a full recovery in time for the next Bond outing.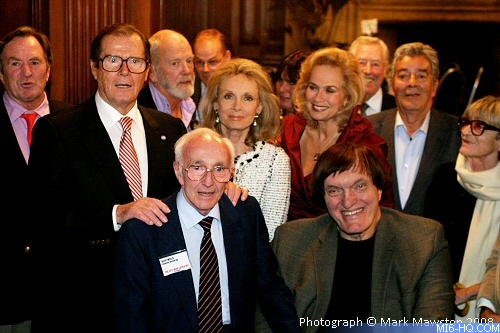 Above: Martin Grace (pictured far left) at "The Spy Who Loved Me" BondStars event at
Pinewood Studios in November 2008.
Grace also doubled for Moore in his non-Bond films, including "The Wild Geese" (1978), "North Sea Hijack" (1979), "Escape To Athena" (1979), "Sea Wolves" (1980), and "The Naked Face" (1984).
He was a regular visitor to Kilkenny and his home place of Lisdowney - thrilling local school kids with his exploits on the film set and finding the time to visit old school mates and neighbours. Indeed in 2006, a project on Martin Grace earned Clontubrid NS a national award. One of his first teachers, Larry Hamilton described Martin as a real gentleman, "very decent." Larry obviously played a key role in inspiring Martin as they always kept in touch with postcards from every film destination Martin worked in. "Martin Grace just loved people. Anywhere he went he always met the local people, hired the local people, from Fiji to South Africa to Poland, Martin always wanted to meet local people, and to enjoy their company and learn from them."
Other major film credits as a stunt performer or coordinator include: "Superman" (1978), "Raiders of the Lost Ark" (1981), "Robin Hood" (1991) and "The Truman Show" (1998). Grace also made appearances on screen as an actor. In 1997 he starred as Captain Braga in "Robinson Crusoe", which featured then-James Bond actor Pierce Brosnan in the title role.

Over his career, Grace worked on 73 motion pictures as well as many popular television programs including "Monk" and "Heroes". His last big-screen stunt work was on the 2007 Jim Carrey vehicle "The Number 23".

After suffering a cycling accident in late November 2009, Martin fractured his pelvis and was hospitalised for some weeks. In late January he was taken from his home in Spain to hospital again after developing breathing problems. He died aged 67 on 27th January 2010 after suffering an aneurism.
His funeral service was held at St. Brigid's Church, Lisdowney. Funeral Mass on Friday 19th February at 11am, followed by burial in St. Lachtin's Cemetery, Freshford.
He has one surviving immediate relative in his birth county of Lisdowney, Paddy. He is also survived by his daughter Donna, a doctor in England. Sir Roger Moore described him as the bravest man he ever knew.
Related Articles

You Only Live Twice

The Spy Who Loved Me

Moonraker

For Your Eyes Only

Octopussy

A View To A Kill