Patrick Macnee (1922-2015)
25th June 2015
Star of the 'Avengers' and 'A View To A Kill', the quintessential English gentleman Patrick Macnee has died aged 93
By MI6 Staff
---
To millions of fans around the world he was the quintessential English gentleman, which is a testament to the acting prowess of Scottish-born Patrick Macnee who spent years living in Canada from 1952 before becoming a US citizen in 1959.
Macnee was born in London on 6th February 6th 1922, the eldest of two sons. His father, Daniel Macnee, trained race horses but struggled with drinking and gambling and lost the family's fortune. His parents divorced when his mother, Dorothea Mary, declared her lesbianism and lived with her partner who Patrick lovingly referred to as 'Uncle Evelyn' in his memoir, 'Blind In One Ear: The Avenger Returns.' She helped fund is schooling as a boy at Summer Fields School and Eton College where he was a member of the Officer Training Corps and was one of the honour guard for King George V at St George's Chapel in 1936. Like the fictional back-story to Ian Fleming's character James Bond, Macnee was also expelled from Eton - for selling pornography and being a bookmaker for his fellow students. Macnee and Fleming would become friends in later life.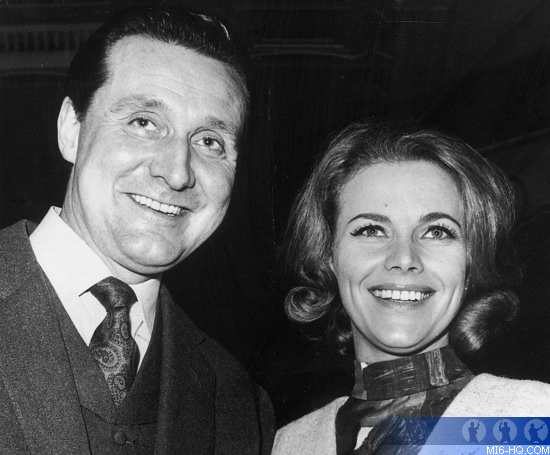 He went on to study acting at the Webber Douglas Academy of Dramatic Art, but his first big break was ripped away from him when the British Armed Forces called up Macnee and his debut with Vivien Leigh vanished. He joined the military as a seaman in 1942 during World War II and rose the role of navigator. He suffered a bout of bronchitis just before D-Day, which ruled him out of front line action. Whilst he was laying in hospital, his boat and crew were lost in action. He left the Navy in 1946 at a lieutenant.
After the war, Macnee emigrated to Canada and started his acting career in several TV movies. His early big screen credits included Laurence Olivier's 'Hamlet' (1948), 'Scrooge' (1951), 'Les Girls' (1957) and 'The Battle of the River Plate' (1956). He spent most of the 1950s appearing in US and Canadian television and theatre productions.
Before he would land his most iconic role, Macnee stepped away from acting and served as a London based producer for the documentary series 'The Valiant Years', based on the Second World War memoirs of Winston Churchill. It was during this work that he was offered the part originally known as Jonathan Steed in 'The Avengers'. The show started as a vehicle for Ian Hendry, but when he departed after the first series, Macnee became the show's lead as John Steed. It went on to run for seven series from 1961 to 1969. His sidekick would be a woman of action. He twice lost his co-star to the James Bond franchise. First Honor Blackman would take her 'Avengers' fame to land the role of Pussy Galore in 'Goldfinger' (1964), and her replacement Diana Rigg would do the same for the part of Countess Tracy di Vicenzo in 'On Her Majesty's Secret Service' (1969). Finally, for the original series run, Linda Thorson would play his sidekick. Steed was also the central character of a revival, follow-on series, 'The New Avengers' (1976-77), in which he was teamed with agents named Purdey (Joanna Lumley) and Mike Gambit (Gareth Hunt).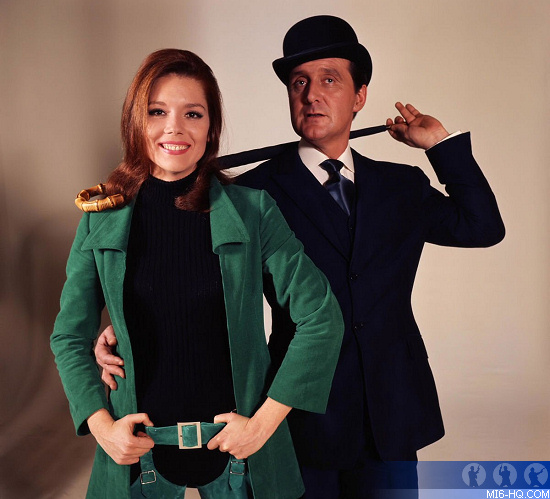 Macnee insisted on, and was proud of, never carrying a gun in the original series. When asked why, he explained, "I'd just come out of a World War in which I'd seen most of my friends blown to bits." During the 1960s, Macnee co-wrote two original novels based upon The Avengers, which he titled Dead Duck and Deadline. In 1988, he dictated his autobiography, which he titled 'Blind in One Ear: The Avenger Returns', to Marie Cameron.
He return to the world of spy-fi when he took over the role Sir John Raleigh, #1 at the U.N.C.L.E. organisation, for the 1983 TV movie 'The Return of the Man from U.N.C.L.E.: The Fifteen Years Later Affair' alongside Robert Vaughn and David McCallum (and also a cameo by one-time 007 actor George Lazenby.)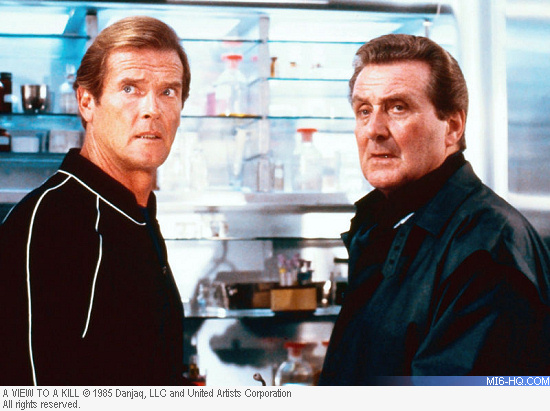 He would co-star with his friend Roger Moore on a number productions, including the 1976 TV movie 'Sherlock Holmes in New York' and 'The Sea Wolves' in 1980. It was not until Moore's final outing in the role of 007 that Bond and Steed would meet on the silver screen. Echoing his father's career, Macnee would play the role of horse trainer and MI6 aide Sir Godfrey Tibbett, who assists Bond with his investigation of Max Zorin in 'A View To A Kill' (1985). Moore took delight in Macnee's character being subservient to Bond, often ad libbing put down lines.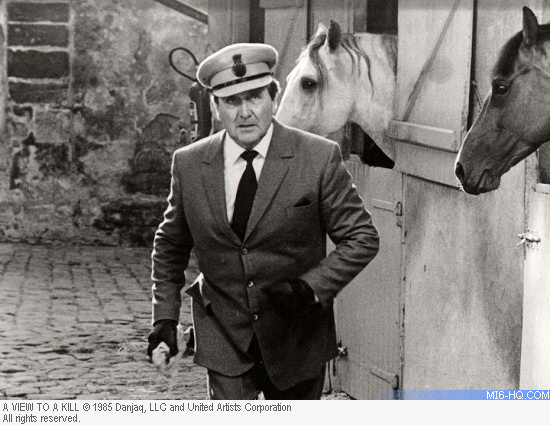 In his later years, Macnee took on dozens of smaller roles in film and popular US television series. He reprised his role as Dr. Watson opposite Christopher Lee in the 1991 TV movie 'Sherlock Holmes and the Leading Lady.' He even appeared as the driver in the 1996 Oasis music video 'Don't Look Back in Anger.' It was not the first time Macnee was involved in a music video, as back in 1964, he performed the song 'Kinky Boots' with 'Avengers' co-star Diana Rigg. The music was originally commissioned for the satirical TV series 'That Was the Week That Was.' Lyrics were later added for a recording by Macnee and Blackman, released by Decca in February 1964. The song was not initially a hit, but a 1990 re-release reached the top ten of the British Singles Chart in December of that year, after the song was promoted by BBC Radio One DJ Simon Mayo. The single peaked at No.5 and remained on the chart for seven weeks.
Macnee returned to the world of 007 in 2000 to narrate the series of 'Inside' documentaries behind each and every one of the James Bond films - except the one in which he appeared.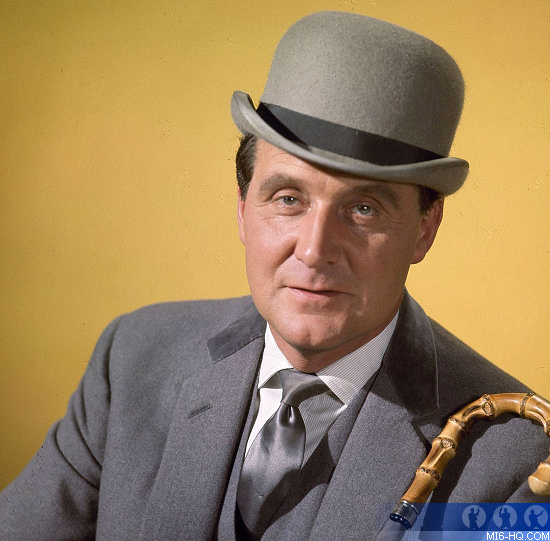 Macnee had two children, Rupert and Jenny, from his first marriage to Barbara Douglas (1942-1956). His second marriage (1965-1969) was to actress Katherine Woodville. His third marriage was to Baba Majos de Nagyzsenye, and it lasted from 1988 to her death in 2007. He became a U.S. citizen in 1959. On 25th June 2015, Macnee died at his home in Rancho Mirage, California, at the age of 93.
Get Bond in Your Inbox
Sign up for occasional email updates from MI6. Get notified of breaking Bond news, and digests of recently releases features:
Share The Story