| | |
| --- | --- |
| | Peter Murton, acclaimed production designer and veteran of three James Bond films, has died... |
Peter Murton Biography
7th February 2010
Acclaimed Art Director and Production Designer Peter Murton has died. He passed away shortly before Christmas 2009. Murton's career spanned over 50 years and included some of the biggest and most popular British-produced films of the era, including three James Bond movies.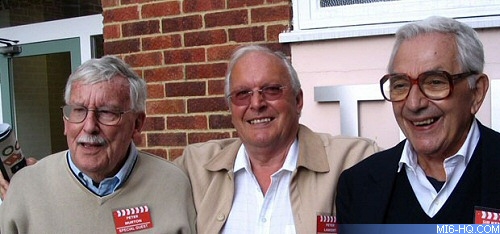 Above: Peter Murton (left) with Peter Lamont (centre) and Sir Ken Adam (right) at the
" Behind The Scenes Of Bond" event in July 2007.
His first credit came on the Arthur Crabtree helmed "Madonna of the Seven Moons" in 1945, when he began his career as a draughtsman for Gainsborough Pictures. After completing work on "Caravan" (1946) for the company, he continued in his role draughtsman for several different production companies until 1957, where he moved on to become a set dresser for Rank on "Across the Bridge". After several films as a set dresser, Murton had his first Assistant Art Director credit on "Tarzan's Greatest Adventure" in 1959, followed by "Swiss Family Robinson" in 1960.
Murton directed his first art department on the Peter Sellers film "Mr. Topaze" in 1961, and worked again with him on "Dr. Strangelove or: How I Learned to Stop Worrying and Love the Bomb" in 1964.
Sean Connery would first meet Murton on "Woman of Straw" in 1964 when he once again filled the position of Art Director. He would continue this role on two of Connery's outings as James Bond - "Goldfinger" in 1964 and "Thunderball" in 1965. Both times he worked with long-term 007 Production Designer Ken Adam. Impressed with his duties on Bond, producer Harry Saltzman hired him on his Harry Palmer movies "The Ipcress File" (1965) and "Funeral In Berlin" (1966), where he was also reunited with director Guy Hamilton.

Murton made the transition to Production Designer on "The Ruling Class" (1972) for Hungarian director Peter Medak.

007 would come calling again in 1974, when Murton was promoted to Production Designer on Roger Moore's second Bond movie "The Man With The Golden Gun". One of the many sets he designed was the iconic 'funhouse' where Scaramanga hunts his opponents and faces off against 007 in the climactic confrontation.

Working under him as co-art director was Peter Lamont, who would become a regular fixture as production designer on all but one of the Bond movies from "For Your Eyes Only" (1981) until "Casino Royale" (2006).


Above: Two of the impressive sets designed by Peter Murton for "The Man With The Golden Gun" (1974).
He continued in the role of Production Designer for a total of 18 films, including some of the biggest movies produced in Britain at the time, including "The Eagle Has Landed" (1976), "Dracula" (1979), and both the "Superman" sequels in 1980 and 1983.
After his last big screen production as Art Director on "Stargate" in 1994, Murton returned to the world of James Bond in 2005 when MI6, Cinema Retro and BondStars hosted the 40th anniversary "Thunderball" gala event in London in November 2005. "This was my first time at a Bond tribute event, so I didn't know what to expect really", he said at the end of the evening. "Boy, this was like being at a premiere of a movie, and to see such a stunning widescreen print, after all those years, was a real treat."
Murton would go on to make special guest appearances at further BondStars events, including the "Goldfinger" reunion in April 2008 and "Behind The Scenes Of Bond" in July 2007, where he was united with fellow Bond production designers Sir Ken Adam and Peter Lamont. It was the first time that all three had been together at an event. Between the trio, they lead the art departments or production design teams on all the Bond films from "Dr. No" to "Casino Royale".
Related Articles

Goldfinger

Thunderball

The Man With The Golden Gun