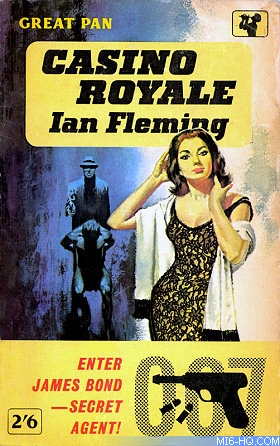 Above: British Pan paperback cover
On the subject of why Paul Haggis was brought in to polish the script, he said "If you read the book, the relationship between Bond and Vespa (sic) was a very complicated one. The idea was to get some character into her, to make her a very strong girl so she stands up to Bond; she's his sort of equal. Certainly, psychologically speaking – and it needs someone like Paul to pull that off. To bring out genuine character – and also to bring the humour. Gone will be the awful one-line clunkers. Hopefully there will be a little bit of wit in this one."
"I don't think it [Bond] needs reinvigorating. – I think what it needs is a fresh coat of paint. I think the last Bond got so out there, with the action and stuff – so what do you do from there? This will be grittier, more realistic. It's when he just earns his double-O stripes, so he's kind of raw.
"He's got an arrogance, he thinks he can do what he wants to do – he thinks with his heart instead of his head, so he gets a few of the rough edges knocked off him on the way through the story. So by the end of it he becomes the Bond that we all know."
Empire asked, is Casino Royale turning in to "Bond Begins"? "Sort of, yeah. There's a little bit of that. But it's certainly more gritty and realistic, no doubt about that." Campbell confirmed again that the age range of Bond's character in the 21st film will be "about 28, 30-31".