| | |
| --- | --- |
| | The James Bond hype machine is gearing up in Japan where 007 fans are eagerly awaiting the release of "Quantum of Solace" later this month... |
007 Hype Builds In Japan
5th January 2009
The 007 hype machine is gearing up in Japan as James Bond fans eagerly await the release of the 22nd adventure "Quantum of Solace" in the country - the last territory to open for the new film. Coming some 12 weeks after it debuted in the UK, "Quantum" will go nationwide in Japan on 24th January 2009. The premiere was held back on Tuesday 25th November 2008 when Daniel Craig, Olga Kurylenko, Marc Forster and Barbara Broccoli attended the Tokyo press conference and red carpet events.
Before the movie opens across the country, Sony has organised an event to celebrate the release of several products tied in to the production. From Monday 12th January 2009 to Sunday 15th February 2009, visitors to Sony Square at Sonibiru Ginza can take the "Trial To 007" for free.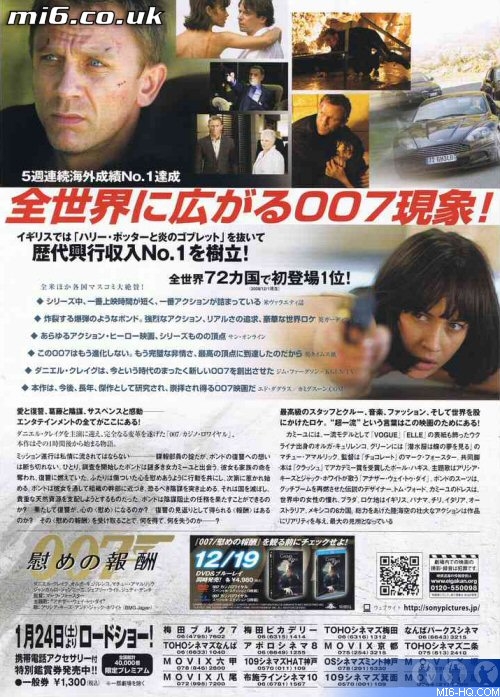 Above: The latest flyer circulated at theatres in Japan.
Those who successfully complete 'challenging missions' using products such as a Sony Walkman will be awarded an 'MI6 certificate' - worth 200 Yen off admission to "Quantum of Solace". The building will also host an Aston Martin DBS (not actually used in filming) and a collection of other props.
Coke Zero, Avon and the 007 Japan T-Shirt Collection are the three major commercial partners for the film's release in Japan. Coke is running several promotions and sweepstakes in the country.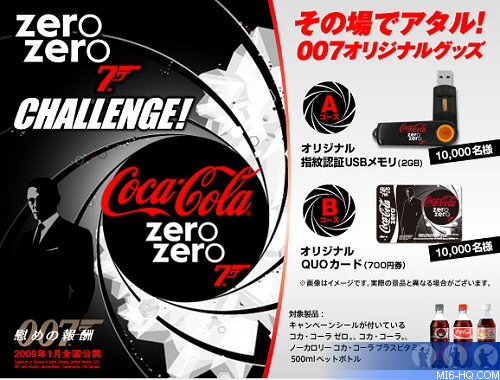 Above: Coke Zero promotional flyer advertising their 007 challenge.
Despite a Japanese dubbed version of the film leaking on the internet two months ago, ticket sales are expected to be strong for "Quantum of Solace". Last time around, "Casino Royale" scooped almost $19m from the Japanese box-office.