The penultimate leg of the "Quantum of Solace" premiere tour around the world touched down in Sydney in Saturday 14th November 2008 for the Australian debut of Daniel Craig's second outing as 007. The event was held at Hoyt's Entertainment Quarter in Moore Park. Craig previously visited Sydney to promote his first Bond adventure "Casino Royale" back in 2006.
Craig was joined on the red carpet by his girlfriend Satsuki Mitchell. Other from the production included the latest Bond Girl played by Olga Kurylenko, director Marc Forster and producer Barbara Broccoli. Fashionistas will be interested to know that Satsuki's dress was by Cavalli, and Olga's outfit was a Colette Dinnigan design.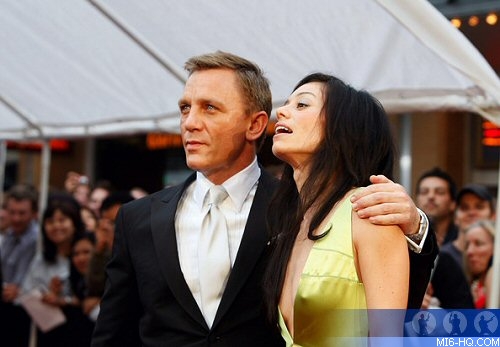 "It is very rare to make a movie of this size. It was the chance to be at the top of my game" - Daniel Craig on the red carpet.
Much like he did in 2006, Craig spent considerable time with the fans who had waited to catch a glimpse of the celebrities, signing hundreds of autographs and posing for pictures - often shooting them himself!
Craig told reporters he would love to film a 007 movie in Australia. Kurylenko told a packed Hoyts Cinema that visiting Australia was a childhood dream come true.
As to whether Quantum of Solace was the best Bond film ever Craig said: "It is for other people to tell", but he said viewers would find it "interesting to find out who he [Bond] is and what he is about".
A host of Australian stars turned out for the premiere including Rove McManus, Megan Gale, Andy Lee, Ruby Rose, Jason Dundas and Nash Edgerton. The evening was rounded off with a sunset party at Heritage Park, where the 800 guests enjoyed cocktails.
"This was a Bond for our times [but] I was inspired by
those early Bonds" - Marc Forster on the red carpet.
"Quantum of Solace" opens nationwide in Australia on Wednesday 19th November 2008.