| | |
| --- | --- |
| | MI6 reports on the Brazilian actresses about to be screentested for a potential role opposite Daniel Craig in the 22nd James Bond film... |
Bond 22 Pre-Production Diary (14)
15th October 2007
Casting Searchlight Lands On Brazil
The search for the next Bond girl is well under way, with casting notices sent out specifying "a Latina actress in her late twenties, preferably with South American roots".

MI6 has learned that several Brazilian actresses have met the initial requirements and are under early consideration to play opposite Daniel Craig in the 22nd James Bond film.

Headlining the small group of women hoping they will be eternally known as a "Bond Girl" is Brazilian actress Camila Alves. The 22 year-old model-turned-actress, who has worked in television and film, seems to meet all of the requirements. Her past experience includes a Hollywood production - Alves worked on the 2002 Cuba Gooding Jr. adventure comedy "Snow Dogs" - and her Hollywood contacts include current boyfriend and actor Matthew McConaughey. Up until recently, she lived in New York where she studied acting at the Lee Strasberg Theatre Institute, where the likes of Marlon Brando and Al Pacino cut their teeth.



Alves confirmed that she will be screentesting for the Bond girl role in Rio at some point during the last two weeks of October.
Another two actresses reportedly under consideration are Brazilian starlets Juliana Paes and Fernanda Lima, who were in contact with the production by Wednesday 10th October. The agent for 28 year-old Juliana Paes confirmed that she "was very happy about the opportunity" and has already performed an early test in Los Angeles and is due to be called back for another. A representative for Fernanda Lima confirmed the actress is also due to screentest for the Bond girl role. 30 year-old Lima's credentials include "Stuck On You" (2003) starring Matt Damon, and strong English skills.
Casting Alves, Paes or Lima would be the first time that a Brazilian actress has had a major role in a Bond film. Back in 1979, Adele Fátima as cast in "Moonraker" but her character was later recast to Emily Bolton. Adele did shoot some minor scenes around Sugar Loaf Mountain with Roger Moore, but they were cut from the final film.
Pre-Production News Round-Up
Away from casting news, writer Paul Haggis has admitted that a plot or the 22nd James Bond film was thrown out late on in script development. Speaking to Esquire magazine in early September, Haggis said "I thought I had come up with a terrific plot, and we'd worked it all the way through, and yesterday we tossed it out." As with "Casino Royale", Haggis is rewriting a first draft script by regular Bond scribes Neal Purvis and Robert Wade. Comparing this latest 007 outing to his first, Haggis said "this one's tougher than "Casino Royale", which wasn't a small amount of work, but there was an existing book."

David Arnold has confirmed he is composing the score for the 22nd James Bond film. The news was announced via his official site: "David will be scoring the next Bond film, working alongside Marc Forster and everyone at Eon Productions." Bond 22 will be Arnold's fifth consecutive 007 outing, having previous scored "Tomorrow Never Dies" (1997), "The World Is Not Enough" (1999), "Die Another Day" (2002) and "Casino Royale" (2002).



Dame Judi Dench had given some hints that M might be traveling abroad again in the 22nd James Bond film. Speaking on the red carpet of the UK National Movie Awards, Dench was asked about the upcoming Bond film, which will be Daniel Craig's second as 007. "All I've been told is to stand by for - I think - December, and I might get away again"
As MI6 revealed last month, location scouts for the 22nd James Bond film visited Panama recently to consider it as a shooting venue that could possibly double for South America. Local news reports now claim representatives are back in the country finalising agreements to host Daniel Craig's second outing as 007. Exact locales are yet to be confirmed, but it is understood that the region of Provincia de Colón has been the focus of scouts due to its beautiful coastline. If everything goes ahead, shooting initial shooting is scheduled to start in early November, with 300 to 400 cast and crew members descending on the country in late October.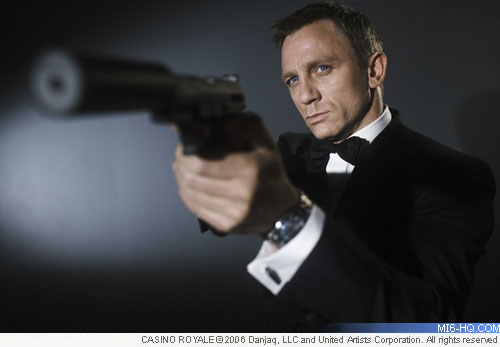 Strike Fears
In September, a list of projects the studios were making a priority before the possible Writers Guild, Directors Guild and Screen Actors Guild strikes was posted online. Industry watchers have now received an updated list which states that the 22nd James Bond film is scheduled to start production on 7th January 2008. This date is a few weeks later than originally thought, as The Hollywood Reporter previously stated the film would lense on or around 10th December 2007.
Across the industry, studios are going into panic mode amid fears that a strike that could paralyse film productions may start as early as next month - and not next summer as was widely expected. Talks between Tinseltown producers and the Writers Guild of America, the body that represents screenwriters, have grown increasingly bitter in recent weeks. The guild also recently sought an authorisation to strike, leading studio executives to believe that work stoppage from November 1, the day after the current agreement expires, is a real possibility.