| | |
| --- | --- |
| | Principal photography is now underway on the 22nd James Bond film. MI6 rounds up the latest, including news from Austria... |
Production Diary (1)
3rd January 2008
With principal photography now underway on the 22nd James Bond film, MI6 opens the first entry in the Bond 22 Production Diary series, which will track the progress and events of the making of Daniel Craig's second adventure as 007. An extensive history of the build up to shooting can be found in the exclusive MI6 Pre-Production Diaries - charting back to March last year - with links at the bottom of the page.
Bond 22 Begins
The long wait since Casino Royale hit the big screens is over! The 22nd James Bond film 'lensed' yesterday - Wednesday 2nd January 2008 - at Pinewood Studios in England. Variety confirms that shooting is nearly a month behind the original schedule, but the general release date of 7th November is not at risk.
Some filming for Bond 22 took place at The Barbican in London yesterday. A sign went up giving warning that it would be the venue for a scene from Bond 22 in the Sculpture Court where a man will be filmed talking on a mobile phone. Daniel Craig was not at the locale.
Bond Girl Under Wraps
Reports state that producers Michael G. Wilson and Barbara Broccoli and the studios are on the verge of casting a female lead from the 22nd James Bond film and will make a decision within two weeks. As with the previous film Casino Royale, shooting has started without having cast the main female lead. It has been rumoured that the process is being kept under wraps from Sony to avoid any possible media leaks. British actress Gemma Arterton has confirmed herself for a part in the film, but MI6 understands that she has not landed the major role. Extensive casting searches have taken place for a Latina actress from South America. Bond 22 will also be partly shot in Panama and Bolivia.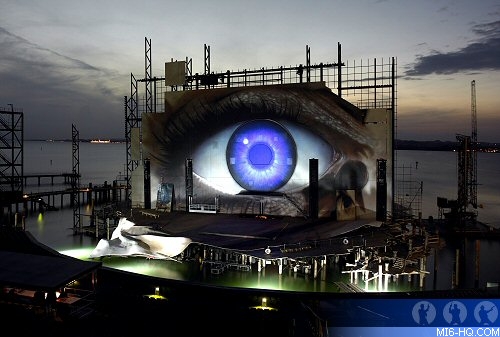 Bregenz Beckons For Bond
Austrian media report today that the floating opera stage in Bregenz has been confirmed for a major scene in Bond 22. Just a few of weeks ago, MI6 reported that negotiations were still underway to secure the location and a special one-off out of season performance for the filming. Local production manager Leonard Gmuer of Unicorn Films and Bregenz Festival speaker Axel Renner confirmed to local media that the stage is confirmed, but contracts are yet to be finalised. All parties expect to complete the minor details in the next few days. The nearby town of Feldkirch has also been selected for filming, but for a minor scene.
MI6 first reported last year that the opera stage "Seebühne Bregenzer" was scheduled to host James Bond in late April with filming of a "Tosca" performance to take place at night. A short driving sequence (presumably in the recently confirmed Aston Martin DBS) will take place in the old town of Feldkirch.

A casting session for extras will be held in Bregenz later this month. Around 1200 to 1500 extras will be required for the opera audience, and 25 to 20 for the car chase sequence in Feldkirch.

Casting will take place at the Kornmarkt Theatre in Bregez from January 18th to 20th between 9:00am to 5:00pm. Athletic types are also requested to attend as there are several roles for security personnel. Those attending are encouraged to bring pictures of their cars as some will be required for backdrops. The production is looking for a mixture of people from 18 to 70 years old with a dress code suited to an opera performance.

Filming is expected to span across several nights from April 28th to May 10th 2008. Hopefuls will have to complete an application form and have a photograph taken. Local residents as well as people from Germany and Switzerland are invited to apply.


Above: The central 'eye' rotates in the stage backdrop


Above: The 7000-strong audience watches from inclined seating
Gmuer confirmed that Daniel Craig will be filming at the opera stage, and Bregenz will feature as itself in the film, and not double another location.