| | |
| --- | --- |
| | Hopefuls have been applying to become extras in Bond 22 when shooting moves to Austria later this year. MI6 reports from Bregenz and reveals some film details... |
Production Diary (5)
20th January 2008
Parts of the 22nd James Bond film, starring Daniel Craig in his second outing as 007, will be filmed in Bregenz, western Austria, on the edge of Lake Constance, confirmed Swiss production company Unicorn Media. As MI6 reported back in December, the local team were looking to recruit 1,500 extras for opera scenes set on a floating stage, a characteristically glamorous backdrop for the spy franchise. The extras will form the audience of a special performance of "Tosca", where technical wizardry will make them look like the usual 7,000 capacity crowd.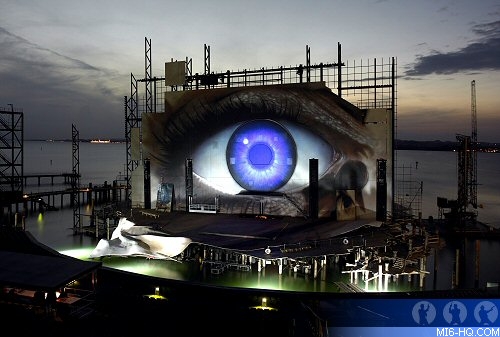 Before the doors were flung open Friday 18th January, hundreds of hopefuls jostled for position outside the Kornmarkt Theatre in Bregenz, some arriving as early as 4am to secure their place. Women in evening dress stepped on each other's high-heel shoes, whilst men in tuxedos gently elbowed each other in the ribs for over three hours in the drizzle and cold wind until the glass doors finally slid open. Although the atmosphere remained friendly, the stakes were high - a chance to be seen in the latest James Bond film.
After completing the first step in their mission - getting through the theatre door in groups of 5 to 10 people at a time - hopefuls then had to complete a questionnaire which quizzed them on age, hat size, pants size and hair colour, among other vital statistics. Candidates also had to confirm whether or not they had any medical conditions, as filming will take several hours over three days.
Paperwork complete, candidates were then handed a number on a card and had to pose in front of cameras, but this was not a glamour shoot as everyone had police-style mug shots taken. The 20-minute process then concluded with a brief interview with Unicorn staffer Karin Gmür, who grilled candidates on their schedule's flexibility - especially if they are from out of town or a neighbouring country. A Swiss fan club brought 44 members to the casting, while some other fans hailed from Sweden, Norway, Belgium and Holland.
Unicorn chief Leonhard Gmür conformed that applications would be passed on to director Marc Forster's team in London, which will in turn choose the extras. Those lucky enough to be selected will earn 60 euros ($88 USD) per day, for a total of three nights. Gmür also stated that they were looking for a 'mixed' audience, so candidates such as older gentlemen stood a better chance of being cast. 55% of the attendees were male, compared to 45% female. Those applying had to be within 18 to 70 years old. The minimum age limit was in place due to local prohibitions of youths working through the night - filming is expected to range from 6pm through to 6am in the morning.
Those who passed through the application steps will be notified in early April whether or not they will have a part as an extra. Some of the male hopefuls may be selected to play one of the police roles required, but that will depend on the size of their heads. Production will select extras based on their hat size, to match the police hats in wardrobe.
Potential extras were also asked to bring photographs of their cars, as the production is looking for approximately 40 vehicles for a scene too. All need not apply though, as the production is only looking for cars starting from Mercedes S-class and up. Unlucky too if you own a Jaguar or Volvo. Gmür stated that villains in the scenes will be driving Jaguar's (recently, "Die Another Day" henchman Zao drove a Jaguar XKR), and James Bond will arrive in Austria in a Volvo (fear not car connoisseurs, 007 will still be behind the wheel of his Aston Martin DBS from "Casino Royale" in the rest of the film). The sequence will not be a chase. Ford owns both Jaguar and Volvo, and it is their third and final product placement of their three-picture deal which started with 2002's "Die Another Day".
After the first three hours of casting was complete, 250 people had been processed. Meanwhile, the lines outside the theatre got longer and longer. Over the three day casting window, over 4,500 people turned up.
The first unit on Bond 22 will move to Bregenz for filming between April 29th and May 10th. A contract to shoot the Tosca performance with the Bregenz Festival is still under negotiations as the cast of the opera are reportedly asking for more money.
Gmür said that "in the final film, the scene on the floating stage will last a maximum of five minutes". Local reports indicate that the sequence will involve 007 interrupting the opera performance by chasing a villain through the grandstands before moving in to the Bregenz Festival House. Gmür also confirmed that none of the locations the production team scouted in Germany will be used in Bond 22, although a German ship will be filmed on Lake Constance.