| | |
| --- | --- |
| | Marc Forster discusses directing 007 and what made him take on the daunting task of helming the 22nd James Bond film... |
Marc Forster On Directing 007
11th November 2008
"Quantum of Solace" is Marc Forster's first James Bond film. He explains why the project appealed to him.

"It was a huge decision for me to take on the [Bond] franchise because it's so different from what I have done before. When you direct a Bond film you are making a movie within a given framework. There are different aspects to 007 you cannot get around; you have Bond, the girls, the cars, the history and millions of fans and this presented an incredible opportunity to me. I was excited to find a creative way to tell the story within the framework, and I knew it would also be challenging. It was exactly that challenge that really appealed to me."

Following the huge success of "Casino Royale" is another challenge, Forster continues, "Casino Royale" was so successful and because of that people have higher expectations."

"I felt the early Bond films of the 1960's (with Sean Connery as Bond and sets designed by Ken Adam) were ahead of their time in the design, locations and feel of the films and this was my inspiration. I saw that there was room to create a new stylistic look for the Bond franchise."
Forster employed Academy Award winning production designer Dennis Gassner to help realise his vision. "One of the reasons I wanted to work with Dennis was because he created looks that you have never seen before in films like "The Truman Show" and his work with the Coen Brothers. All those sets were designed with a strong stylistic vision which is so essential to the world of Bond.
"The other big attraction was the opportunity to work with Daniel Craig. He is an incredibly interesting actor. Psychologically, he has brought Bond back to realism. He isn't an untouched hero, he has faults. He has a vulnerability and an emotional complexity which makes him human.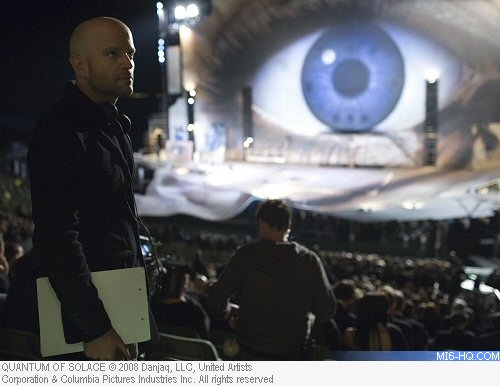 "Many of my previous films feature emotionally repressed characters. When you study people who cannot express their feelings, they carry an emotional handicap with them. I'm interested in characters like that because it's a common disease in humanity. Ultimately, if you are able to open your heart to the world, one becomes more aware and conscious. Our limitations always lead back to our inability to express ourselves emotionally, and Bond is a prime example of that. Bond hadn't really experienced love until he met Vesper [in "Casino Royale"] and that love was taken away from him. Believing he was betrayed, he is slightly disorientated and unable to trust anyone. For me, the central theme of "Quantum of Solace" is trust."
With a string of critically acclaimed character driven movies to his name, Forster talks about his experience working on a big budget action movie. "The thought of directing an action movie was much more intimidating to me than actually doing it. With these films, one has a great support system and a team who are experienced at working on action movies. It's the planning and writing of action that is difficult, not the filming of it. The key to action is that it tells a story because shooting action for action's sake is uninteresting and doesn't contribute to anything."
"Quantum of Solace" filmed in more exotic locations than any other in the forty six year history of the franchise and Marc Forster was the driving force behind the decision. "Exotic locations are a trademark of James Bond films, they are crucial in helping transport the audience to a different world. It is hard to find Bond locations because the bar has risen and the world is becoming smaller. We also had to find locations that would reflect the psychological state of Bond. For example, one of the reasons I chose the desert was because it represents solitude and loneliness - it represents Bond's state of mind."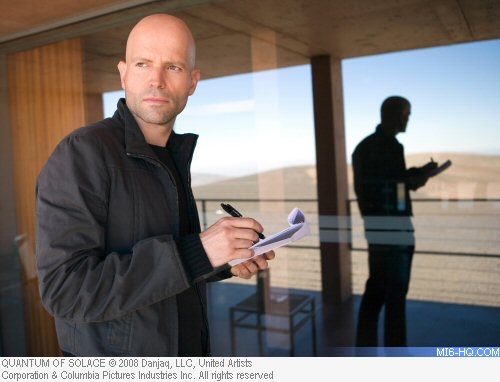 Olga Kurylenko was picked to play Camille, a vulnerable but feisty woman focused on avenging the murder of her family. "I was looking for someone who would be the female counterpart to Bond, struggling with similar issues. Olga understood the psychological and physical aspects of the character. As she hadn't done a big action movie before, Olga had to go through rigorous training and did a lot of the physical action stunts herself, which was crucial to make the film feel as real as possible."
French actor Mathieu Amalric plays Dominic Greene, but is not the stereotypical Bond villain. "Mathieu is a very special actor, he has a very timid and loveable way about him. I thought it was more unexpected to cast an innocent looking man for a character who is really creepy and dangerous. Throughout the movie you just get glimpses and feelings about the character but in the final sequence his true nature is revealed and you see how malicious and frightening he can be.
"During the cold war, western cinema had a clear portrayal of what was good or evil. Today, however, the lines are blurred. You don't know who the villains are, Bond could have villainous traits. I think it's important to look at that. What does it truly mean to be good or bad? What it means to kill or lose someone? What is the psychological impact of taking some ones life?"
Judi Dench makes a welcome return as M, the chief of MI6, Forster is enthused, "Judi is one of the greatest actresses alive. Working with someone of Judi's stature is an honour. She has such a strong presence, I wanted to develop her character further. M is the only woman Bond doesn't see in a sexual context and so it's important to give the two of them more time together. As we watch their interaction, we discover a different side to Bond and learn more about both of them."
Forster summarizes; "The central theme running through "Quantum of Solace" is trust. Trust itself comes in many different shades. Who do we really trust? Do you trust yourself? Do we trust others? All human beings have trust issues because, at some point in our lives, we have all been betrayed."