| | |
| --- | --- |
| | Sony took its marketing machine to a new level to reach James Bond fans and regular movie-goers alike during the release of "Quantum of Solace"... |
Sony's Marketing Machine
3rd May 2009
Back in early September 2008, Sony Corporation first unveiled a global marketing campaign that would be focused on Daniel Craig as James Bond and centered around the release of the 22nd installment, "Quantum of Solace".
The campaign, which took the Bond persona beyond the big screen into another realm, was developed for Sony Corporation as an artistic and thematic extension of the movie. Designed to highlight Sony's High Definition product capabilities, the campaign provided a global platform for "consistent brand messaging, while allowing each region to customize elements based on local market preferences".

"Sophistication, quality and international appeal make James Bond a perfect fit with the Sony brand," said Andrew House, Chief Marketing Officer, Sony Corporation.

"This is the first time we have integrated our film and electronics marketing efforts at such a deep level, bringing together Sony's leadership in high definition with one of the world's most powerful movie franchises. Sony is unique in its ability to create a global marketing campaign that combines technological innovation with entertainment content in this way."

Elements of the campaign included broadcast, digital, outdoor, print and retail ads promoting Sony's BRAVIA LCD flat-panel televisions, Blu-ray Disc Players, Handycam camcorders, Cyber-shot digital still cameras and VAIO computers.

Additionally, Sony Style online stores in Europe offered licensed 007 products including VAIO computers and Micro Vault USB storage media. In North America, Sony offered the following 007 licensed products via its SonyStyle online store:

An exclusive, limited edition VAIO TT notebook comes emblazoned with a 007 logo on the palm rest and a matching leather protection case. Only 100 units will be available and each unit will bear a serialized number.
The Special Edition Bond bundle for the Reader Digital Book features an embossed cover with a 007 logo and coupon codes for free downloads from the Sony eBook Store of Ian Fleming's novels Casino Royale and Quantum of Solace.
An exclusive 007 USB Micro Vault, in 8 or 16GB capacities, comes pre- loaded with the Quantum of Solace movie trailer and bonus content.


Above: 007 branded digital book reader and Quantum of Solace themed USB memory.
In mid-October, Sony unveiled a new James Bond experience at London Heathrow Terminal 5, ahead of the release of Quantum of Solace. The Bond experience featured a selection of the brand's premium portfolio of High Definition products, including VAIO notebooks, the Handycam TG3 and the Cyber-shot T77. A sculptural structure of 20 Bravia W4000 Series television screens and three Blu-ray S350 players played the new Sony TV commercial featuring Daniel Craig. To demonstrate the high definition capabilities of the brand's cameras, one was trained on a tiny serial number reflected in a cocktail shaker. Visitors to the zone were then invited to identify the number through the viewfinder for a chance to win a prize. BAA Head of Category for Technology Jonathan Coen said: "The Sony Experience Zone is an exciting and innovative part of Terminal 5. Travellers can try out and completely immerse themselves in the new Sony technologies."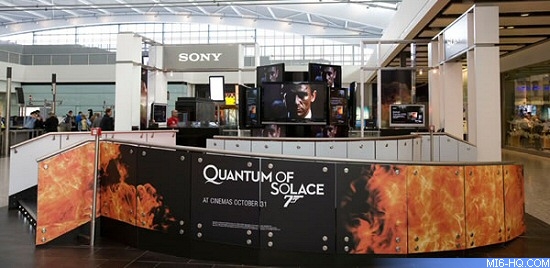 Above: Sony's 'James Bond Experience' at London Heathrow Terminal 5
Sony Ericsson unveiled an exclusive partnership between the production and the C902 Titanium silver edition. The phone, as used by Bond in the film - was available for a limited period and include a memory card loaded with a host of 007 content. Users got the chance to know exactly what it takes to be a secret agent like James Bond with the first level of an exclusive pre-loaded spy-style game.

Above: Promotional flyer advertising the Titanium Silver C902 Cyber-shot phone.

In addition, the full colour trailer of the film, behind-the-scenes interviews with the stars and exclusive content such as wallpapers and screen savers were available on the phone and the memory card. The C902 Cyber-shot phone is used throughout the film by James Bond to capture evidence and assist the agent on his mission.

The 5MP camera, with a unique slide-out lens cover, illuminated touch icons providing quick and easy access to camera options, Face detection, Photo flash and Auto focus enables James Bond to send high resolution shots back to MI6 for quick recognition of his enemies.
Sony Electronics also ran a national promotion in the USA called "Mission for a Million" developed in support of "Quantum of Solace", bringing together Sony's "leadership in high-definition with one of the most recognized movie franchises in history", and giving people the chance to to compete for a $1 million grand prize. It tasked registered "agents" to use virtual Sony high-definition products to solve missions in search of Sony's stolen HDNA.
"Sony's reputation for premium technology and great entertainment work well with Bond's legacy and innovation," said Stuart Redsun, Sony Electronics' senior vice president, corporate marketing. "The film's arrival is a perfect opportunity to tell Sony's high-definition story to consumers in an interactive way."
As a main attraction at all Sony Style stores across the country and online, the campaign was also extended to Sony retail partners. Stores were transformed with Bond-themed window displays from October through November. In-store displays will also featured the PS3 title Quantum of Solace, the officially licensed video game from Activision, and the Casino Royale Collector's Edition DVD and Blu-ray Disc.
Related Articles

"Quantum of Solace" Movie Coverage