| | |
| --- | --- |
| | Producers Michael G. Wilson and Barbara Broccoli talk about the schedule and direction of the 23rd James Bond film... |
Bond 23 - An Uncertain Timeline
4th January 2010
As writer Peter Morgan pointed out last month, pre-production on the next James Bond film (AKA Bond 23) is on hold until February. This hiatus is due to the impending sale of the debt-ridden studio MGM, who distribute the 007 series for EON Productions.
Producers Michael G. Wilson and Barbara Broccoli gave a brief update to Total Film magazine in the UK (February issue). Asked what the current status of the project is, Wilson said: "Well, our timeline's a little up in the air what with the situation at MGM, so we have to be flexible. We just don't know enough about the situation to comment, but we know it's uncertain."
MGM expects the first takeover bids to be submitted within the next few weeks.

This is not the first time that studio disruption has put James Bond on ice. Back in 1989, a disagreement over TV distribution rights between MGM and Danjaq (the parent company of the Bond production office, EON) held up the next green light. It was not until studio management changes in 1993 that work on the series began again in earnest. A change of lead actor from Timothy Dalton to Pierce Brosnan further extended the timeline, totaling a six year gap between "Licence To Kill" and "GoldenEye" in 1995.

Asked about the state of pre-production and the artistic direction of Daniel Craig's third outing as 007, Wilson said it was too early to know how the film will shape up.

"Well... we've hired the writers and we've been working with them but it's just too early to say anything," he said. "You know, often at this stage, I find myself saying, 'Oh, we're gonna do this and that', then six months from now you'll say, 'That isn't in the film at all - you told me it was...' I think we're at the stage where a lot of ideas are floating around that sound very good, but whether they make the final cut, who knows?"
When Daniel Craig slipped in to the famous tuxedo and the franchise rebooted with "Casino Royale" in 2006, Bond's character took on more layers as we witnessed his development as a double-O. "I think Daniel's such a superb action and I think his portrayal of the character is one where he explores his vulnerabilities", Broccoli praised. Will this character development become a consistent thread during Craig's tenure? "I hope so, that's what we're aiming for," she said. "I think that part of the excitement is about not just having Bond go through the physical challenges, but the emotional ones as well."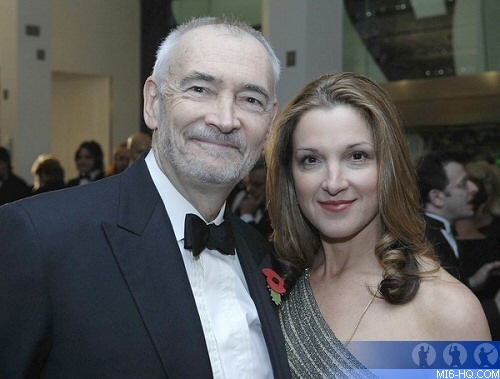 Above: Producers Michael G. Wilson and Barbara Broccoli at the "Quantum of Solace" premiere.
And what about the future of Quantum, the evil organisation that is a modern day replacement for SPECTRE? "It's really hard to tell", Wilson said. "It was an interesting idea and it fits with the timing of the film. But what, when and how we might use it again is not clear to us."
In recent months, Daniel Craig has said he expects filming to start in late 2010, indicating a tentative release window of late 2011. Dame Judi Dench has been told to hold her diary for early 2011 to film her scenes as MI6 chief M.

Bond 23 is being written by regular Bond duo Neal Purvis and Robert Wade, and "The Queen" and "Frost/Nixon" scribe Peter Morgan. Daniel Craig will play 007 for the third time, with Dame Judi Dench returning as MI6 chief 'M'. David Arnold will compose the score for his sixth 007 movie. Producers Barbara Broccoli and Michael G. Wilson have yet to confirm a director.

Related Articles
Bond 23 - December '09 Report
Bond 23 - October '09 Report
Bond 23 - June '09 Report
Bond 23 - May '09 Report
Bond 23 - January '09 Report
Bond 23 - December '08 Report
Bond 23 - October '08 Report
Bond 23 - September '08 Report