| | |
| --- | --- |
| | The first major rumour surrounding the 23rd James Bond film has been touted by the press, speculating on an Afghan setting... |
Bond 23 Rumour Mill Begins
9th June 2009
Since the first word of work beginning on the 23rd James Bond film broke last month, the media have started to turn the the fly-wheel of rumours that always surround the pre-production period of the next 007 adventures. Locations, titles, plots, girls and gadgets are the most popular topics for speculation, and two of those elements had big write-ups today.
UK newspaper The Guardian are speculating that "the poppy fields and drug barons of [Afghanistan] are likely to star in the next James Bond film after scriptwriters sought technical advice from the British embassy in Kabul." The paper claims that "at least some of the next Bond adventure" may be set in the volatile southern province of Afghanistan. Apparently, speculation "has been running high since a member of the Foreign Office's drug-busting team in the country began acting as a consultant for the Bond franchise last summer." This rampant speculation is news to Bond fans as this is the first time it has been reported. The paper says that the official involved, who has since left the Foreign Office and Afghanistan, is believed to have signed a confidentiality agreement with the filmmakers preventing any discussion of the project.

Refreshingly, the paper did not quote anonymous 'sources' and did put in a request to EON Productions, the production company set up by Bond producer Albert R Broccoli, but they would not comment on whether the film would have an Afghan theme or give any other details of the closely guarded plot. Nothing should be read in to this either way, as EON have a long history of not commenting on rumours - fact or fiction.


Above: Daniel Craig recently said he'll continue as James Bond as long as "people still want to see these movies, or until my knees go, whichever happens quicker!"
Talk of a drug plot was mooted early on in the build up to Daniel Craig's second 007 film, "Quantum of Solace". The hiring of an expert on the Afghan drug trade, if true, does not necessarily indicate the country would be used a a location, or even doubled, in any storyline. It would also be extremely unusual for the series to base a plot on a real-world conflict currently involving British troops. 007 last ventured into Afghanistan in the 1987 film "The Living Daylights" when Timothy Dalton's Bond was imprisoned in a Russian camp and teamed up with anti-Soviet freedom fighters.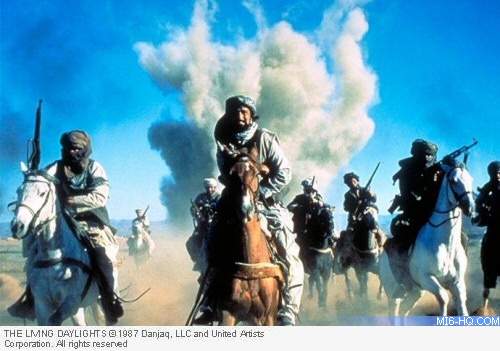 One other possibility is that this reported research is connected to a non-Bond property that EON Productions are developing. In April, Sony announced that EON would be producing an adaptation of "Remote Control", a forthcoming thriller novel by Mark Burnell. But according to early tidbits on the storyline, the plot follows a former war correspondent, now British corporate intelligence analyst, who gets caught up in a conspiracy by Western corporations to destabilize the Chinese economy. Following the trail to the United States, he discovers that his former lover is also being pursued. On the run together, they try to unravel the mystery of the conspiracy while trying to stay alive. No mention of drugs or Afghanistan.

Above: The DARTZ Kombat vehicle. And you thought the Aston Martin DBS was a subtle?

A Real World Spy Mobile?
Elsewhere, companies have started to tout their credentials in the hope of landing themselves a small part in the next 007 outing. Russian armored car manufacturer DARTZ are pushing to have their Kombat vehicle used by Bond. "Our car is really what James Bond needs - and it's real", said company spokesman Leonard F. Yankelovich.

"As far as I know all gadgets on James Bond's car are just plastic copies, and of course his cars were not really bulletproof and so on. Of course it is not needed for movie, especially now when you can make everything you want just by mouse click. Our car is ready to save James Bond life and help him to kick enemies. It's not so fast like Aston Martin, but we have special models which can make 240 km/per hour, and we know that our car is world fastest armored SUV. Such gadgets like changing number plates and a drinks cooler are included to luxury package. When we designed this car we of course memorized all James Bond's tricks. Our car does not need any interference from Q - it is ready to serve Her Majesty's Secret Service today!"

The firm say they are trying to open talks with EON Productions.
Related Articles

Bond 23 - May Report

Bond 23 - January Report

Bond 23 - December Report

Bond 23 - October Report

Bond 23 - September Report