| | |
| --- | --- |
| | Issue #2 of the new magazine MI6 Declassified is out now, celebrating the world of James Bond and beyond |
MI6 Declassified - Issue #2
25th February 2008
Bigger! Better! It's James Bond and beyond! MI6 Declassified, the new full-colour magazine celebrating the world of 007, is back with its second issue after the sell-out success of its debut edition.
The theme of issue #2 is very much 'the Moore the merrier', as we have an exclusive interview with the longest-running James Bond actor Sir Roger Moore, a 30th anniversary celebration of his favourite 007 outing, the first look at "Quantum of Solace", and also an increased page count!
Packed with an arsenal of fascinating features and eye-popping visuals, whether your passion is with the films, books, comics or games, MI6 Declassified will satisfy your appetite for all aspects of the Bond canon.
Issue #2 Includes

Sir Roger Moore exclusive interview – my word is my bond
Quantum Of Solace the first glimpse at Daniel Craig's second James Bond outing
Ian Fleming his reports on location in Istanbul for From Russia With Love
Nobody Does It Better The Spy Who Loved Me 30th anniversary
Collecting the Pan paperback artwork of Sam Peffer
GoldenEye 007 the legend lives on - the title that changed gaming forever
Event preview of the Ian Fleming centenary celebrations
The Midas Touch? Sean Connery on the Goldfinger script
The Bond Connection a look at the 007 inspired comic book Kiss Kiss Bang Bang
The Last Word Martine Beswicke on her two Bond girl roles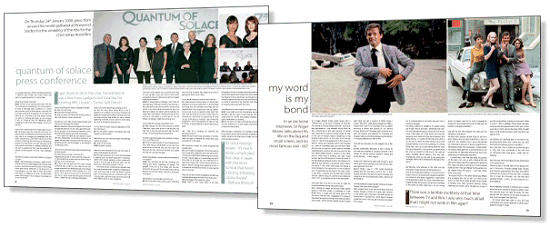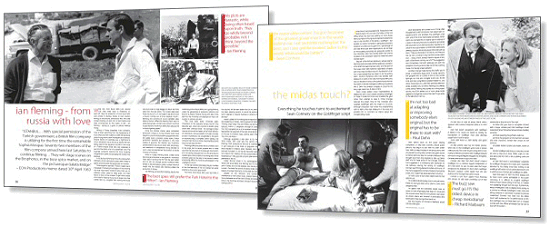 Issue #2 is now shipping around the world. To order online, visit www.mi6confidential.com
Related Articles

MI6 Declassified - Magazine Website