Eidolon
29th March 2016
Dynamite Comics have announced the next original James Bond six-part comic book series
By MI6 Staff
---
Given the buzz surrounding the release of 'SPECTRE', the oxygen for James Bond media coverage may have been too exhausted for casual fans to notice that a new comic book series was launched last year.
Dynamite Entertainment and Ian Fleming Publications scooped top talent in writer Warren Ellis and artist Jason Masters to create an original six-part James Bond comic book adventure. Titled 'VARGR', the adventure saw the literary incarnation of 007 adapted for the modern day.
The publisher announced last week at the Chicago Comic & Entertainment Expo that the second six-part storyline will be titled 'Eidolon' and will be launched on June 15th. That same day, the 'VARGR' issues will be published in a hardback collection. Dynamite are staying true to comic book tradition and so the first issue of 'Eidolon' will be 'James Bond #7' in the series.
Although writer Ellis, who pulled inspiration for the storylines from Ian Fleming's short stories, is adament that the character in the new comic book series is based purely on the original literary series, a number of reviewers have identified aspects that have been pulled from the film series.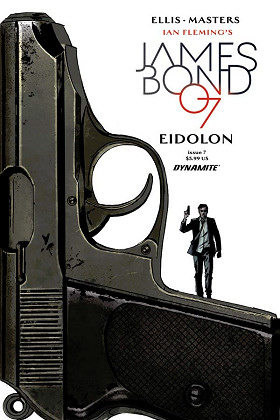 The final part of 'VARGR' (James Bond #6) is released in April. 'Eidolon' begins in 'James Bond #7' published on June 15th 2016. There has been no news of the Ian Fleming comic book adaptations since the original announcement last year.
Share The Story