MI6 Competition
To celebrate the release of "007 Legends", our friends at Activision have given us 10 copies of the game on Xbox 360 and Playstation 3 to give away to readers in the USA. Runners-up prizes include five copies of the new book "Bond On Set" and exclusive 50th anniversary mouse mats!
James Bond: 007 Legends is an Action-Adventure First-Person Shooter set to release during the fiftieth anniversary of the James Bond film franchise. The overall storyline of the game is woven together through mission play that is based on the plots of several Bond movies, including the 2012 release, "Skyfall." Additional features include: investigative, surveillance and stealth skills, dynamic freeform melee action, signature Bond weapon, gadget and vehicle play scenarios, Iconic villains, and diverse multiplayer options.
Our story begins deep in murky, watery depths. You're James Bond, and you're drifting, unconscious. You don't know why – only that you're struggling for your life like never before. In moments of cognizance, you recall epic moments from the last 50 years. The harrowing chases. The uber-villains. The exotic locales. The girls. What will be your legend if this is the end?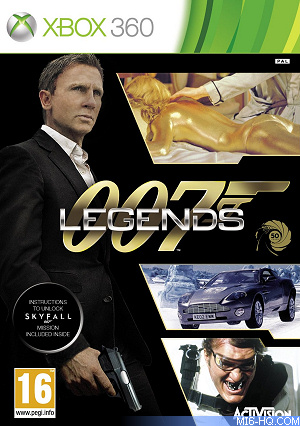 Order USA
PlayStation 3
Xbox 360

Order UK
PlayStation 3
Xbox 360