| | |
| --- | --- |
| | MI6 rounds up news from Japan on Casino Royale, including trailer details, premiere information and release schedule update... |
Casino Royale In Japan
19th September 2006
The release of a Bond film in Japan always guarantees a few things for the avid 007 fan: a fascinating poster campaign, alternative trailers, luscious premiere programmes and exclusive collectibles. MI6 has some news from Japan on all fronts.
Trailer
Sony Pictures Japan released the first Casino Royale trailer for the region this week. It is mostly a 1 ½ minute edit of the second English-language trailer released earlier this month, but it does include a few new shots: Vesper looking in the mirror, an aerial view of Montenegro and a couple of fresh action shots.

Although the dialogue has been cut to the point where some of it makes little sense, the Japanese captions add more depth. The opening and closing lines read "This story tells how 007 is born" and "One love ends, and 007 beings" respectively.

"
Welcome to Japan, Mr Bond

Japan Premiere
MI6 can reveal that the Japanese premiere of Casino Royale will take place in Tokyo at the Shinjuku Milano Theatre 1 - the screen with the largest number of seats in any theatre in Japan. The film will bow on Thursday 23rd November 2006, also kicking off the Tokyo International CineCity Festival which is held over four days. At present, there are no details on whether cast or crew will be attending.
Release Date
Casino Royale was originally scheduled to open nationwide in Japan on 17th February 2007, but this has now been pulled forward to 1st December 2006. This has been seen as a positive move from Sony, as this week is a popular winter holiday week in Japan and should boost the box-office; the most important region for blockbusters outside North America and Europe.

Casino Royale Coverage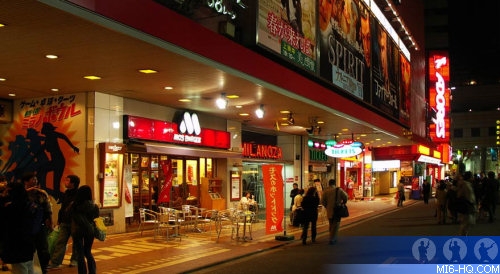 Teaser Campaign
Sony Pictures Japan released their international teaser poster a few weeks ago, featuring the in-shadow face of Daniel Craig as 007 which appeared at the Cannes Film Festival and other tradeshows. A flyer has also been distributed which includes additional information on the film, and the "seven rules to receive 00 status". Translations of the rules read "1) You don't fear death, and won't give into torture 2) You have Olympic level shooting skills 3) Even if you double-cross your own parents, you will never double-cross the organization 4) You have knowledge that would surprise even a scholar, and a sense of humour that would make even a bad girl grin 5) You have the sociability of a lamb, but remain a lone wolf 6) You have the highest level of experience with alcohol, gambling, cars and food 7) You can fall in love but you can never love."

Click here to view the poster on the official site
Last Time Around...
A promotional press conference was held in Tokyo on 29th January 2003, attended by director Lee Tamahori and the two Bond girls - Rosamund Pike and Halle Berry. The trio were billed to attend the Japanese premiere a few days later.

The Japanese premiere was held in Hall A of the famous Tokyo International Forum building on February 2nd 2003, but Tamahori, Pike and Berry were nowhere to be seen. The impressive hall held a capacity of 5,012 people. To satisfy the demand for Bond, three premiere screenings were held during the day, and best of all, it was all free of charge.
The Pantheon cinema in Shibuya, Tokyo opened at 10:45am for the first screening of "Die Another Day" on March 8th 2003 - almost four months after the UK and USA release, and six weeks since the Japanese premiere.

Seven bikini clad "Bond girls" welcomed cinema-goers and handed out tickets to win a UK version of the "Die Another Day" poster (pictured opposite) signed by cast members Pierce Brosnan, Halle Berry, Rosamund Pike, Rick Yune, Toby Stephens, and director Lee Tamahori.
Die Another Day Articles

"Die Another Day" Tokyo Press Conference

"Die Another Day" Japanese Premiere

"Die Another Day" Opens In Japan
Produced by Michael G. Wilson and Barbara Broccoli (Eon Productions) and directed by Martin Campbell, CASINO ROYALE is scheduled for release November 17, 2006. Principal photography started on January 30th 2006, with locations in the UK, Czech Republic (Prague), Italy, and the Bahamas. It will be British actor Daniel Craig's first outing as James Bond. He is the sixth actor to play the 007 role in the franchise.
The film also stars Judi Dench, Eva Green, Mads Mikkelsen, Jeffrey Wright, Giancarlo Giannini, Caterina Murino, Simon Abkarian, Tobias Menzies, Ivana Milicevic, Clemens Schik, Ludger Pistor, Claudio Santamaria and Isaach de Bankole.