| | |
| --- | --- |
| | Timothy Dalton has spoken about the current James Bond movie hiatus, Daniel Craig's tenure so far and getting 007 back to his brutal roots... |
Dalton On Craig
2nd November 2010
Entertainment Weekly interviewed two-time James Bond star Timothy Dalton this week about his role on the spy-fi NBC television series "Chuck", where is is guest-starring as an MI6 handler.
Dalton was asked what he thought about how the end of his tenure as 007 echoes the current situation that has the 23rd James Bond film on indefinite hold until MGM's dire financial situation is resolved (since the time of the interview, MGM debt-holders agreed to a pre-packaged bankruptcy plan to swap debt for equity with Spyglass taking control of the studio). "I'm not speaking as a spokesman for them, of course", Dalton said, "but I have to believe that Bond, a big moneymaker for so many years, will get back on its feet. Someone will give it a platform, a foundation on which it can be made again, because it will be in everybody's interest. It will make money, they do make money, they always make money, and of course, they provide tremendous entertainment for so many people."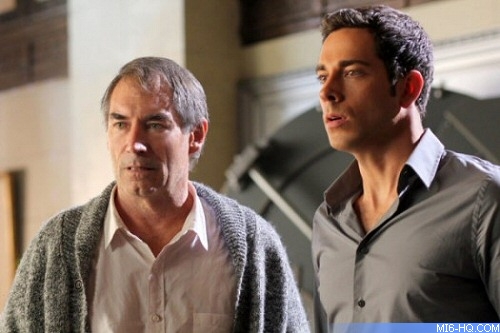 Above: Timothy Dalton guest-stars in Season 4 of "Chuck" on NBC.
"It's a horrible situation for everybody, but by the time the lawsuit that stopped the last Bond movie that I was going to make was resolved, five years had passed. I think I was starting what would have been my third Bond film in '89 or '90. It had been written, we were talking directors, and then the lawsuit came. It held for five years, and I certainly didn't want to carry on after having been associated with Bond for almost 10 years at that point. It brings a big hole into that universe. It's sad that there's another hiatus, because I thought the first 25 minutes of Daniel Craig's first movie [Casino Royale] was the best 25 minutes I've seen in any Bond movie. I thought it was a fantastic opening."
Another similarity between Dalton and Craig's run as Bond is the grittier, harder-edge to the character that both actors brought to the screen following a popular run by another actor with a heavier fantasy element to their films. When asked if he thought his taking Bond back to his literary roots was perhaps ahead of its time, Dalton said: "I agree with you. Cubby Broccoli, who was producing the movies, said to me then that that's what he wanted, and I agreed wholeheartedly. Roger Moore was marvelous at what he did, and his films were successful, so you can't say a word against him. But Sean Connery was shocking. And his movies were shocking. You had never seen women in bikinis in films in those days, and heroes did not shoot unarmed people. But Connery did, and he was tough."

"The fight in the train with Robert Shaw [in From Russia With Love] was one of the great Bond sequences. Incidentally, those two sequences, the fight in the train and the shooting of the unarmed man, were reprised in the opening of Casino Royale. The fight in the toilet downstairs was vicious and mean and really tough, and of course, Daniel shoots a man who's run out of bullets. But Connery was very tough. And I think Moore, when he first took it over was tough, as well, but then he moved into that area that he was probably most comfortable with, having done The Saint."


Above: Dalton draws the comparison of brutal action between "From Russia With Love" and the opening of "Casino Royale" .

"We wanted to take it back to that earlier toughness. But, of course, it's got to be funny. It should be funny. Out of great danger often comes great humor. But when we made The Living Daylights and Licence to Kill, everybody by then was so used to something else. I think people like to stay with what they're comfortable. So I think Cubby and I were fairly lonely voices!""